The Song In The Dr. Pepper Ad Will Bowl You Over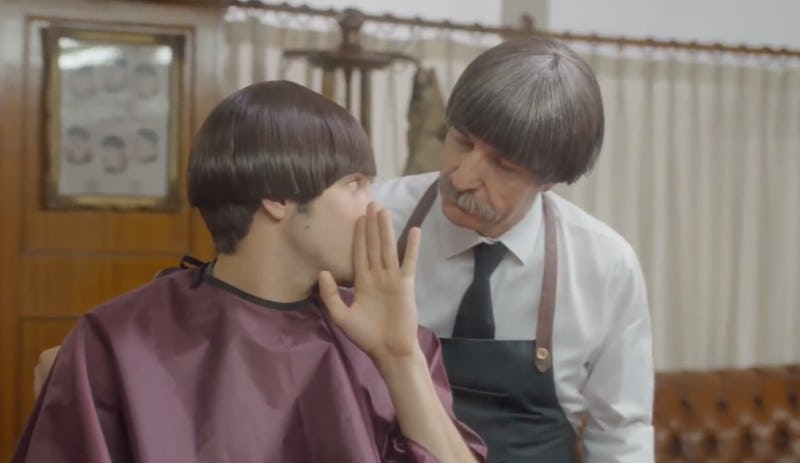 Dr. Pepper: The beverage for those whose wildly trendy bowl cut hairstyle just isn't working for them anymore. In a TV spot for Dr. Pepper, a young man walks down a street in a city where everyone — human, canine, billboard for an action movie, and so on — sports a bowl cut coiffure. After he chugs the soft drink that packs 23 flavors into one can, the bowl cut'd man realizes he's sick of being another bowl cut in a bowl cut'd world. If I've learned anything because of this ad, it's name of the ditty that plays throughout the commercial. Thanks to my BFF 4 LYF Shazam, I now know the song in the Dr. Pepper barbershop ad is "Left Hand Free" by alt-J. The track can be found on 2014 album This Is All Yours.
Actually, that's not the only thing I learned. Here are two additional important takeaways: a) Pooches look hilarious in bowl cuts, and b) we should always drink Dr. Pepper before we ask that our hairstylists/barbers/dog groomers not shape our hair underneath a dish that's meant for cereal. Yummers.
Anyway, "Left Hand Free" is a jam definitely worth cranking up the volume for, so let's get to the listenin'. We have a bit of a Choose Your Own Adventure situation on our hands: The indie band released two videos for the song. Which video will you watch first?
Here's number one:
And here's video number two:
And on that note, I'm off to go scour the world wide web for pictures of dogs with bowl cuts.
Image: Dr Pepper/YouTube