How To Make 3 Perfect British Cocktails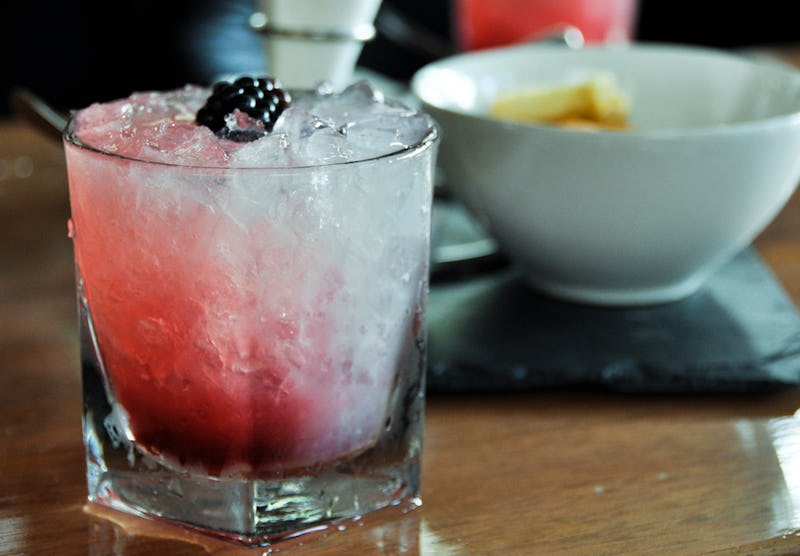 You guys. It is the middle of August. That means summer is almost over, and holy cow, how did that happen? Of course, the upside is that soon we'll be able to pull out our favorite wooly sweaters — but the downside is that we will no longer be able to enjoy our favorite summer cocktails without freezing our butts off. You win some, you lose some — but while we're all in denial (and while the weather is still warm), let's brush up on how to make the perfect British cocktail, because no one does gin quite like the Brits.
Or more accurately, let's brush up on three perfect British cocktails — because that's the subject of Anglophenia's latest video. Host Kate Arnell walks us through not only how to make these delicious and refreshing beverages, but even better, she tells us a little about their history, too (because, as we've already established, booze history is better than every other kind of history). Two of the three are heavy on the gin, so if gin isn't your thing, you might want to stay clear. Me? I'm not a huge gin drinker; something about the herbal quality the juniper berries lend to it just doesn't do it for me. Every so often, though, I'm willing to break my "no gin" rule…and the second cocktail in particular here might be the one to make me do it.
But first, let's start with a classic — and don't forget to scroll down to watch the full video!
1. Gin and Tonic
According to Arnell, gin was actually Dutch in origin; it became popular in England when William of Orange, who was born in The Hague, took the throne in 1688. Interestingly, mixing it with tonic and lime served a very specific purpose — and not one that you might expect: Tonic was used to treat malaria, and adding some gin helped mask the taste of quinine. Lime, meanwhile, helped prevent scurvy.
To make the perfect G and T, fill a glass three quarters of the way with ice, squeeze a wedge of lime into it, add a shot of gin, and then fill 'er up with tonic.
2. The Bramble
Unlike the gin and tonic, the Bramble is quite recent — it's believed to have been invented in the 1980s by London bartender and mixologist Dick Bradsell, aka "The King of Cocktails." To make it, combine one shot of simple syrup, two shots of gin, and one shot of fresh lemon juice in glass; fill the glass up with ice; and then drizzle half a shot of crème de mure — blackberry liqueur — over the top. Garnish it with a slice of lemon and a few blackberries, and you've got a gin cocktail I might actually consider drinking. Have I mentioned how much I love blackberries?
3. The Bramley Somerset Sour
According to Arnell, this cocktail (with its mouthful of a name) was created by chef and restauranteur Mark Hicks; it's supposed to capture the essence of the English countryside in a glass. Bramley apples are frequently used in U.K. cooking (and, indeed, they're specific to the U.K.) — they're quite sour raw, but the flavor lightens up when you cook them. They also take on a somewhat bizarre yet also pleasing "fluffy" quality.
The Bramley Somerset Sour relies on Bramley apple cider brandy for its kick — but if you can't get it where you are, any hard cider brandy or applejack will make an acceptable substitute. To make the cocktail, though, you'll have to put in a little effort: Chop and peel two apples (use Granny Smiths if you can't get Bramleys) and combine them with water and three tablespoons of sugar in a saucepan; bring to a boil before cooking the whole concoction for about seven minutes. Strain the cooked apples through a sieve and let it cool — and voilà, apple syrup.
Next, add eight tablespoons of the apple syrup, four to eight shots of hard cider brandy, the juice of two lemons, and one egg white (yes, egg white) to a cocktail shaker. Half-fill the shaker with ice, close it all up, and shake away; then strain it into four glasses, either on the rocks or straight (your call).
Watch the full video below for all the details, along with the instructions for a tasty-sounding mocktail in case booze isn't your thing.
Images: Margaret Bourne/Flickr; Anglophenia/YouTube (3)