Pixar Reveals 'Finding Dory' Details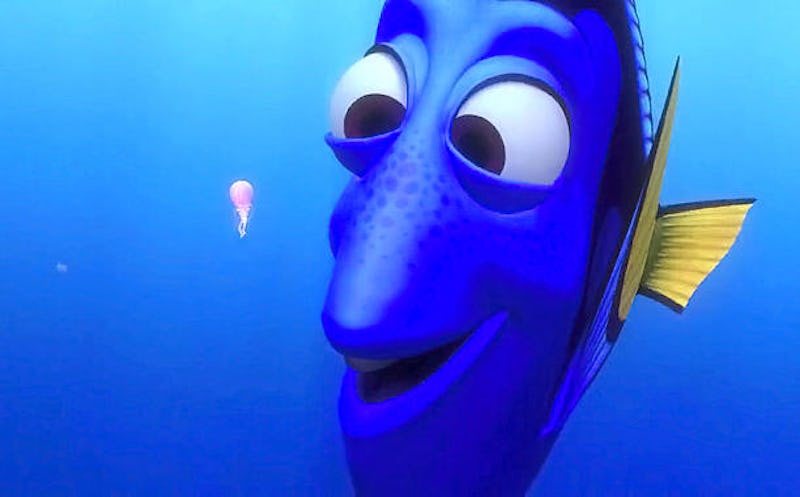 Pixar has been promising a spinoff to Finding Nemo for years, and now, it seems that we finally have some information. At Disney's D23 Fan expo in California, Pixar revealed new details about Finding Dory, the upcoming spinoff to the 2003 film featuring the absent-minded, good-hearted fish voiced by Ellen DeGeneres in the lead. During the expo, DeGeneres herself presented fans with some new footage from the currently in-production animated feature, which depicted Dory getting stuck in an undertow that triggers flashbacks, as well as her meeting some new characters who will star in the movie. Though the clip isn't (yet) available online, the expo also introduced new information about the film that, luckily, is online.
DeGeneres herself was apparently a major proponent for a Dory movie. At the expo, John Lasseter joked around about her constantly begging for a Nemo sequel, and DeGeneres even had the sweetest things to say to People about the character she voiced in the 2003 movie:
Well, it means a lot to me because it is a really sweet character. And she's flawed, and I think that it's important for kids to grow up and see flawed characters that are lovable and that really, no matter if they make mistake after mistake, they have a little surrounding pack, like a friendship with all these other fish that they travel with that forgive her. And even though they're frustrated with her, they love her.
If that doesn't get you excited for Finding Dory, I don't know what will. Here's what we already know about the film so far, thanks to the D23 expo:
It Takes Place Six Months After The First Film Ended
I wonder: What is that in fish years?
Dory Will Have A Quest Of Her Own
She'll try to find her family, who live in Northern California.
Marlin And Nemo Will Be In It
OF COURSE, they have to be! They'll help Dory on her quest before getting separated.
She'll End Up Trapped In An Ocean Sanctuary
There are a lot of plot similarities to Finding Nemo.
She'll Meet Some New Characters
Including Hank the octopus (voiced by Ed O'Neil), Bailey a beluga whale (voiced by Ty Burrell), and Destiny the whale shark (voiced by Kaitlyn Olson).
We'll Eventually Meet Her Parents
Or at least see them in flashbacks, since they'll be voiced by Diane Keaton and Eugene Levy.
The movie is scheduled for release next summer, June 17, 2016, so in the mean time, we're going to have to just keep swimming.
Images: Pixar, Giphy (5)