The 'Carol' Trailer Will Give You So Many Feels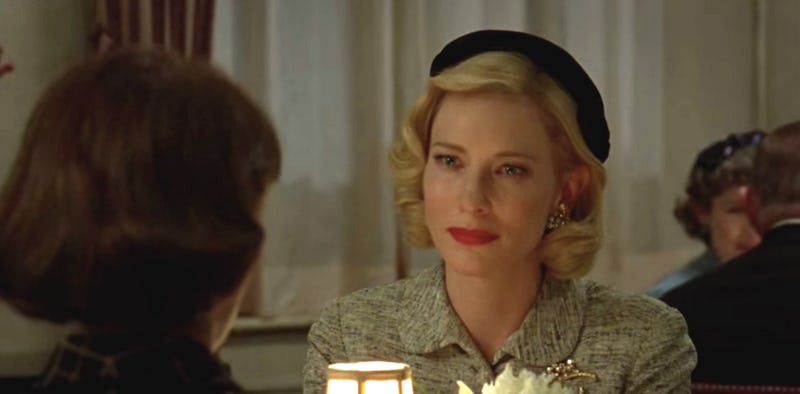 Do you guys ever have that thing where you are so excited about a new author you've discovered that when you hear they're making a movie out of one of her books, you feel like you've willed it into being? Well, that's how I feel watching the teaser trailer for Carol , starring Rooney Mara and Cate Blanchett as lovers. (I'm going to go ahead and assume I did will this movie into existence, because that's how much I loved The Price of Salt, the Patricia Highsmith novel it is based on. You might think I should thank Highsmith's talent or the studio's great insight for picking up the adaptation, but the way I see it, this is all my doing, so you're welcome.) But beyond its fantastic literary origins, this movie delivers only two of the most talented actors of their respective generations in a relationship. Yes please. Where do I sign up? We should all be really effing excited about this movie.
But even if you haven't read anything by Highsmith before, or her name doesn't sound familiar, I guarantee you know of this queen indirectly, you just don't realize it. There was Strangers on a Train, which became a beloved Alfred Hitchcock movie. Highsmith is also the literary force behind The Talented Mr. Ripley, which was based on a series she did about that same very twisted character. In fact, many of her works have to do with characters with extremely unhealthy obsessions, and Carol will be no different. It's set in the 1950s and follows a married department store clerk, Therese Belivet (Mara), who has a chance meeting with an older woman who's in the midst of a divorce, Carol Aird (Blanchett). The two fall in love and run away together, but their happy ending is spoiled by the private detective who pursues them across the country, blackmailing Blanchett's character to choose between the daughter she left behind and the lover who represents a new life.
Woof. That's a whole lot of plot, but they manage to sneak a lot of hints of it into a one-minute teaser trailer by employing meaningful touches, fraught eye contact, a few lines of whispered dialogue, and a beyond-perfect backing track in the form of the song "My Foolish Heart."
Oh, man. I can't be the only one with head-to-toe goosebumps right now, can I? Now excuse me while I pour over the pages of the book that is responsible for this surefire masterpiece until the film itself hits theaters Nov. 27.