DIY Hem Your Jeans For Frayed Perfection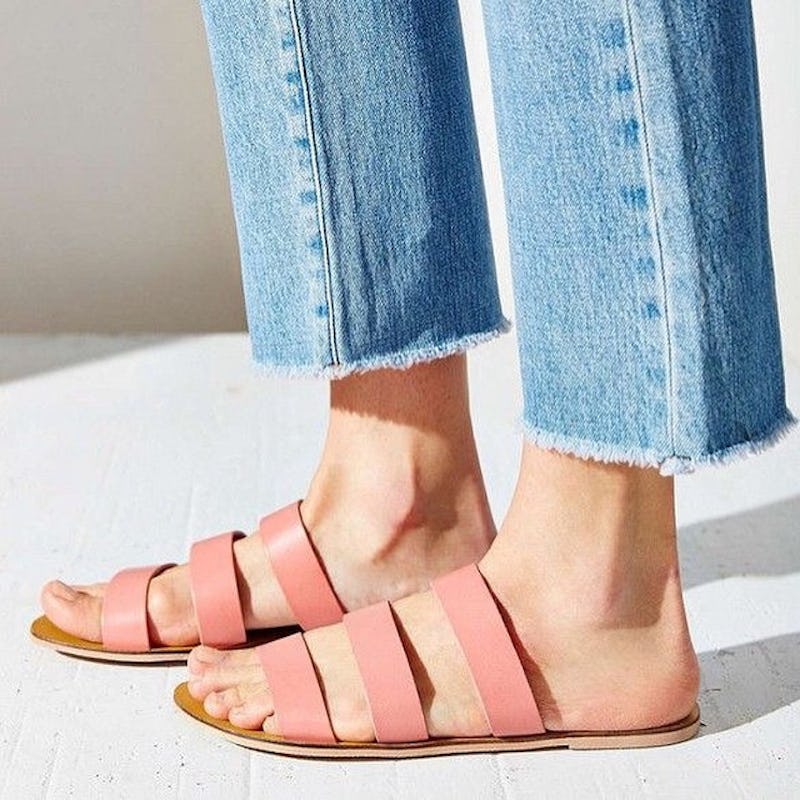 Sometimes even your most beloved pair of jeans just need a change. To update your favorite old pair for fall, learn how to cut the bottom of your jeans for DIY perfection. Of course, fraying the edges is optional, but a perfectly on point fashion choice this season. Trust.
I promise DIY hemming jeans isn't as intimidating as it might sound. With the right set of tools and a little focus, your jeans will feel practically brand new in no time. And heck, once you've mastered hemming jeans, don't be afraid to go even further with your tailoring skills. Feel free to DIY distress your jeans, too! Whatever you do, always let your personal style shine through.
Here's What You'll Need:
old jeans
chalk
straight-edge ruler
scissors
sandpaper (optional)
1. Mark The Height
Put on your jeans and figure out where you want the new hemline to be. Measure the height with a ruler and mark it with chalk on both pant legs.
2. Draw The Line
This is the hardest part, but you've got it! Lay the ruler flat and draw a straight line from the original chalk mark around each pant leg. Don't rush this part or else your pant legs will be uneven! If in doubt, it's always better to go longer than you think you want and go higher as necessary.
3. Cut Those Babies
Alright, time to grab your scissors and cut along your chalk line. Careful!
4. Tug The Hems
For that iconic frayed look, tug at the hem of your jeans until frayed to your liking. For even more of a frayed vibe, pop your jeans in the washer and dryer to cause additional unraveling.
5. Be Fabulous
Jeans go with everything already, and fraying the hem gives a perfect edgy touch to any outfit.
Image Credit: iris/Flickr; nikitareilly, wearetwinset/Instagram