Tracy Morgan 'SNL' Characters That Should Return
Comedy fans were delighted to hear on Monday that Tracy Morgan will be returning to television as a host on Saturday Night Live's 41st season. Morgan survived a tragic car accident in June, 2014 that took the life of his friend and fellow comedian James McNair. Morgan was in critical condition after sustaining many broken bones and underwent intense rehabilitation. The 30 Rock star held his first public interview on the Today show nearly one year after the accident and was still visibly shaken by the event. However, Morgan did express his excitement to get back into his work, "I love comedy, I never stopped loving her... and I can't wait to get back to her."
Stepping back into Studio 8H will certainly be a meaningful homecoming for Morgan who performed as a cast member on the show from 1996 to 2003. Morgan tweeted his joy over the announcement of his hosting duties on Monday, "Stoked to be going home...#SNL." I am already giddy thinking about how many SNL stars are going to make cameos for Morgan's episode. It's not just the comedians I am excited to see reunite, it's the return of Tracy Morgan's classic characters as well. Let's take a look at the sketches I hope pop up on October 17.
1. Brian Fellow
I can't tell you how many times I've laughed out loud to myself when I think about Tracy Morgan in his shiny lip gloss saying things like, "Why does that pig hate Jewish People?" and, "Leave Uncle Kool-Aid outta this!" Please SNL gods, make this happen.
2. Woodrow
You know he will get a megastar to come cuddle in the trash with him. I'm thinking after her incredible hosting duties, the show could totally land Kerry Washington for the gig.
3. Uncle Jemima
This hilarious spoof was a precursor to the beloved Drunk Uncle. Just think how incredible it would be to see those two characters in the same sketch.
4. Astronaut Jones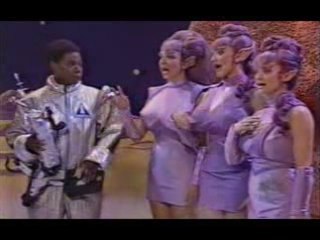 We're now in 30 Rock levels of weird territory. This sketch is for the truest of Tracy Morgan fans and it would be so glorious to see him do it again.
5. Maya Angelou
I can't think of a better tribute to the late poet than to have Tracy Morgan bring her back for a heartfelt reading.
6. I Wish It Was Christmas
I know it's out of season, but I don't care. You know Jimmy, Horatio, and Chris would totally do it for Tracy. Heck, maybe they could even write a Halloween version!
7. Dominican Lou
There's so much happening in the news right now in regards to race and violence. Tracy Morgan is a comedian who has never shied from talking about those subjects, so he could really drive home a great segment with Dominican Lou on Weekend Update.
8. Lamont Bond
Tracy Morgan said what we've all been thinking well over a decade ago. The argument still stands...it's time for a black James Bond. Plus, we might get the added bonus of Tina Fey or Colin Quinn returning to the Weekend Update Desk.
9. Star Jones
I smell a reunion sketch. C'mon ladies, get the gang back together!
As much as I can't wait to see Morgan as Brian Fellow and Maa Angelou, I am also thrilled to see him do new characters and new material. Tracy Morgan is coming back on October 17, and I am as excited as Uncle Jemima on two bottles of mash.