12 Microwave-Friendly Meals For College Dining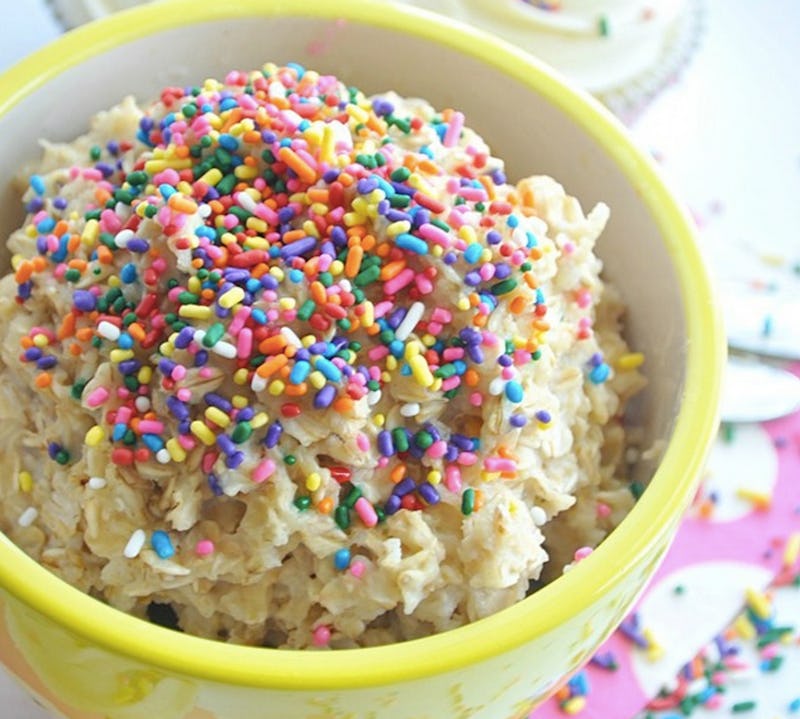 Your school's dining hall can either be one of the best or worst parts of your college experience. While at some universities, students go crazy over their dining halls' practically gourmet food, at other schools you'll find yourself whipping up microwave meals you can make in your dorm room more often than not. Dining hall hacks can only get you so far before you start stocking up on dorm-friendly food.
Just because you live in a tiny dorm room or have minimal cooking skills doesn't mean that you have to limit yourself to ordering takeout when the dining hall doesn't do the trick, nor do you have to use up all your points buying massive quantities of snacks from the vending machines. It's quite easy to make food using just a microwave and the right ingredients — not frozen dinners. This appliance isn't just for reheating.
Whether you're craving a quick breakfast that isn't a granola bar or a bowl of cereal, or you're trying to zap yourself a DIY dinner, your microwave is a huge source of untapped potential. These 12 dishes will keep you full while also impressing all your dorm-mates with your culinary microwave skills. After all, who doesn't want to be friends with the person who can make the best microwave nachos?
1. One-Bowl Microwave Mac And Cheese
It's true that we love all mac and cheese, but that doesn't mean you have to rely on Easy Mac to get you through college, as proven by The Kitchn.
2. Microwave Spaghetti Squash With Tomatoes And Basil
It looks impressive, but spaghetti squash is actually pretty simple to make in the microwave. Steamy Kitchen tops the veggie with tomatoes and basil, but you can experiment with lots of toppings.
3. Twice-Baked Potatoes
You don't need a conventional oven to make comfort food. A Cozy Kitchen makes these taters both with Greek yogurt and chives, and with cheese and bacon.
4. Tex-Mex Breakfast Muffins
Forget the breakfast sandwich. A Spicy Perspective's microwave muffins are a great on-the-go morning meal.
5. Birthday Cake Oatmeal
You'll never reach for instant oats again after trying House of Yumm's birthday cake dessert oatmeal.
6. Hummus Breakfast Mugs
This just in: hummus and eggs are the dream combo that you need in your life. Thanks, Budget Bytes!
7. Banana Chocolate Chip Quinoa Flake Bake
Skip out on the sugary breakfast cereal, and get your day started on the right foot with Healthful Pursuit's sweet quinoa bake.
8. Sweet Potato Mash With Cinnamon And Pistachios
Apron and Sneakers's sweet potato mash may look like quite the gourmet meal, but it's as easy as 1-2-3.
9. Microwave Salmon
Get ready to take things to the next level. Savory Sweet Life proves that you can make a healthy salmon dinner just with your microwave. Talk about efficient.
10. Microwave Nachos
These microwaved nachos by I Am A Food Blog are the key to becoming the most popular person on your floor, basically.
11. Scrambled Eggs
No need to spring for a sauté pan. The Kitchn makes scrambling eggs easier than ever.
12. Spinach And Feta Mashed Potatoes
This cheesy bowl of potatoes by Budget Bytes makes a stellar side dish or lunch. We won't tell if you add some extra cheese too.
Looking for more cool food ideas? Visit Bustle on YouTube.
Images: A Cozy Kitchen (2); The Kitchn (2); Steamy Kitchen; A Spicy Perspective; Budget Bytes (2); House of Yumm; Healthful Pursuit; Apron and Sneakers; Savory Sweet Life; I Am A Food Blo