Who Is Coming Back For More 'Poldark'?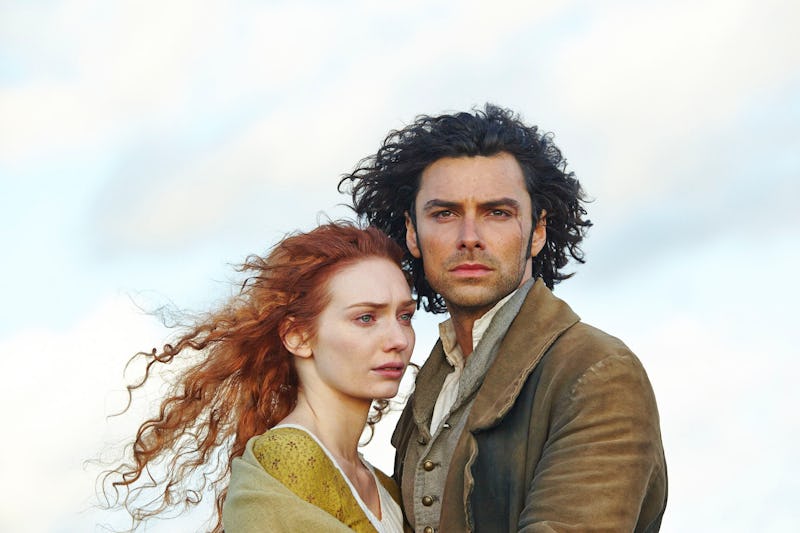 Hopefully you've already watched Season 1 of Masterpiece: Poldark on PBS. Set in the late 18th century, the eight-episode epic focused on Ross Poldark, a soldier returning from from war and piecing his life back together. His lady love married his cousin, his father is dead, and the family fortune is totally shot. Part sweeping vistas, part romance, with plenty of plot to chew through, this was easily one of my favorite shows of the summer. Thankfully, we know that Poldark will return for Season 2, though there is still no word on when it will air in the U.S.A.
While fans hold our breath waiting for promos, production stills, and anything else that will fill the void the show left behind, we have plenty of time to think about who might be coming back. Not much has been officially announced, but I have some theories about next year. Some of them are slam dunks, and some may be considered (mild) spoilers, but all are welcome to Poldark with open arms. Here's who is confirmed to return for Season 2, as well as a few safe bets, who would ensure that the series is just as addictive the second time around.
Ross
Boom. Done. Aidan Turner is already confirmed for the extended second season. They couldn't really make the show without him, so they locked him up quick. I just hope his contract goes all the way through Season 6.
Demelza
More good news here, Eleanor Tomlinson discussed Season 2 with Glamour, guaranteeing more married drama to come.
Verity
Unlike the two other stars, Verity isn't officially confirmed yet, but Poldark just has to get Ruby Bentall back. Verity was the absolute best as Ross' cousin and all around truth-teller. With any luck, her sea captain husband ports by Cornwall so she can stay in the fold.
Elizabeth
This is what we in the biz call a slam dunk. She is the third point of the triangle, and has to be back to encroach on Ross' affections. Plus, Warleggan is clearly into her, so maybe they are moving for a love-rhombus? Either way, get ready for more Elizabeth, as Heida Reed also discussed next season with Glamour.
Warleggan
Speaking of Warleggan, he sure is making some fast moves now isn't he? He'll likely be returning for Season 2, since the fourth book in the Winston Graham series that the show is based on is titled for him. But will he stay Ross' sworn enemy?
Francis
If I had to pick anyone from the main cast to be cut, it'd be Francis. No offense to Kyle Soller, but Francis is the worst. Completely useless and a whiner to boot, everyone would be better off without him. However, that's not actually the case, as Soller already spoke to Metro about the second season. OK, now the show really owes us the return of Verity.
Jud & Prudie
T'aint right, t'aint fair, t'isn't proper is basically Jud's catchphrase and these two serve as both the show chorus and comic relief. With any luck, they will be back as the worst servants in the world. After all, what Poldark Season 2 needs most of all is a pair who aren't afraid to curse at everyone.
Images: Robert Viglasky/PBS; Giphy (4); annesneville,herashilmar,demelzacarnes/Tumblr