What Is The Song In The 'Carol' Trailer?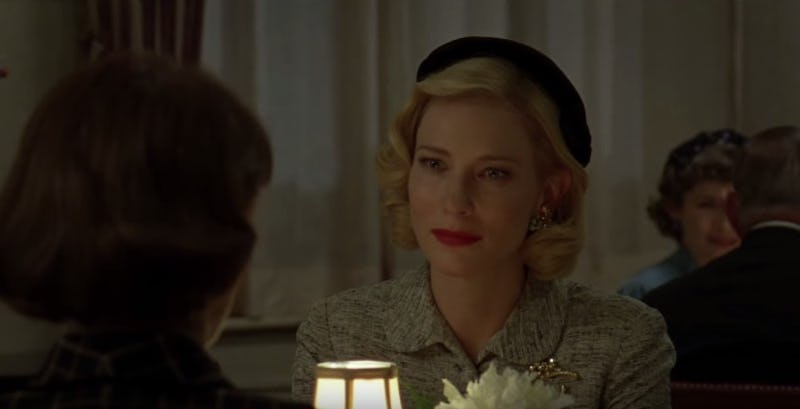 Is Cate Blanchett on the road to another Oscar? It's certainly possible, considering her performance in upcoming film Carol is already garnering plenty of buzz. The Todd Haynes drama is a '50s period piece about the relationship between Carol (Blanchett) and young department store clerk named Therese (Rooney Mara). Carol is unhappily married and begins a romance with Therese, which sparks the conflict within the film. A trailer for Carol was released online on Monday, and the new teaser certainly sets the mood for forbidden love by featuring plenty of meaningful looks and one gorgeous, haunting song in the background.
The song that the filmmakers behind Carol chose to use for the trailer is "My Foolish Heart" by Margaret Whiting, and the lyrics mirror the central conflict of Haynes' new film. Here is a sampling of the lyrics from the song, which can be heard in the trailer:
There's a line between love and fascinationThat's hard to find on a moment such as thisAnd they all have the very same sensationWhen you're lost in the magic of a kissYour lips are much too close to mineBeware my foolish heartBut should our eager lips combineThen let the fire start
Though we'll have to wait for the film to be released to see just how closely these lyrics match up with the story, they do seem to mirror the events from the book upon which Carol is based. The film is based on The Price Of Salt by Patricia Highsmith, in which Carol and Therese become romantically entangled after months of romantic tension. A potential relationship is particularly complicated as evidence of a lesbian relationship could hurt Carol's chances of keeping custody of her daughter, something that Carol is fighting for in her divorce proceedings.
Both the song and the film play on the idea of a forbidden love — Carol and Therese's relationship is complicated and even somewhat dangerous for the time, and yet they can't give up on the idea of being together. The "foolish heart" is one that seeks something without caring about the consequences, and Carol and Therese may be a bit "foolish" themselves when it comes to love. Of course, there's no reason why Carol and Therese should feel foolish for falling in love — and perhaps that's what the ultimate message of Haynes' film will be.
Carol hits theaters November 27. Check out the trailer, featuring "My Foolish Heart," below.
Image: STUDIOCANALUK/YouTube