The Best Songs To Play At Your Wedding Reception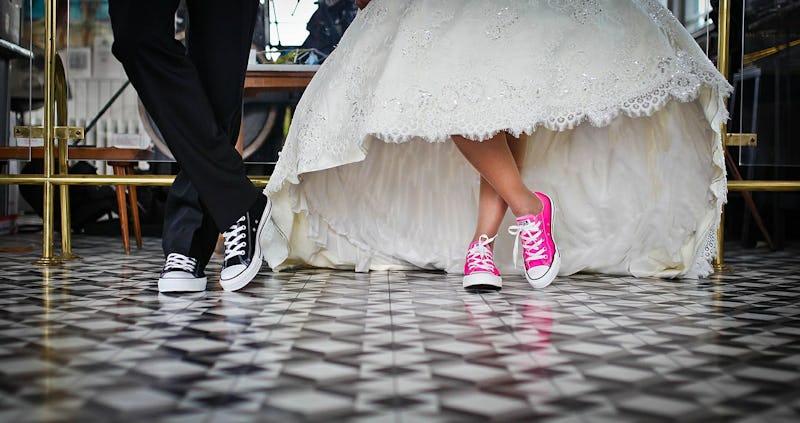 You always hear people complain when wedding season rolls around, but honestly, what's not to love about weddings? Sure, things tend to get a little mushy gushy during the exchanging of vows, but it's really the party that comes after that your guests are waiting for anyway (it is an open bar and free steak event, after all). Add a few of these best wedding reception songs into the mix, and you'll definitely have a party guests will remember. A killer playlist makes for a killer wedding — trust me on this. I mean, who wants an empty dance floor? Nobody, that's who.
A great reception playlist needs to be balanced. It can't have too many techno beats, or oppositely, too many slow jams. You want to have fun with it, but you also want to cram in as much cheesiness as you can, because that's what weddings are all about, when it comes down to it — a sprinkle of fun, a hint of cheese, and a whole lot of love. These songs nail this balance perfectly, mixing in some oldies with a slew of current day jams. If you're not slow-dancing with your groom in a fit of joyous tears, you'll be fist pumping it to the likes of Journey (well, come on, you knew there was going to be a Journey song on this list).
1. "We Found Love" by Rihanna featuring Calvin Harris
Rihanna is an all around badass, but this song is about as romantic as it gets. And in today's wild and crazy world? This song just seems so appropriate.
2. "Happy" by Pharrell Williams
Hey, they say your wedding day is the happiest day of your life...
3. "I'm Yours" by Jason Mraz
This song is too casually cool not to play at your wedding. You are his, he is yours — it's perfect.
4. "Single Ladies" by Beyonce
Since this song has been released, I don't think I've attended a single wedding that hasn't played it during, before, or after the bouquet toss.
5. "Don't Stop Believin'" by Journey
You know what they say — the reception ain't over until someone plays Journey.
6. "Blurred Lines" by Robin Thicke featuring T.I. and Pharrell
Sometimes wedding dance floors get a little dirty, and it's because of songs like this.
7. "Marry You" by Bruno Mars
I don't think this tune needs any explanation.
8. "A Thousand Years" by Christina Perri
Don't worry, no one at your wedding will associate this song with Twilight... and if they do? Who cares! It's still uber romantic despite its ties to teenage werewolfs and vampires.
9. "I Wanna Dance With Somebody" by Whitney Houston
You can't throw a dance party without a little Whitney Houston, and the best part is that you do get to dance with somebody who loves you.
10. "All You Need Is Love" by The Beatles
Everybody loves The Beatles... and all you need is love to make a wedding run smoothly.
Image: Pixabay