What Really Turns Women On?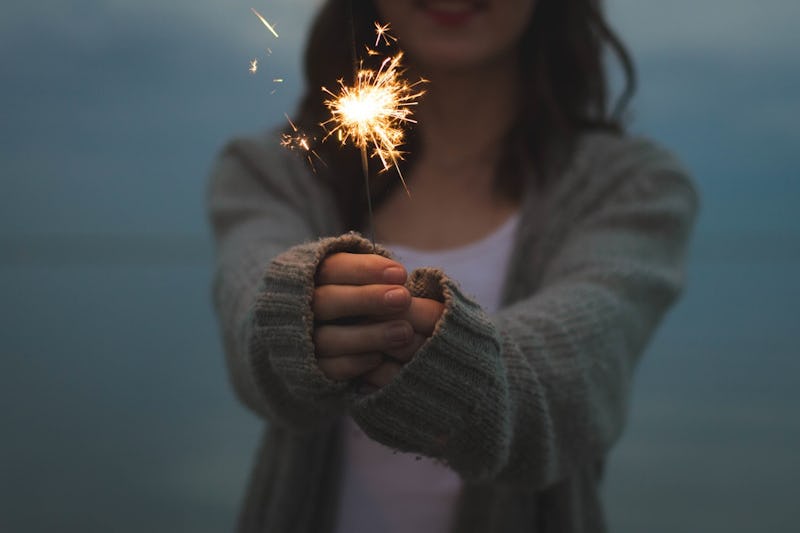 Gird your loins: the FDA's decision on the first female Viagra supplement came Tuesday, and "female Viagra," officially known as flibanserin, was approved. And not a moment too soon. Aphrodisiacs have been part of human society for thousands of years (and ladies need them as much as men), but the current landscape of natural aphrodisiacs is often less about immediate libido-boosting, and more about creating the right conditions for arousal. Your sex drive and enjoyment are based on a combination of many different conditions in the body, including skin sensitivity and blood flow so foods or substances that enhance one of those can claim to (indirectly) get your motor running. (Hence dark chocolate's claim to fame — it's chock-full of dopamine and other "pleasure chemicals"). But some substances allege a bigger, more direct impact. So what does turn women on?
Some traditional aphrodisiacs, like oysters, base their reputations on a combination of rarity and texture or shape. Foods that resemble either male or female sex organs have had a pretty strong place in the pantheon of aphrodisiacs across many human societies. Unfortunately, most of this is complete bunkum — and it can backfire. The power of suggestion does play a hand in arousal, but seeing somebody messily fellate a banana or tongue a fig may make you want to run off and become a nun. Other aphrodisiacs, like avocado, base their claims on the fact that they feature certain minerals (like zinc) and amino acids that help normal body function — including sexy times.
A 2013 review of herbal aphrodisiacs in the journal Pharmacognosy Review divided them into three groups: affecting libido, potency or sexual pleasure. If you're going to claim that gingko bilbao improves sex, for example, it has to fall into at least one of those categories. Most will fall into the last one. But there's one big problem: a lot of natural aphrodisiacs, like date palms, have only shown real results on males. Here are some aphrodisiacs that seem to turn ladies on as well.
1. Nutmeg
The news on nutmeg is that, according to a 2005 study, administering a dose of 500mg to male rats turns them into mating machines. The interesting element about this – and the one that may lead to its application to female libido, too — is that nutmeg's boost for the male mice appears to have been based its potent effect on the nervous system, rather than on any male-specific body part. It turns out that this little spice can be a serious brain stimulant. The bad news? Over-ingesting nutmeg can lead to serious hallucinations and toxic effects — so don't go raiding the spice cabinet until more studies have been done.
2. Black Truffles
This is an interesting one, as it's not actually tied to making good conditions in the body: it's a direct pheromone hit. Truffles are a fungus that grow on the roots of trees, and they come in both black and white varieties. It's now been found that the black kind has a spike of androstenol in it, a pheromone that's also found in humans — and the smell of androstenol is highly present in male sweat, an alluring scent to females. There's a viable chance, therefore, that the smell of black truffles may make you go slightly wild for no visible reason. Or you may just smell rotten mushroom. Up to you.
3. Ginseng
Ginseng gets a special inclusion because it's a one-two punch. It's an overall system-booster, improving vitality and energy, while also increasing blood flow to the genitals. A 1980 study in the British Medical Journal found that ginseng actually acts very similarly to oestrogen, which — along with testosterone — plays a huge role in sex drive. It boosts the sensitivity of the vaginal lining (known as the epithelium), but it also increases blood flow in the brain and other organs, meaning that you generally feel healthier and more alert. That's pretty potent sexy cocktail.
4. Yohimbine
Yohimbine is one of those ingredients that works as a marketer's dream. Found in the bark of a particular West African tree, it's been used as an aphrodisiac locally for centuries, and increasing pharmaceutical evidence suggests it may be that rare thing: a stimulant for both men and women. It's been shown to help with male erectile dysfunction, but, more interestingly for us, a 2002 study also gave yohimbine to post-menopausal women with sexual arousal disorder.
The results? While the women didn't necessarily report feeling different, their bodies certainly did: their vaginas pulsed remarkably fast and showed a great increase in blood flow and sensitivity. It's called vaginal pulse amplitude, and it's a pretty good indication that sex will be awesome. Careful about dosage, though: it can have serious and damaging side effects.
5. Maca Root
Maca root, a root vegetable found in the Andes, is probably one of the aphrodisiacs you've actually heard of – and that fame is reflected in the amount of studies that have been done on its aphrodisiac potential. Yet another foodstuff that attracted attention after locals reported its ancestral libido-boosting reputation, it's been subject to a bunch of science about its value – and the results are pretty positive for ladies.
The round-up in Pharmacognosy Review includes several studies that demonstrate its boosting effect for desire in both sexes. And over at Psychology Today, a researcher found studies that show it's effective in postmenopausal women and in those who've lost their libido because of anti-depressants. And it doesn't seem to have many quoted side affects. Excellent.
Want more of Bustle's Sex and Relationships coverage? Check out our new podcast, I Want It That Way, which delves into the difficult and downright dirty parts of a relationship, and find more on our Soundcloud page.
Image: Morgan Sessions/Unsplash, Ulterior Epicure/Flickr, Sarah Lay/Flickr, Yumievriwan/Flickr, StormSignal/Flickr, Wikimedia Commons (1)