DanRad's 'Victor Frankenstein' Hair Is Distracting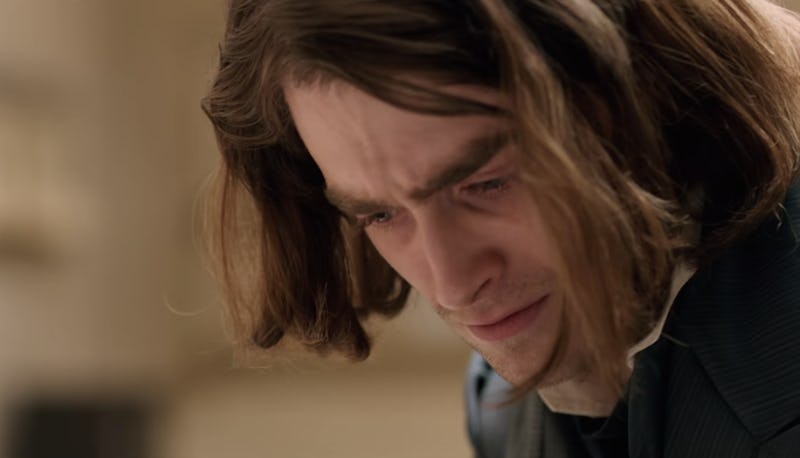 Daniel Radcliffe has done a lot to distance himself from Harry Potter since the movies wrapped in 2011. In the upcoming film Victor Frankenstein, both Radcliffe and his hair have grown. In fact, when watching the Victor Frankenstein movie trailer, that hair was basically all I could focus on around, you know, the awesomeness of the movie. It was just such a new and different look for Radcliffe that it did a lot to help me see past the Harry Potter of it all and submerge me in his latest film role.
Since graduating from Hogwarts, the 26-year-old has taken on many different kinds of roles, but all with his big heart at the center. He has appeared on Broadway multiple times — first, in a full-frontal role in Equus that gave people a peek at "Harry Potter's wand," and later in the musical How to Succeed in Business Without Really Trying. He has taken on romantic comedies, making us continue to fall in love with him in a whole new way. Now, Radcliffe is making his return to literary adaptations, co-starring with James McAvoy in Victor Frankenstein, an adaptation of Mary Shelley's famous "Frankenstein" that promises to be a new take and grapple with the issues of ethics and mortality that are in the original novel.
While it looks like a sensitive, impassioned performance by Radcliffe as Igor Strausman, from the top of my head I can think of only one thing that popped out to me: the top of his head. Check out the trailer, and the moments that his hair stood out.
1. When He Turned Around Dramatically
Look at how it swings with the motion.
2. When He Turned Around Dramatically 2
Look at how it swings with the motion, too.
3. When He Opens a Door
Watch it glisten.
4. When He Shows Apprehension
His hair is reserved, which means he is reserved.
5. When He Tries to Sass James McAvoy
You can see the anger emanating through his follicles.
6. When He's Frustrated
His hair is looking sweaty and flat, which reflects his attitude.
7. When He's Head-to-Head with McAvoy
Their faces are side by side, for your comp-hair-ison.
8. When He's Just Not Having It
...and neither is his hair.
I can't wait to see Radcliffe's hair — and the rest of the movie — this Thanksgiving.
Images: YouTube (8)