J. Hudson Is Perfect To Play Aretha Franklin
The Untitled Aretha Franklin Biopic still doesn't have a title, but it might have a star: The Wrap reports that producer Scott Bernstein, best known for his recent work on Straight Outta Compton, is in talks with Jennifer Hudson for the role of Arethra Franklin in the project. It's all quite tenuous still, as The Wrap divulged: "Hudson has not been officially cast as there is no deal in place, but a representative for the Dreamgirls star has acknowledged that conversations have taken place."
I hate to get my hopes up, but I have to say: Hudson would be the perfect choice for the role of the queen of soul.
The biopic has been in development for quite some time, so even this not-quite-news is an exciting move forward. The film, which the 73-year-old Franklin is heavily involved with, will tell the story of Franklin's rise to the top in the '60s and '70s, and also tell the darker tale of her tumultuous relationship with her ex-husband, Ted White. The similarities between 33-year-old Hudson and the original diva Franklin are many, and Hudson has cited Franklin, of course, among her most inspiring heroes.
But, Hudson's an inspiration herself, of course: Here are six reasons Hudson would be perfect to play the legendary queen of soul Franklin.
She's An Incredible Singer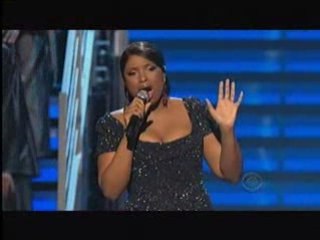 The first and most obvious reason: Hudson has an incredible set of pipes. Hudson's career started on American Idol all the way back in 2004, and even though she didn't win the prize, she's had one of the most successful post-Idol careers of any contestant. She won a Grammy for her debut, self-titled album, Jennifer Hudson , which was nominated for a total of four Grammy Awards in 2009. The singer took home the statue for Best R&B Album after a ground-shaking performance of her song "You Pulled Me Through" at the ceremony. Since then, her voice stands as one of the best in the business.
She's A Brilliant Actress
Um, hello, Dreamgirls?! That movie is everything. Hudson starred alongside huge stars Jamie Foxx and Beyoncé in the role of Effie White, and, tough as it is to do, she totally stole the show from all of the rest of the amazing cast in the motown, musical drama. She, of course, won the Academy Award for Best Supporting Actress for her performance, and it was her on-screen rendition of "And I Am Telling You I'm Not Going" that especially rocketed her to superstar status. In a review of the film in 2006, the New York Times called Hudson's performance a "showstopper, the main reason to see the movie... That song has been this musical's calling card since the first Broadway production 25 years ago, but to see Ms. Hudson tear into it on screen nonetheless brings the goose-bumped thrill of witnessing something new, even historic."
And her future looks brighter than ever: Hudson was just cast in her first Broadway role, and it's a major one: She's playing Shug Avery in the revival of The Color Purple.
She's An Amazing Woman
Musical and acting accolades aside, Hudson herself is an incredible woman who deserves ALL the r-e-s-p-e-c-t. After she was struck by tragedy in 2008 when her mother, brother and seven-year old nephew were all fatally shot, Hudson went into seclusion, but reemerged stronger than ever at the 2009 Super Bowl where she gave one of the most memorable performances of the national anthem of all time. Since then, Hudson has committed herself to her causes, brave and fierce in the face of adversity: she started the Julian D. King Gift Foundation in honor of her young nephew's death, an organization that provides school supplies to underprivileged children.
She also returned to the Super Bowl in 2013, joined by the Sandy Hook Elementary School children's choir to sing "America The Beautiful" after the fatal shooting that killed 20 of their young classmates in December of 2012. In 2013, Hudson talked to the Today show about how she managed to hold in her tears during the poignant performance in the New Orleans Superdome: "Little children being survivors like that... that is the part that took me back in. They are conquerors, they are survivors. And they're babies. So that was overwhelming."
She's Phenomenal On Stage
Watching Hudson perform is like... a privilege. Her on-stage presence blows away entire rooms, and it's no wonder that she's called upon for heavy performances. The singer's tribute performance of "I Will Always Love You" for Whitney Houston at the 54th Annual Grammy Awards in 2012 brought the room to its feet, her emotion as strong as her voice. She's given other memorable tributes, including participating in the Michael Jackson memorial service during the singer's funeral in 2009. She never fails to deliver and leaves her whole heart on the stage—not unlike Miss Franklin.
She's Proven She Can Sing Aretha's Songs
If you've never seen this amazing video of Jennifer Hudson audition for American Idol with a rendition of "Share Your Love With Me," I feel bad for you.
Aretha Approves
Perhaps the most vital stamp of approval has already been achieved: Franklin herself name-dropped Hudson in an interview with The Wall Street Journal in late 2014, saying that Hudson was on her shortlist for the role. Franklin also said in an interview with Billboard that she thinks that women like Hudson, Beyonce and Alicia Keys are doing justice to her influence, and that the music industry is in good hands. What more reason do producers need to give Hudson the role?
Hudson herself is on her way to becoming a legend — and who better to play Franklin than a young, inspiring woman who herself is in the midst of leaving her legacy?