Clinton's Newest TV Spot "Reshuffles" America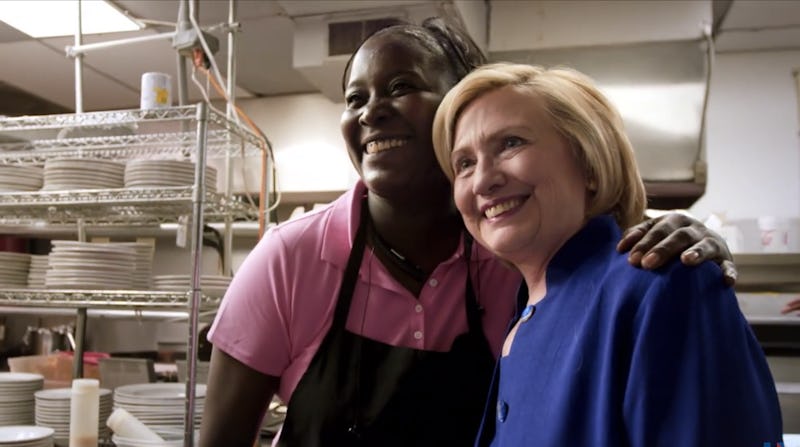 In a new TV spot slated to air this week, Democratic presidential candidate Hillary Clinton tackles an issue on every American voter's mind: income inequality. Restoring, reinvigorating, and reestablishing the middle class is at the center of every candidate's 2016 campaign, Right or Left. It's no different for Clinton, whose campaign has already released a slew of folksy videos targeting ordinary Americans. Titled "Reshuffle the Deck," her latest TV spot highlights how America's shifting class dynamics have created a lopsided playing field for those not on the very top of the social totem pole.
"When you see that you've got CEOs making 300 times what the average worker's making, you know the deck is stacked in favor of those at the top," Clinton says in the video. Her words play over images of electricians, factory workers, fast-food workers, and blue-collar managers going about their daily lives.
The Democratic frontrunner then invokes her parents' life story to shape her message of uncovering that long-missing American dream. Clinton's father managed a small business in the greater Chicago area, while her mother was a homemaker who had to perform odd jobs, including domestic work, to support herself as a young woman. "I want it to be back where it was when I came of age," Clinton says. "Where my mom, who never got to go to college, could see her daughter go to law school."
Clinton, who has maintained her frontrunner status but is steadily losing ground to Sen. Bernie Sanders, has taken a decidedly progressive stance in recent months, promoting reforms seeking to increase wages for middle-class workers while promising to prosecute financial firms, including hedge funds, for criminal violations.
"When all Americans have the chance to study hard, work hard, and share in our country's prosperity, that's fair growth," Clinton said last month in her sweeping economic address, which was described by many as both pro-women and pro-immigrant. "Workers are assets. Investing in them pays off. Higher wages pay off. And training pays off."
This latest ad reiterates the essence of that address: "We need to have people believing that their work will be rewarded. So I'm going to be doing everything I can to try to get that deck reshuffled so being middle class means something again." According to the Clinton campaign, the 30-second "Reshuffle the Deck" video will be the first TV spot of the campaign's five-week ad buy, to air in Iowa and New Hampshire. You can also view it below.