How To Get Sonic Slushes Super Cheap Today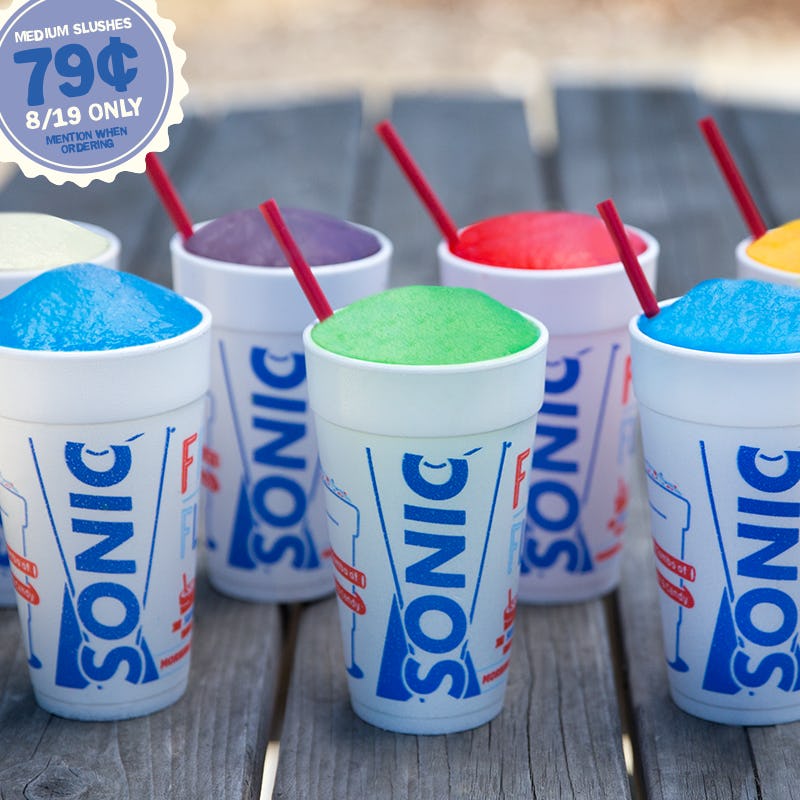 It's summer. You're hot. It's gross. So obviously you want something cold and full of sugar. Well, good news: Sonic slushes are just 79 cents on Wednesday, August 19 (that's today, people!). That's right — for less than a dollar, you can change your mouth to basically any color of the rainbow. And don't even try to tell me that colors aren't flavors; everyone knows that blue is the best flavor out there (even if I still don't actually know what a "blue raspberry" is).
There are, however, some drawbacks: First, you're only allowed to get four slushes per order, which immediately puts the kibosh on my dream of filling my bathtub with slush and swimming around in it; and second, not all Sonics are part of this promotion, so make sure you look up your local one to see if they're playing nice. A third potential drawback might be unique to me — that is, that I'm probably going to waste more money on gas trying to decide which flavor I want than I'll be spending on the slush itself — but you know what? Worth it. I'm also pretty sure there's an option to get Nerds in your slush, even though add-ins are extra with this promotion, it's still a pretty legitimate option.
Regardless if you choose to partake or not, the world seems pretty happy about Sonic's promotion:
As well you should.
She gets me.
As hell, though.
Slushes come first. Naps come second. Obviously.
This may be from last month's promotion but... just too perfect.
Preach, sister.
Images: Sonic Drive-In/Facebook