Is 'Bachelor In Paradise' Getting Another Villain?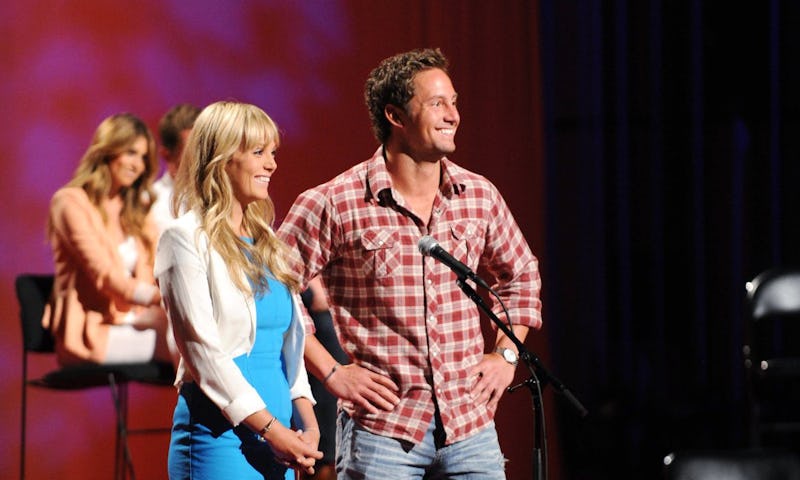 Here's a name that should be memorable to Bachelor fans. Nick Peterson made headlines when he won Bachelor Pad 3 and walked away with the whole prize, leaving his onscreen partner Rachel with nothing. Since then, he's been up to a lot more than just spending the quarter of million dollars he won. It seems like, in the last three years, Nick might have gotten to the point where he's ready for some actual love... provided, of course, that it comes in a reality TV package. You can take a guy off of a Bachelor show, but you can't take the Bachelor contestant out of the guy, which is why, according to a new preview for the show, Nick Peterson is joining Bachelor in Paradise . But, it might not be easy for the former villain to convince anyone on the show to fall in love with him.
After his Bachelor Pad win, the 30 year old personal trainer (of course, because everyone on this show is a personal trainer) was widely vilified. Even host Chris Harrison chimed in with an interview at TV Guide about the ethics of Nick's decision, saying, "Where he went wrong was ... doing a touchdown dance on Rachel's soul right in front of everybody. He didn't need to rub her face in it like he did. He was very unbecoming and not gentlemanly and almost downright rude." Nick's bad manners might be a hard sell to some of the women in Paradise, but he's the type who would do just about anything to stick around, so we'll see what he does in order to impress the ladies once he walks into Bachelor in Paradise 2. And hey, there's always the chance they won't remember him! After all, his Bachelor Pad win was way back in 2012. Here's what Nick has been up to since then.
He Knows Cara Maria!
Any fans of The Challenge will recognize that this is a meeting of two reality giants... and a bunch of alligators, for some reason. Cara Maria is the physically tough, multicolor-haired competitor on most seasons of The Challenge — she'd probably beat up Nick for treating his potential BiP love badly.
He Dresses Up With His Dog
So he has a good sense of style, and his dog does too. You don't get to see much style on Bachelor in Paradise , unless you're Marquel Martin, so this is good insurance that Nick does clean up well.
He's Really Into Guns
Politics don't usually come up on Bachelor shows, but if any ladies were curious, looks like Nick is an avid Second Amendment exerciser.
He's Got A Favorite Bible Verse
In a lot of photos, you can spot Nick wearing the same hat with the words John 3:16 on it, presumably referencing the Bible verse of the same name, which goes as follows: "For God so loved the world that he gave his one and only son, that whoever believes in him shall not perish but have eternal life."
And An Impressive Set Of Abs
What is that, a 30-pack? That is impressive, especially since the preferred dress code in Paradise is usually no-shirts-allowed.
He's Generally Sporty
I admire his ability to even stand up on a snowboard at that altitude.
He Loves A Glass Of Wine
That'll win him some points with almost anyone in Paradise, especially if he usually pours his glasses that big.
He'll Be Taking Someone On A Yacht Ride
Right away, Peterson is going to be charming someone with a day date that includes yachting.
I'm assuming someone told him that there's no cash prize at stake this time, so I'll give Nick the benefit of the doubt that he's really on Bachelor in Paradise to look for love. We'll find out for real very soon!
Images: Screengrab/ABC