Shop The Best Flare Jeans For Fall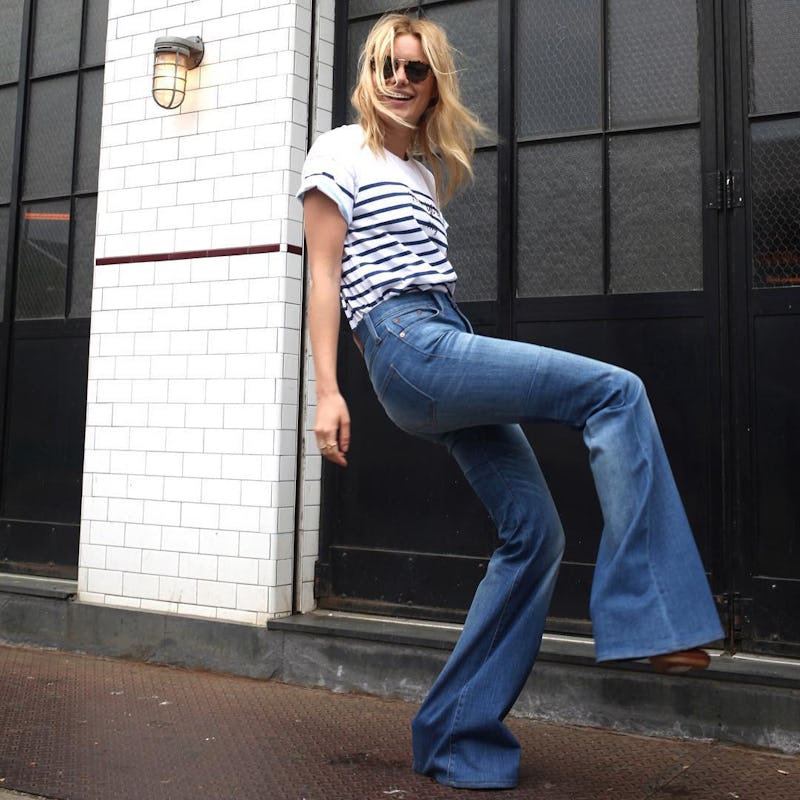 Is anyone else super happy about the fact that flare jeans are making a comeback? Because they're going to become a closet essential for the upcoming colder seasons, it's time to start looking for the best flare jeans for fall now. Personally, I favor '90s-inspired flares, but I also have a lot of love for the '70s flare look too.
In terms of popularity, skinny jeans were reigning supreme for quite a while until the laid-back look of the boyfriend cut began taking over. Now, from bootcut to straight to cropped, it seems like everyone is rocking everything BUT skinnies. To add onto that list, flared denim is making its way onto the trendy list for fall. To be honest though, as a '90s baby, I like to think '90s fashion never went out of style. I'm sure my parents feel the same way about the '70s. This time, we're both right.
If you've never really been a fan of flare jeans, then you probably just haven't found the right pair yet. Sure, flare jeans all fan out at the bottom, but the type of shape that it can take around your calves and thighs can differ. Some are like boyfriend jeans, where there's more room around your thighs. Others are like skinnies where it hugs your legs before flaring out—so boho chic.
It really depends on your preference, but here are some great flare jeans to start out with.
1. Dark Wash
Gap Authentic Flare Jeans, $70, Gap
Pair these with high-heel booties for the perfect casual fall look.
2. Loose Fit
Rag and Bone Corduroy Flare Jeans, $198m Nordstrom
It's always a win-win when put-together looks turn out to be comfortable.
3. Distressed
Caroline Distressed Flared Jeans, $62, Nordstrom
If you love the edgy look of ripped jeans, you can pair distressed flared jeans with moto jackets and blazers.
4. Bell Bottom
Rag and Bone Bell High Rise Flared Jeans, $225, Net-A-Porter
Work that '70s look with stripes and a circle scarf.
5. Cropped & Flared
Madewell Flare Crop Jeans, $135, Nordstrom
Cropped is the perfect cut if your fall weather is still around 80 degrees.
6. High-Waisted
Michael Kors High-Waist-Flare-Leg Denim Jeans, $135, Neiman Marcus
Because crop tops will be making their way into fall, too.
7. Light Wash
7 For All Mankind Flared Jeans, $133, Far Fetch
Lizzie Mcguire '90s vibes.
If you're just as excited as I am to rock some flare jeans this fall, here are more outfit inspiration on how to style flare jeans.
Images: @Madewell1937/Instagram; melbournian_mumma, stellawants2die/Instagram