Signs You Graduated from Syracuse University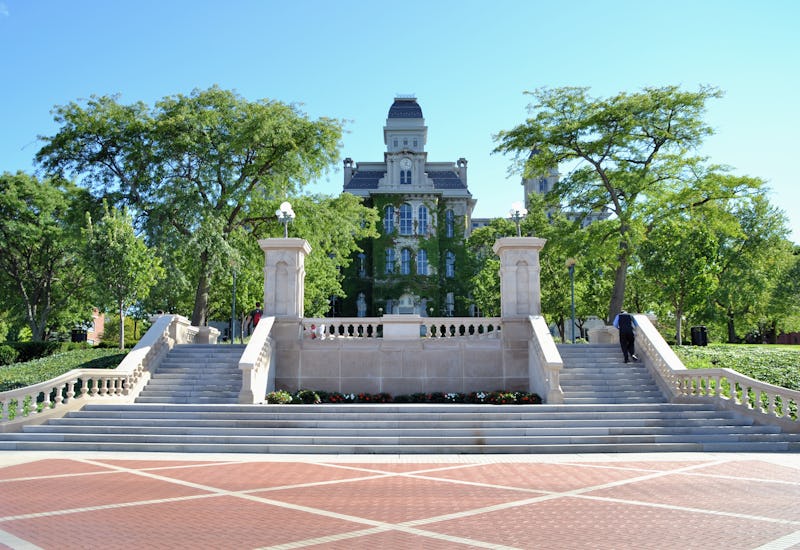 People who went to Syracuse University often marry each other and adopt quirky wedding traditions . They are diehard tailgaters who don't mind the cold, and they are always bragging about attending the snowiest college in America. If you think that's a dubious honor, 'Cuse Nation would beg to differ. We consider surviving winter's worst blows — like 10 feet of snow — as a point of pride.
But SU is more than just snow and sports... and partying. It's also known for its academic rigor. It has a standout undergraduate business school in the Whitman School of Management and an incredible journalism program at S.I. Newhouse School of Public Communications. The latter trains its young reporters to stand strong and be ruthless, and you don't have to look too far to find some star alums. (See: Donald Trump getting the Megyn Kelly treatment.) There are some things that only people who went to Syracuse understand, like having a thick skin (to better deal with frigid temps) and how to draw the perfect orange "S" on your stomach in body paint. No matter what happens, we'll always bleed orange.We partnered with Nordstrom Rack to reminisce about the things that only people who went to Syracuse understand.
This post is sponsored by Nordstrom Rack. The new Nordstrom Rack opens on Oct. 22 at the Destiny U.S.A. Shop the brands and styles you love at up to 70 percent off. Get details here.
1. SU Dropped From No. 1 To No. 5 Party School, And You Kind Of Took It Personally.
Seriously, it's like losing Ivy League status. SU students earned that No. 1 spot on last year's Princeton Review list of top party schools, so to fall down the ranks is such a letdown. All of those fishbowls at Lucy's have to count for something.
2. You Can't Stop Watching Syracuse Alumna Ashley Iaconetti, aka "Kardashley," On Bachelor in Paradise.
Though you might cringe, you can't help but be impressed by her amazing lashes. What mascara do you use, girl?
3. You Want To Eat All Of The Fruit Grown On The Frankentree.
Syracuse University professor and artist Sam Van Aken created a crazy fruit tree that grows 40 different types of fruit. Imagine: Eve would've been so confused she wouldn't have even been able to choose an apple. Mind blown.
4. When You Go To A Friend's Wedding, A Syracuse Squad Photo Is Required Business.
On the list of the photographer's required shots to get – along with family portraits and photos of grandma – is a group photo of the bride and/or groom with all the 'Cuse buddies. You're as close with your freshman year floor mates from Day Hall or Sadler (shout out to my Kimmel peeps!) as you are to your own brother and sister.
5. You See Mount Everest Explorers' Gear And Think: "I Wore That Walking To Class."
We trudged to class uphill both ways, carrying a snow shovel as icicles formed under our chins. Class was only canceled twice in SU history, in 1993 and 2011. Softies .
6. When Hosting A Backyard Barbecue, Dinosaur Bar-B-Que Sauce Is A Must.
Extra points for trucking in actual Dinosaur Bar-B-Que.
7. You Still Have Blue And Orange Paint On Your Face.
Why even bother washing it off?
8. You'll Drive 20 Miles Out Of The Way Just To Go To Wegmans.
The prepared foods section helped you survive dining hall food and microwaved dorm room soup. For that, you'll always be loyal. It's the least you can do.
9. You Can't Remember Anything You Learned In Statistics, But You'll Never Forget Wine and Beer Appreciation.
If not wine and beer, there's also the free Star Trek class.
10. When Someone You Know Announces The Birth Of A Child, You Immediately Say, "'Cuse Class of 2036!"
And then you promptly go buy baby orange gear.
11. Speaking Of Orange Gear, You Have An Entire Drawer Dedicated To Syracuse Apparel.
Who needs sweaters? More Syracuse sweatshirts, please.
12. You Still Invite People Out For Your "Birthday Keg."
Some friends might buy you a drink on your birthday, but at Syracuse, you might have tapped a whole keg with all your sorority sisters and fraternity brothers to imbibe in your honor.
13. You Never Come Off The Hill. Because Zombies.
The only reason to leave the Hill? The mall. Oh, and Dinosaur Bar-B-Que.
Images: Flickr/ jpellgen; giphy.com; Ashley_Iaconetti; giphy.com; ajtrug, globetrotttter, mr.distefano, marieeee44, castleproductsinc/Instagram ; giphy.com; jennaleephotography.net; Instagram/ vikki0511; giphy.com; giphy.com