This Sky Pool In London Is Too Fancy For Your Eyes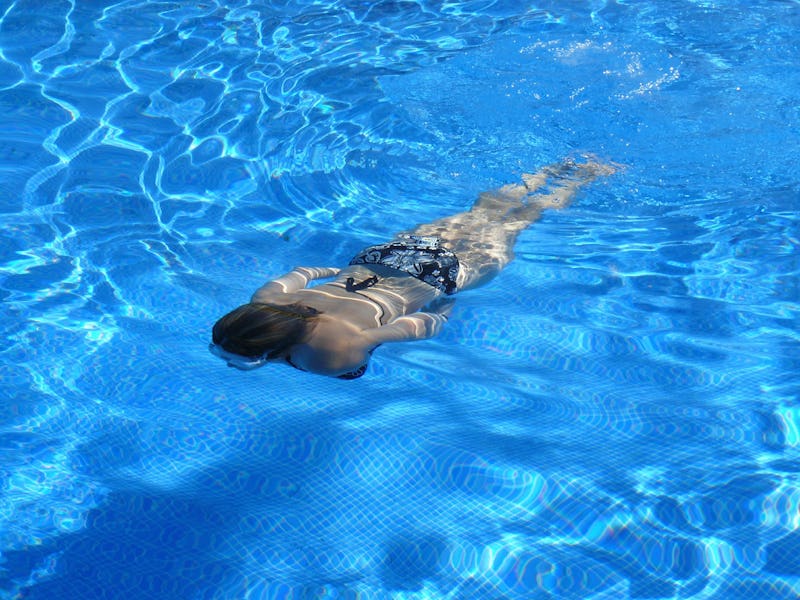 Developers in London have announced plans to build a swimming pool suspended between two ten-story buildings, and I can't decide whether swimming in this "sky pool" — a giant glass box hanging nearly 115 feet above a bustling city — would be incredibly cool or unutterably terrifying. Maybe a bit of both?
The sky pool is part of a major project by the Ballymore Group in the Battersea area, called "Embassy Gardens." The development will boast commercial space, a hotel, and 2 thousand homes. The sky pool will allow residents to swim between the two main buildings, though there will be a footbridge for those less aquatically inclined. The pool will be constructed entirely of glass, allowing swimmers an unobstructed view of the city below them. Sean Mulryan, chairman and CEO of Ballymore, said of the project, "The experience of the pool will be truly unique, it will feel like floating through the air in central London." "Floating" sounds awfully soothing, but I imagine swimmers' actual experience of the pool will depend on how they feel about being held aloft by 20 cm (7.87 in) of glass. While many may feel perfectly serene swimming laps high above the streets, others (ahem, me) may find the prospect of having less than eight inches of glass as the only thing separating them from a watery demise-by-falling to be too much to handle.
Mulryan explained, "My vision for the sky pool stemmed from a desire to push the boundaries in the capability of construction and engineering, I wanted to do something that had never been done before." One could argue whether "never been done before" is necessarily the same as "a good idea." Although the sky pool is undoubtedly impressive, some people seem skeptical of the project. Henry Pryor, a British housing expert and buying agent for the wealthy, told the Guardian that he thought the idea for the sky-high pool was "genuinely crackers," adding, "[F]or the first time I can honestly say that whilst my admiration for the architect is close to reverence this absurd addition must surely be the biggest mistake I have ever come across."
Living in the two buildings that hold the pool aloft won't come cheaply: According Mashable, prices for homes in Embassy Gardens begin at a cool 602 thousand pounds (roughly 940 thousand US dollars). If you've got money to burn and a hankering to float in the air and the water at the same time, you'll be pleased to learn that apartments in the second phase of the development go on sale in September (The first phase sold out in 2012).
Image: Pixabay