This 'TIME' Cover Is Peak Donald Trump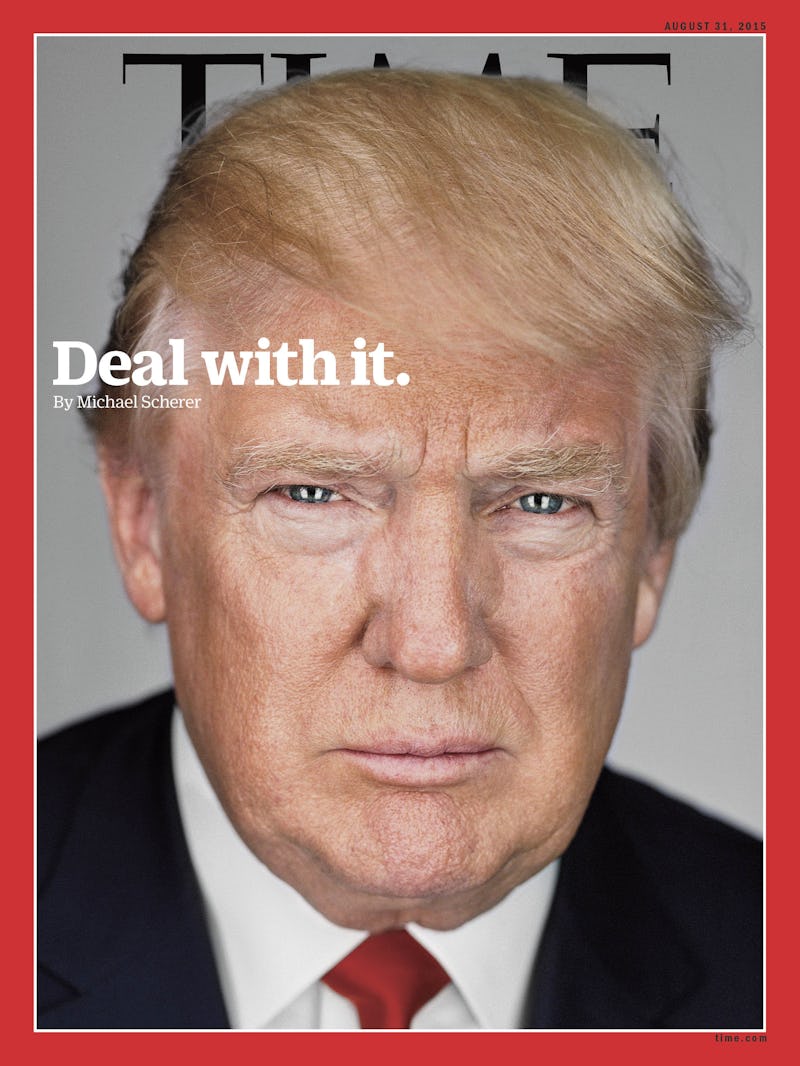 It was only a matter of time before Donald Trump landed his first major magazine cover. Since he announced his candidacy, the media has essentially become The Donald Trump Show. While most headlines say something to the effect of "Another day, another reason to mock Trump," Donald Trump's TIME magazine cover lends some serious gravitas and validation to his somewhat inexplicable mass appeal. And while his vast array of verbal assaults might be unpredictable, his image is not. In fact, with his signature orange glow and look of utter revulsion, Trump has never looked more Trumpy than on his TIME cover.
Shot by renowned portraitist and frequent TIME collaborator Martin Schoeller, the cover features an expertly lit close-up of Trump's mug along with the caption "Deal With It." In a behind-the-scenes interview, Schoeller told TIME that of the 28 shots he took, Trump only gave one look.
Every frame was the same. Mr. Trump knows exactly how he looks, and he strikes one pose and doesn't move.
And that pose can best be described as "I smell plebeians nearby," or perhaps he was simply thinking about the female race. As for his look, it appears to suggest that Trump is 76 percent orange Fanta, 18 percent traffic cone, and 6 percent water, topped with burnt spun sugar. In other words, if you wanted to enter a Donald Trump lookalike contest, you'd have better chances of winning if you entered a carved pumpkin wearing a wig.
The Donald Trumpness doesn't end with the cover, though. Accompanying the cover story is another shot that defines Trump's brand of over-the-top everything. It shows the Donald standing in his office giving a thumbs-up with one hand while providing a perch for a bald eagle with the other. On his face is that same familiar smirk of smugness, a telltale sign that he had just taken a dip in his giant pool of hundred dollar bills. On the eagle's face is sheer anxiety coupled with determination not to make any sudden movements, lest he be sued by Trump. The whole thing is begging to be made into a giant tapestry.
Donald Trump is like the personification of the Chuck Norris Facts meme. Replace Norris's name with Trump and it makes even more sense. "Donald Trump's tears cure cancer. Too bad he has never cried." "When Donald Trump jumps in water, he doesn't get wet. The water gets Donald Trump." Am I right?
But not so fast. Did you really think you were having the last laugh? Please. Trump already knows what you're thinking, and he's 5,000 steps ahead. In the TIME profile, he addresses the very noticeable gap between his image and those of the other candidates, not to mention the average American people. Using the recent Iowa State Fair as an example, he asserted that his elitist image was actually the secret to his success in the race:
People don't understand. You come in on a Boeing 757, and you get out of a helicopter, and you go over to the fair, and you give the kids the rides, which the kids loved. But you land in this incredible Sikorsky, and people like it.
Then, contrasting himself to past presidents who have tried to be more populist, Trump said, "They don't want that. They want someone who's going to beat China, beat Japan."
Perhaps for his next cover, they can just use Chuck Norris in Trump's place.
Image: TIME