These Comics Perfectly Understand Gender Equality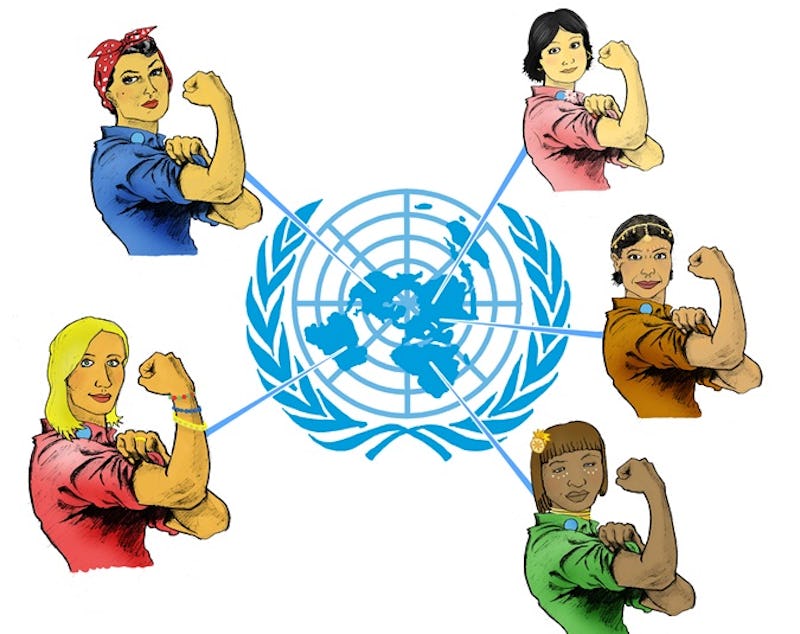 One of the hallmarks of feminism is discourse — recognizing patriarchal culture means little without discussion of how to end it. The 2015 United Nations Comics and Cartoons on Gender Equality, however, manage to speak volumes about gender equality without ever saying a word.
Working with the European Commission, the Belgian Development Cooperation, and the United Nation Regional Information Centre (UNRIC), the United Nations recently asked European artists between the ages of 18 and 28 to illustrate their understanding of gender equality and women's rights. At first glance, it's a pretty average (and awesome) competition, but there was a catch: the comics couldn't use words.
The results were a powerful depiction of the status of gender equality in the modern day. Although some may claim that the fight for women's rights is over and done, the winners of the competition show just how far we have yet to go, even in developed countries that pride themselves on their progressiveness. Don't get me wrong — many European countries have guaranteed paid maternity leave (unlike the United States), and the continent is home to some of the most feminist countries in the world (also unlike the United States). However, that doesn't mean its residents don't experience catcalling, sexist "jokes" from politicians, and restrictions on their human rights.
The UN's competition, though, is proof that many Europeans recognize the need for change. Let's take a look at a few of the winners and what they have to say about their pieces; you can see more, including all the semi-finalists, over at the UN Women website.
Emilio Moralez Ruiz
"I wanted to represent everything involves with gender equality in the simplest, concise and direct way was possible, and at the same time it should be understandable for any language, culture and age... [What] I wanted to communicate is that if everyone just with a little gesture can help to stop gender inequality," Ruiz writes to Bustle. "Finally, after several sketches, I got exactly what I wanted to represent."
Samuel Akinfenwa Onwusa
"I wanted to reflect the situation that a woman had in their job interviews," the artist writes to Bustle via email. "They don't get the job because they are women? ...That must change now."
Aleksi Siirtola
"I have always identified as a feminist... The goal of equality is universal," Siirtola told the United Nations. "Using the legendary Rosie the Riveter in a universal context felt like such a powerful idea that I decided to make it my submission to the contest," he later added to Bustle. "I'm really happy how the image turned out. Its message is clear, it's visually varied and interesting, and above all - it looks cool."
Aitor López García
"My inspiration is feminism from a man's point of view," García tells Bustle. "I believe that sexism also affects men... Whenever I went to a supermarket [and] saw 'men' on one side and 'women and children' on the other, I never understood."
To check out the rest of the winners and semi-finalists, head over to the UN Women website. Images: Courtesy of Emilio M. Ruiz, Samuel Akinfenwa Onwusa (extrasawz@hotmail.com), Aleski Siirtola, and Aitor López García