Get Carly Rae Jepsen's Gold Blazer Look
We're winding down to that awkward stage of summer where the heat waves aren't finished with us yet, but the craving for chunky knits and thigh-high boots is all too real. If you're on the look out for some transitional pieces, Carly Rae Jepsen wore a gold blazer and black bottoms ensemble on The Tonight Show with Jimmy Fallon Wednesday and it's the perfect outfit for summer and fall wardrobes. Think rocker chic with a hint of flirty flair. With a few creative mix and matches, I'm thinking the "Call Me Maybe" singer's ensemble should make a cameo in your wardrobe ASAP.
Jepsen had my heart way before she was singing viral love ballads to the hottie next door mid-car scrub. For me, she will always be the petite Canadian chick who blew me away with her intense bangs and sweet lyrics about a cup of tea. She has always sported a classic, alternative sense of style that, despite her fame, has always been represented in her wardrobe.
Did anyone else grow up with sisters born and bred in the '80s? Because I'm thinking Jepsen called up her stylist and ordered a Rockstar Ken inspired jacket. She's got a feminine meets tomboy vibe going on here, and I am obsessed.
In love? That's what I figured. Check out below how you can snag Jepsen's gold blazer and shorts combo, along with a few other options to make the look your own.
The Gold Blazer
This metallic gold blazer is similar to Jepsen's in style, but with a bit more detailing. This jacket screams rockstar chic with a snake skin-like pattern, and gold that reflects. If you're a girl who likes attention, meet your new best friend. (Diane Von Furstenberg Blazer in Gold, $192.00, tradesy.com )
Tone it down a bit with this cropped blazer. It's more subtle in shine, but rich in color. Note the chain detailing in the collar? Very '80s. Vintage is always in. (Richmond X Blazer, $234.00, yoox.com)
The White Shirt
A loose V-neck cami underneath either blazer would give off the punk rocker vibe. You show your alternative style with the retro blazer, by a loose t-shirt shows that you're pretty laid back underneath that shiny shell. (Old Navy, $4.50, oldnavy.gap.com)
Eventually, the heat will subside, and the brisk fall air will be here. A tight, long sleeve shirt tucked into pants/shorts/skirt will serve its purpose, all the while looking fresh. (Forever 21 Ribbed Knit Top, $7.90, forever21.com)
The Black Bottoms
A put-together ensemble is determined based on balance. If your top is a little more glamtastic, you'll want your bottoms to be more subtle. A sleek pair of black, leather (or faux leather, if you prefer) shorts will do this ensemble wonders. (Urban Outfitters Lucca Couture Modern Pin-Up Short, $44.00, urbanoutfitters.com)
There is something so "cool girl" about a blazer paired with ripped skinnies. Add a pair of stunner shades and you're good to go. (Topshop Jamie Distressed Skinny Jeans, $85.00, nordstrom.com)
Check out the video below to see Jepsen — and her stellar ensemble — in action on The Tonight Show performing her new single "Runaway With Me."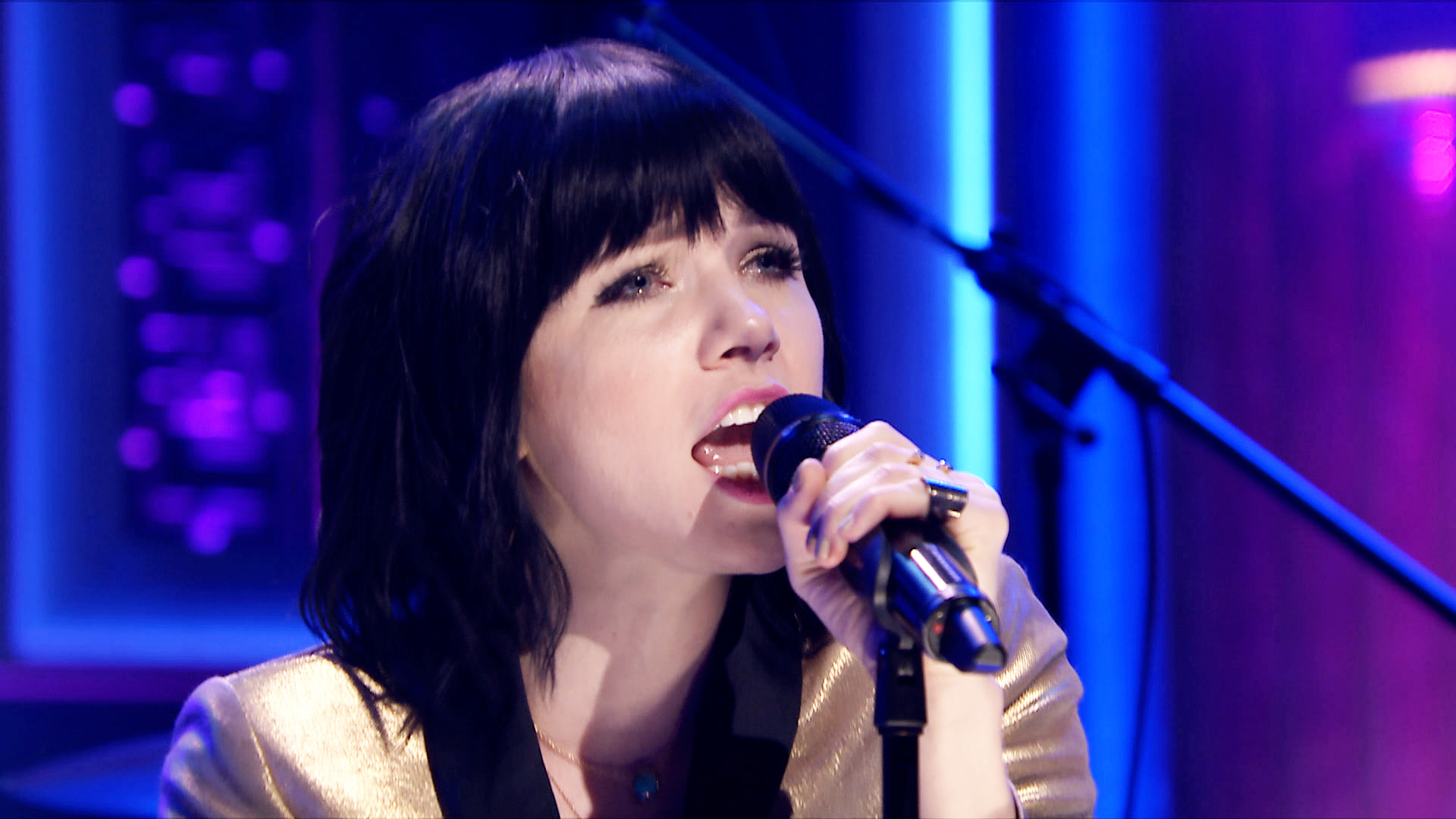 Images: Courtesy Brands (6)