'Bring It On' Actor Shares Memories From Set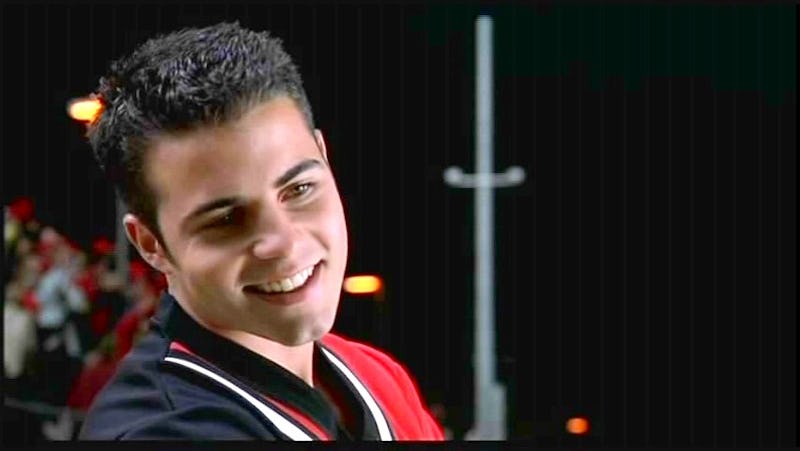 It's a film that launched the careers of a handful of unknown teen actors, it introduced us to the concept of spirit fingers, and it's one of the most beloved teen movies of the past 15 years. But Nathan West, who plays cheerleader Jan in the now iconic film Bring It On , was never supposed to be cast in the film. "It's time for a little confession. Everyone that auditioned for the film was asked if they had any prior experience in either gymnastics and/or cheerleading. I did what any sensible young starving actor would do — I lied through my teeth and told them I had plenty of experience in both," says the now 36-year-old actor. "I overheard two actors talking about how the casting director told them to be prepared to do a gymnastics routine at the end of the audition. I thought there's no way that's really gonna happen and not a moment later, the door opens to the audition room and here comes Huntley Ritter (Les) doing a cartwheel down the hallway! Fortunately for me, by the time I finally auditioned they were so far behind schedule they didn't ask me to do anything. Score!"
Bring It On follows cheerleaders at a Southern California high school who find out their best cheers were stolen from an inner-city school and must scramble to put together a completely new routine in time to compete at championships. "I can't help but smile when I think about how much people still love Bring It On," West says. "It was a unique take on the teen comedy genre that centered around a group of high school cheerleaders, which is also something almost anyone can relate their own personal high school experience to some degree. Whether you were one, wanted to be one, or date one. You have to admit we are all six degrees from a cheer filled memory."
Despite not having any gymnastics or cheering experience, West assures that he had no interest in getting into acting in the first place. An avid high school hockey player, he was approached during a school hockey trip to Anaheim, CA, and asked if he would be interested in appearing in the Disney film, Mighty Ducks 2. "Little did I know that experience was going to change the direction of my life forever," the father of three says.
Once he was cast in Bring It On, the actor, along with Kristen Dunst and the rest of the cast, went through a rigorously and "very intense" cheer camp for 3-4 weeks that lasted 10-12 hours a day, according to West. "Then they would transport us back to the hotel where Huntley and I would continue practicing because we were both certain we were both gonna get canned," he says, noting that learning the routines was the most difficult part of filming. "Especially when it came to all the lifts and throws. It was crazy to think what little experience we all had and then to see how trusting everyone was with us just throwing these girls up into the air like it was no big deal," he reminisces. "I still wonder from time to time how no one got hurt. Literally some of those moves where were considered illegal in actual competitions."
During filming, West had an idea to bring the cast closer together. "I think it was about Day 2 at the hotel in downtown San Diego that I had this idea that we should all move to the same floor so we could get rooms next to each other. That might have been one of my best ideas to date," he says. "I had never met Kirsten before filming Bring It On, but she was truly amazing from day one. A lot of fun to hangout with both on and off set and fantastic to work with. We all became really close while filming. I think it was a first big feature film for a lot of us so they're really wasn't any drama or egos," he says, noting that he's stayed particularly close with fellow male cheerleader Huntley Ritter over the 15 years since the film was released.
And with 15 years since audiences have seen Jan throwing girls up into the air and hitting on his female teammates, I wondered what the would-be casanova might up to today. "Although he loved the perks of being around beautiful girls all the time, I think Jan's passion for the sport of cheerleading was truly authentic and genuine. That said, I would have to imagine by now he would have probably opened a training facility somewhere, be heavily involved in the UCA and coaching his own team," West says, adding: "And probably dating a lot of moms."
A few years ago, West took a break from acting to spend time with his family. During his time off of being in front of the camera, he and wife Chyler Leigh started their own independent production company, Modern Machine. "Now that we are through the start up phase, I am currently getting ready to produce one of our independent features, which we will be not only producing together but also co-starring and singing in. If anyone wants to hear Jan sing, check this out..."
A decade and a half may seem like a lifetime, but West assures: "I definitely think I could bust out a couple cheers, if my life depended on it. And if all else fails, I can always resort to spirit fingers."
Images: Beacon Pictures; Getty; Tumblr