What It's Like To Be A Debutante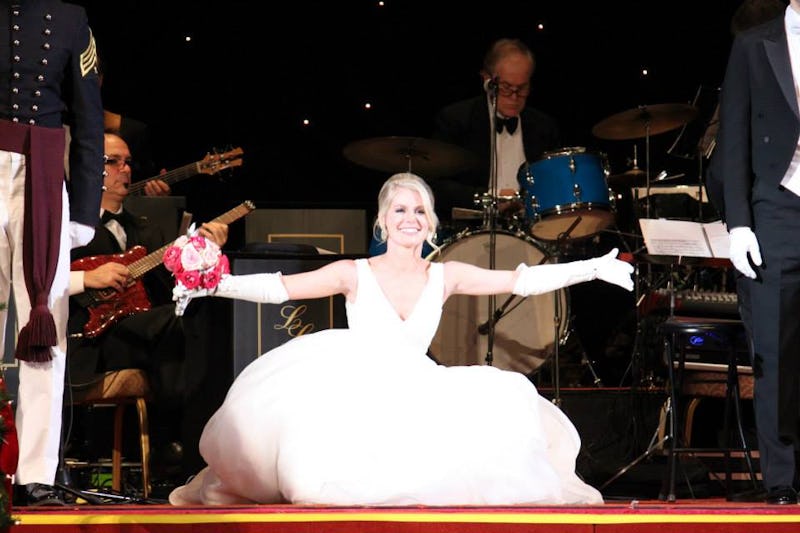 A girl in a puffy white dress walks down a grandiose staircase, flashing a smile as she enters the debutante ball. Reaching her destination, she glides around the room on impossibly high heels, greeting guests. Her name and status are announced; then her perfectly patrician escort, who has been holding her gloved hand all this time, escorts her to her father, who proceeds to waltz with his offspring while society's elite watch.
Though this may sound old-fashioned, it isn't a a description of an event from 1817, the year when the first American debutante ball was held in Savannah, Ga. — this is a description of a debutante ball that happened this year. And even though a lot has changed in the nearly one hundred years since the first U.S. debutante ball, the balls themselves have not changed that much — leading some people to view them as "antiquated things created to marry daughters from wealthy families to suitable wealthy men," as a debutante named Emma describes them. Emma* is one of these daughters — and she is debuting to fulfill her grandmother's "lifelong dream," rather than due to her own desires. "The focus, it seems, is on looks and family status," Emma says. "Especially looks. It's hard to believe this thing still exists in 2015."
Of course, this "thing" has existed for quite some time. Before the rite of passage came to America, debutante balls enjoyed a heyday in Reformation-era Europe, when English Protestants bemoaned the lack of convents available for unwed daughters. To ensure that every daughter found a suitable husband, these members of the British upper class began making sure that their marriageable daughters had a full social schedule of formal events to attend, beginning around Thanksgiving and culminating in mid-January — what is traditionally referred to as the "season" for a debutante. In her upcoming season, Emma says, debutantes will be "presented at three separate balls held by men's clubs in Dallas and then have their own balls on top of that. Besides those, there are a ton of different brunches, cocktail parties, and other balls for the girls. During Christmas [week] there's basically a party every night."
But are these balls still simply about matching upper-crust young women with suitable mates? Rachel Spross, a fellow Texan debutante, thinks not.
"Many people still think that it's a way for fathers to marry off their daughters, and that is simply not true," she declares. The first in her family to debut, she's about to enter her third season, having spent her second on the East Coast for the world-famous International Debutante Ball at the Waldorf Astoria in New York City. At the aforementioned biannual event, accomplished young women or daughters of accomplished parents take the stage and present themselves to fabulously wealthy patrons, who have spent at least $17,000 (the cost of one table) to be there. There's a lot of pressure on the debutantes; they rehearse how they will move while appearing at the balls for "long" periods of time, Spross says.
Why do these young women work themselves so hard in preparation for the ball? What exactly are these girls practicing for, if not to find a suitable suitor? Today, the focus at debutante balls is less on finding husbands than it is on networking. "Today, it's all about connections; the old saying 'It's not what you know, it's who you know,' seems to come up," Spross notes. "Being a debutante is a great way to network and meet new people … to learn and practice skills those you can, and will, use for the rest of your life. ... I loved getting to talk to so many people from so many different places." Plus, proceeds are usually donated to charity; for example, the International Debutante Ball supports troops away from home.
Even Emma recognizes the networking benefits that come about with debuting. "The main thing I hope to gain is more business connections via meeting all the powerful men in Dallas," she straightforwardly declares.
Empowerment is a tricky word, one that we don't often associate with the debutante process. "There are so many stereotypes," Spross claims, "that make the process disempowering for so many girls. You have to overcome the assumption that you're spoiled and stuck-up." Even with the benefits of networking, it may be difficult to find empowerment in rehearsal after rehearsal, ball after ball. But while some debutantes my find the constant scrutiny of other ball attendees unpleasant, others greatly enjoy it. "During your debut," Spross says, "everything and everybody is focused on you." Even Emma, who resents that the focus on looks — "The main thing I have to do," she tells me, "is show up and look pretty" — finds it "fun to be at the center of things."
Many young women are also drawn to the glamour and creativity of ball dress. Spross, a fashion major at the University of Texas, runs her own fashion blog, and delights in donning the traditional raiment. When she sends me pictures of her and her friends from her balls, my first impression was of the Disney princesses or characters from fairy tales. Some of them wear gowns so elaborate that they might make make Marie Antoinette blush. But some debutantes find empowerment in designing and fashioning the sometimes outlandish clothing, like Spross' fellow debutante Molly Martin. "It was much more empowering than I expected," says Martin, who runs a design blog called The Sun Room. Martin dressed up like a moon for one particular event — which "felt more like a dramatic production rather than a bachelorette showcase."
And there's the friendship factor — after spending countless hours together planning and rehearsing, some debutantes forge very real friendships. "I like getting to know your fellow debutantes on a more personal level," Spross adds.
Of course, the exclusivity is also appealing. "In some sense," Emma admits, "it's fun to be on the inside of a club a lot of people want to be in."
After speaking with both Emma and Spross, I gathered that it isn't any single element that pushes girls in this day and age to debut. Rather, the main elements — friendship, networking, charity — combine together into a fun experience for most participants. Even for girls like me, who are not a part of this world and who probably never will be, the idea of dressing up, spending quality time with fellow girls, meeting new people and reenacting an elaborate princess dress-up fantasy is pretty irresistible. "For some girls, it's an obligation," Spross says. "For me, it's an opportunity."
As for Emma, who wasn't quite as enthusiastic about the prospect of debuting? "It's not what I'd pick," she says. "But still, it's about me."
*Name has been changed.
Images: Courtesy of Rachel Spross