How To Pull Off Fringe For Real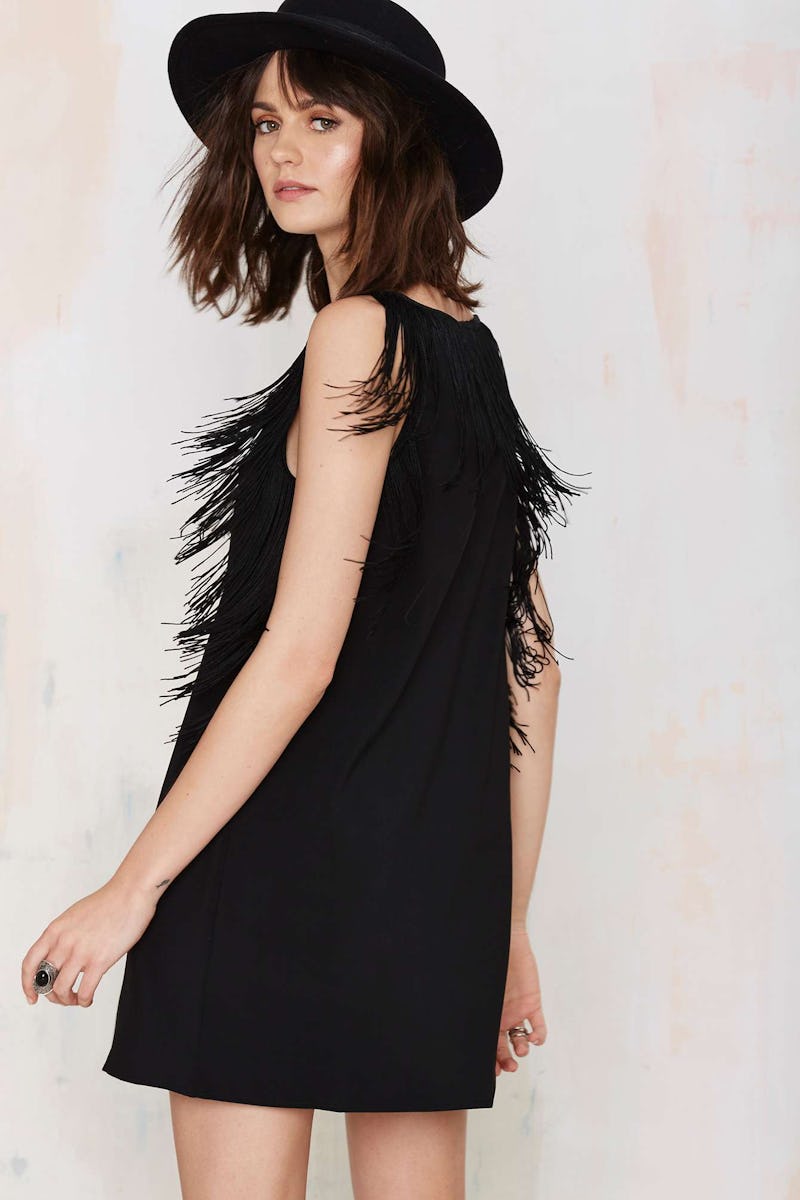 As pointed out by the Huffington Post, fringe is going to be hot this season. Fortunately, the world of social media is full of epic ideas for how to pull off fringe! Whether your look is more tomboy or totally ballerina off-duty, there's a way for you to incorporate this fun trend into your personal style. Since fringe is going to be fall's biggest fad, just enjoy and embrace it to the max!
It's hard to say why fringe suddenly took over New York Fashion Week earlier this year, but it even beat out the number of fur coats seen on runways. Pop Sugar noted how the style appeared not only on '70s-vibe leather jackets, but was "hanging off the hemlines of pencil skirts, [spotted] as a print-like embellishment on sweaters, and [completely covered] dresses. Dang.
Admittedly, I don't think I've rocked the fringed look since dressing up as a cowboy in elementary school. But whatever, fashion is all about broadening horizons, right? Right.
So grab your wallet, some courage, and go find a new fringed piece to love. Let the stylish ladies below inspire you to try a bold new look. You have nothing to lose and everything to, um, flap? So go on, get, and have fun with it!
Here are nine easy ways to pull off fringe this fall without looking too much like a western cowboy.
1. Fringed Bags
Hesitant to wear fringe? Starting with a small bag like the one above is a great way to ease into it. (Crossbody Flap, $25.99 Pesaro)
And once you're ready, go for fringe all over! (Bbocha Fringe Convertible, $37.99, Steve Madden)
2. Jewelry
Earrings are another fun, subtle way to rock the trend. (Tan Leather Fringe Earrings, $69.99, Urban Outfitters)
These look like elegant little rays of sunshine! (Fringe Earrings, $48, Nordstrom)
But my favorite fringe accessory is this super unique ring! (Fringe Ring, $175, Tamarzizt)
3. Shoes
Hello, you sexy thangs. Sandals are definitely allowed through the start of fall. (Fringe Heel, $150, Free People)
And if you're more of a boot girl, these are a must. (Need Supply Fringed Boot, $72, needsupply.com)
4. Skirts
Feeling bold? Rock a fringed skirt like the black one above! (Ramble On Asymmetrical Fringe Skirt, $58, Nasty Gal)
Or this gorgeous tan suede with tapered fringe. So much fun for swaying. (Faux Suede Fringe Skirt, $34, GoJane)
5. Jackets
Fringe and jackets were basically made for each other. (Fringed Jacket, $96.60, Nasty Gal)
See what I mean? (Genuine Suede Fringe Jacket, $54.90, forever21.com)
6. Cocktail Dresses
There's just something so retro-glam about fringe on a cute cocktail dress! (Fringe Cocktail Dress, $48, Nasty Gal)
For those who prefer their fringe on their back. (Longline Fringed-Back Tank, $17.90, forever21.com)
7. Crop Tops
You can definitely wear a crop top in the fall, and this cute one from BCBGMAXAZRIA proves it! (Jaleigh Fringe Top, $95.04, BCBGMAXAZRIA)
The fringe on this basic white tee is super subtle, but super cute. (Fringed Crop Top, $39.99, madewell.com)
Or rock this Top Shop beauty! (Suedette Fringe Crop Top, $12, Top Shop)
8. Scarves
Adding fringe to a scarf basically feels like you're secretly wearing a super cozy blanket in public. Win. (Fringe Infinity Scarf, $20, Nordstrom)
Or opt for a loose, shawl-like version for breezy autumn nights. (Indigo Denim Fringe Scarf, $228, Free People)
Image Credit: Pesaro; Steve Madden; Urban Outfitters; Nordstrom; Tamarzizt; FreePeople(2); needsupply.com ; GoJane; BCBGMAXAZRIA; madewell.com; TopShop; Nasty Gal(3); Nordstrom