5 Labor Day Road Trips You Can't Miss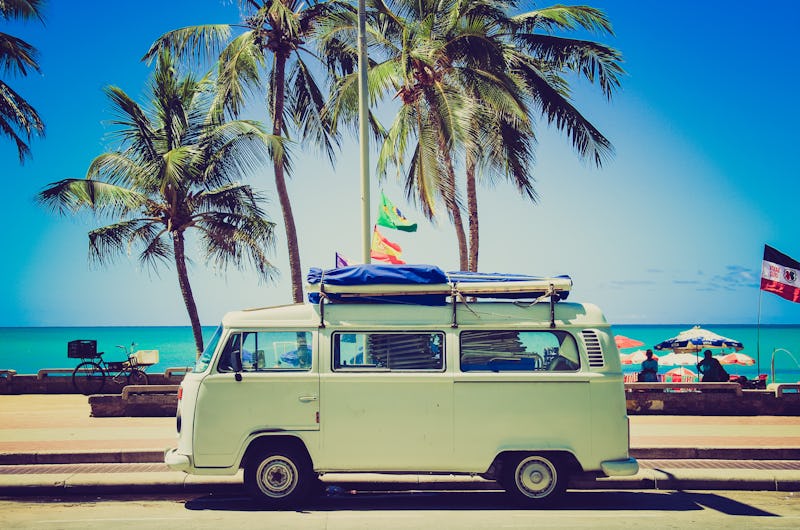 Can you believe that it's almost Labor Day? Despite the fact that it feels like we just celebrated New Year's Eve last week, September is already upon us. With the last long weekend before Thanksgiving right around the corner and only a couple of days left to plan, I've put together a few Labor Day road trips that are ripe with quirky roadside photo opportunities. After all, part of the reason why people even go on road trips is so that they can take a bazillion FOMO-inducing photos, and these places are hard to beat. You can thank me when you're totally Instagram-famous in a couple of weeks.
The United States is full of bizarre roadside attractions that cropped up during the popularization of the road trip in the 1930s, and during the development of the Interstate Highway System in the '50s. There is a whole persistent subculture that surrounds these relics, from the golden age of RVs to schlepping across state lines in a car. From the "world's largest" anything, to J. J. Abrams-esque mysterious "things" you'll find on the side of the road, you can see some crazy stuff on the way to your Labor Day destination, because, as they say, getting there is half the fun.
So fill up your tanks, and bust out those old mixed CDs, people, because we're about to go on a journey together in search of some (literally) old-fashioned photogenic fun.
1. Austin by way of Marfa, Texas
We all know that Austin's music and foodie culture is an awesome place to spend a three-day weekend, but there's a living minimalist art mecca called Marfa that's right on your route if you're coming from the west. Marfa is just begging for some Instagram action.The high desert city even has a life-sized sculpture of a Prada store, so that's definitely someplace you should stop by to eat and play on your way.
2. Joshua Tree National Park, with a pit stop at the Integratron
The Integratron is a therapeutic sound bath designed by ufologist George Van Tassel, a design which was allegedly inspired by visiting aliens. Today, you can experience a meditative yoga-for-the-ears in a group sound bath. Spend the night camping in Joshua Tree, and enjoy the great hikes in the surrounding area this Labor Day.
3. Healing Springs, Virginia by way of Foamhenge
It seems pretty obvious that, if you're in the neighborhood, you should probably stop into Foamhenge — a full-sized replica of Stonehenge made completely of styrofoam. There are some healing hot springs nearby with loads of camping and B&Bs awaiting your arrival.
4. Santa Fe, New Mexico by way of Cano's Castle in Colorado
Santa Fe is a super cool getaway with its Pueblo architecture and adorable town square. Just two hours north, Cano's Castle stands as an amazing architectural achievement — it's a collection of towers covered in beer cans and hub caps. Creator Donald "Cano" Espinoza was reportedly inspired by Jesus and "Vitamin Mary Jane" to construct this shiny palace after his life was spared in the Vietnam War.
5. Pittsburgh, Pennsylvania by way of this massive burger
This burger from Pennsylvania's Denny's Beer Barrel Pub is dubbed the Beer Barrel Belly Buster (apparently we have a Dr. Seuss fan, here), and weighs in at a massive 15 pounds, so you're going to want to bring some friends to help you with it. It's 10.5 pounds of beef, and 25 slices of cheese, which means you know it's gotta be good. And after all that time spent on the road, you're going to be in need of a few solid eats, am I right?
Images: Pexels; cmichel67, andrewlimm, H.L.I.T., jujuwiz/Flickr; Denny's Beer Barrel Pub/Facebook