How To Make Your Tiny Room Seem Larger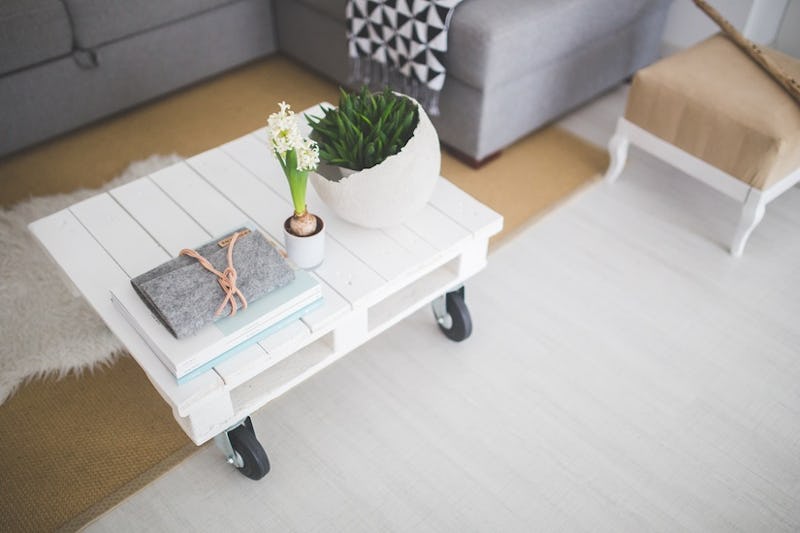 When it comes to expertly utilizing the magic of decorating to make small space seem bigger, do not underestimate the illusory power of design. It is strong, it is mighty, and it is fabulous. Whether you're try to make the space of a dorm room, new apartment, or tiny room work better for your life, finding the best ways to fill that space has been a universal struggle since humans were chilling in caves. Living that urban shoebox life? Same. Luckily, interior designers have been killing the game when it comes to finding creative solutions to transform a room — even when it feels more like a closet.
Among all your options of optimizing space efficiently (and stylishly), the key element to remember is balance, balance, balance. Channel that yin and yang and carry it into your feng shui energy for the ultimate room arrangement. When perusing the glorious Internet for tips on decor and arranging, make sure to really tap into what would work best for your specific space because not all the suggestions may necessarily apply. Keeping all that in mind, here are five helpful and creative hacks to make the most out of your space, no matter what your square footage is.
1. Balance Light And Dark Colors
In all my pseudo-fashionista angst, 90 percent of my closet consists of black clothing and shoes, so you can safely assume that I definitely opt for the darker colors when it comes to furniture. That being said, I'm well aware of the lighter colors open up a space concept that interior designers have been preaching for years. And it makes sense. As physics so kindly tells us, white reflects light; black absorbs light. So by brightening up your room, you're creating a more open and airy appearance in which natural light can have a whole reflecting frenzy up in that small space.
Remember that part about balance being important? This totally applies here. You don't have to white-wash your entire room, douse it in pastels, and reevaluate your identity via color scheme changes in your life. Thankfully, white works well with all accents. Creating contrast adds depth and dimension that further enlarges that small space.
2. Add Mirrors/Glass/Transparent Objects
Speaking of light reflection, mirrors are magical in creating the illusion of more space. They literally trick your eye into thinking there is more square footage than there actually is, and they don't take up much room. There are so many clever ways you can arrange and pair mirrors when figuring out which design works best for your particular room. In an article for the Washington Post, designer Kristin Peake noted, "The smaller the space, the bigger the mirror."
Further bouncing off the light reflection idea, (see what I did there?), glass or anything transparent provides the same effect. Think glass coffee tables and desks or even clear shower curtains if you're sporting a tiny bathroom. Visually, it reveals more space and also matches the more modern aesthetic IKEA so masterfully entices us with.
Concepts In Time Antique Windowpane Mirror, $89.99, macys.com
3. Utilize Multifunctional Items
This one may seem self-explanatory, but it's absolutely necessary to consider in order to best use all of the space you have. You can't just get any piece of furniture. Try to aim for each piece in your space to have more than one use. Get a bed with storage underneath. Double your desk as a vanity. Invest in a daybed and use it as a couch as well. Multi-purpose furniture reduces clutter and frees up space that would have been taken up by the pesky storage issue that plagues us all.
BRIMNES Bed Frame With Storage, $249, ikea.com
4. Remember That Less Is More
Do you know the cantaloupe rule? It's not as weird as it sounds: Try avoiding placing objects in a space that are smaller than a cantaloupe. Bigger, statement pieces don't crowd the room as much as those little irresistible knick-knacks most of us have been guilty of collecting from the thrift shop down the street. Going for a simpler, minimalist design both accentuates the space and is more practical overall. Alongside having less decor, less color dissonance is just as effective. Monochromatic designs help tie the area together nicely, creating a more unified, larger look.
5. Spacing
Because there isn't much of it you can play around with, the way you choose to use space is essential. Projects manager for Apartment Therapy, Dabney Frank, suggested utilizing floating furniture by placing it further away from the wall or slightly off the ground helps create the illusion of more space. Don't be afraid to think vertically, either. Anything placed higher up naturally attracts the eye upward and expands the space of the room by drawing attention in all directions.
Whether you're decorating an awkwardly sized room or trying to design a functional space in a miniscule apartment, design hacks can be the difference between a stressful living situation and a calm, thoughtfully spaced floor plan.
Images: Pexels (3); Courtesy Brands