Meet The Woman Who Recorded Jared Fogle Secretly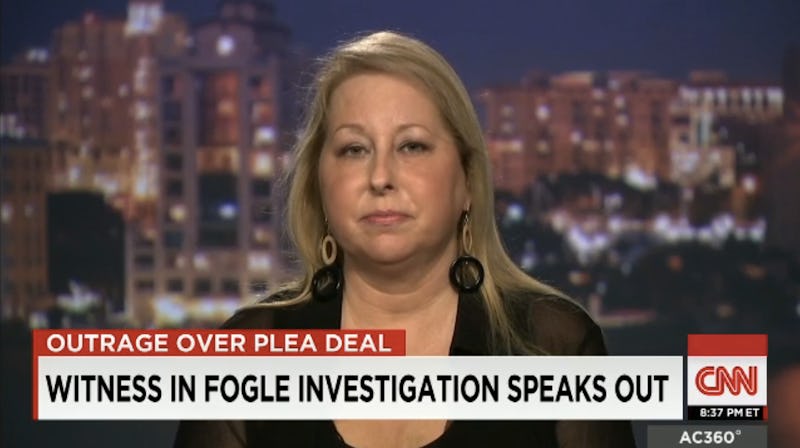 Following a month-long federal investigation, former Subway spokesperson Jared Fogle entered a plea deal Wednesday for child pornography and engaging in paid sexual acts with minors. Federal authorities also alleged that Fogle used adult prostitutes to connect him to underage girls, paying the sex workers a "finder's fee." Although the case was cracked open last April when authorities arrested Russell Taylor, the former head of The Jared Foundation, for producing and possessing child pornography, it was former journalist Rochelle Herman who tipped off the FBI about Fogle. She eventually became a crucial informant in the case — and the one to bring the celebrated Subway spokesperson down.
Herman first met Fogle in 2007, when he was slated to speak at a school event in Florida. She told CNN's Anderson Cooper in an interview this week that even back then, Fogle revealed some dark signs about his secret, deviant life. "He told me that he thought middle school girls were so hot," Herman told Cooper. "I was in shock ... I actually was questioning, 'Did I really just hear what I think I heard?'"
She did. Herman said she glanced over at her cameraman, who was recording the candid conversation between Herman and Fogle, and he was "just astounded." Fogle apparently didn't know the conversation was being recorded.
Those disturbing remarks continued over the years, Herman said. "He trusted me for unknown reasons," she told Cooper, adding that Fogle seemed to talk more and more about his sexual contact with underage girls whenever she saw him. "It was just something he really, really enjoyed."
According to ABC News, Herman reported Fogle's first comment about underage girls to the FBI. In the years following, Herman reportedly wore a wire when she spoke with Fogle. Those recorded conversations, in which Fogle revealed he had sex with minors, continued for four years.
"He would tell me the ages he was interested, boy or girl," Herman told ABC News this week. "He indicated the fact that he has done it before and told me in gross detail what transpired."
The FBI has yet to confirm that Herman was an informant for this case. ABC News, however, reported that various court documents cite a witness recording conversations with Fogle in Florida, where Herman lives, as well as in Washington and Georgia.
And Herman has some distressing details about Fogle's sex life, as her recorded conversations with the former Subway spokesperson turned strangely intimate. "I had two young children at the time, and he talked to me about installing hidden cameras in their rooms and asked me if I would choose which child I would like him to watch," Herman told CNN's Cooper.
To which, Anderson Cooper was speechless.
Why would Fogle say that to her? Well, Herman said, "I had to play a role."
But Herman's role worked. Fogle pleaded guilty in federal court Wednesday to for the distribution and receipt of child pornography, and traveling across state lines to engage in illegal sex acts with at least two underage girls. Federal authorities said there are at least 14 victims in all.
A day before the plea deal went public, Subway said it was ending its relationship with Fogle, who had been a popular TV figure with the sandwich company for more than a decade. On Wednesday, the company posted on its Facebook page: "Jared Fogle's actions are inexcusable and do not represent our brand's values. We had already ended our relationship with Jared."
Screenshot: CNN