10 Chunky Sweater Options For Fall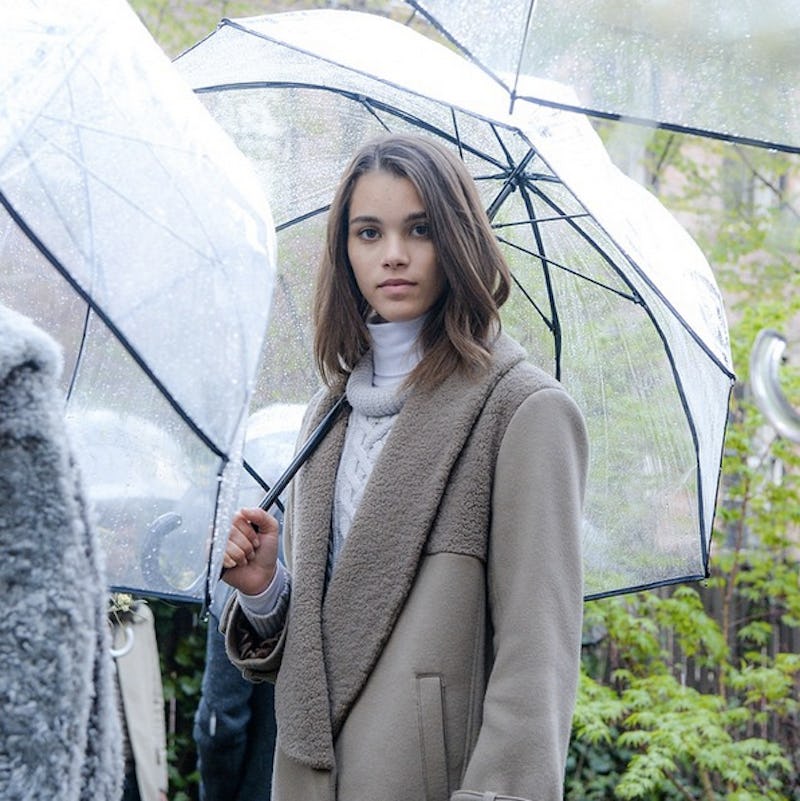 One of the perks of the cold weather (yes, there are some aside from fall foliage) is that it's perfectly acceptable to practically live in a snuggie, aka in chunky sweaters for fall and winter. Since everybody can pretty much agree on the misery of a cold day, nobody even looks twice when you've left your house in your dad's largest cable knit sweater from the '80s. It's not only acceptable—it's encouraged.
But styled correctly, a chunky sweater can make all the stylish difference. There's nothing chicer than a white turtleneck and long duster coat, especially paired with a midi skirt and some pretty killer booties. That's how you do fall/winter style. Just as cool of a look is a big knit and vest—whether that be a long structured one, a distressed denim one, or a badass leather vest.
The point is, the best type of style is one that looks like you've casually thrown it on, you know, with no effort. Like you're just naturally chic, like the French. And the easiest way to pull that off is through a luxe sweater in a rich color. Why not take advantage of killing two birds with one stone: looking achingly good while fighting off the harsh weather?
Below, 10 chunky knits that'll have you wishing for more days of fall and winter.
1. The Twist Yarn
ASOS Chunky Sweater In Twist Yarn With Turtleneck, $69, Asos.com
Paired with a great pair of denim, this is practically the easiest outfit ever.
2. Normcore Through And Through
Club Monaco Bond Ribbed Sweater, $345, clubmonaco.com
This one is like the white tee of sweaters: classic and looks good with everything.
3. The Chunky Cardigan
CLOSED Chunky Cardigan With Wool, $387, stylebop.com
Perfect as an outer layer for fall, and an inner layer for winter, this is the sweater that keeps on giving.
4. The Crop
MM6 Maison Margiela Cropped Chunky-Knit Cotton Sweater, $590, net-a-porter.com
Your next look: A cropped chunky sweater over a classic white button up. Trust me, it's gold.
5. The Slouchy Jumper
ASOS CURVE Ultimate Chunky Jumper, $50.16, asos.com
The more slouch, the cooler. Let's get it on.
6. The Color Block
Forever21 Chunky Knit Striped Sweater, $24.90, forever21.com
This sweater, plus a bright scarf = easy, breezy Sunday brunch outfit.
7. The Tunic
Free People French Chunky Knit, $185, freepeople.com
With an over the knee boot and leather jacket, you'll be the coolest one in the room.
8. The Peek-A-Boo
T by Alexander Wang Chunky Knit Cropped Pullover Sweater, $425, niemanmarcus.com
This tiny little detail is subtle, but super sexy.
9. The Vest
Karen Millen Chunky Knit Waistcoat, $113.29, karenmillen.com
Again, may I present an outer layer for fall, and an inner layer for winter.
10. The Fluff
Missguided Plus Size Fluffy Knit Sweater Cobalt Blue, $49.98, missguided.us.com
Who wouldn't want to feel like Cher Horowitz in a fluffy top?
Images: @clubmonaco/Instagram, Asos, Club Monaco, STYLEBOP, Net-A-Porter, ASOS, Forever21, Free People, Nieman Marcus, Karen Millen, MISSGUIDED