12 Unique Ways To Make Poached Eggs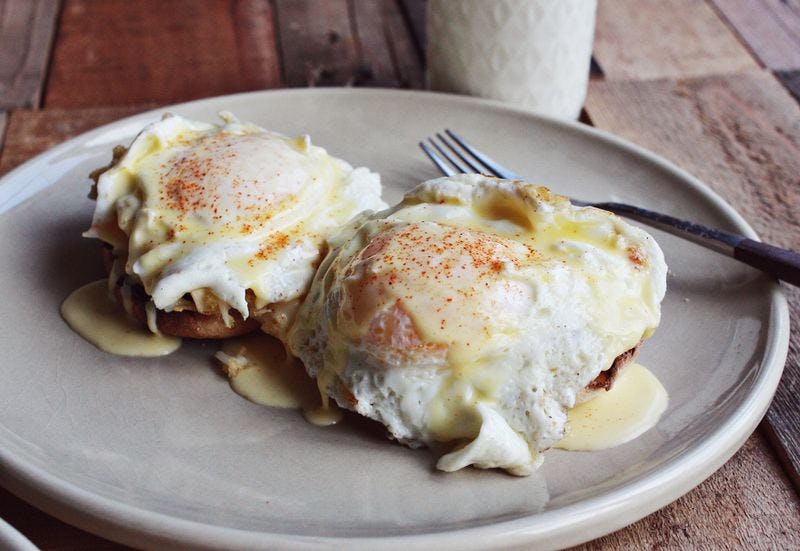 Mornings just wouldn't be the same without eggs, but that doesn't mean that we're entirely loyal to our sunny side-up or scrambled. When we're feeling fancy we like to eat things that take a little more effort, so you can't go wrong with unique poached egg recipes. After all, there's more to brunch than your average eggs Benedict.
We've already got our fair share of fancy omelet recipes and different ways to make baked eggs, so it's about time we broaden our brunch horizons. Poached eggs may seem tricky to make, but once you get the hang of it, you'll want to make them all the time. These eggs are sure to impress any of your house guests — and you might even impress yourself too as you make them.
Paired with fresh vegetables, herbs, greens, and even sometimes pasta, poached eggs make a great meal any time of day, even if they are thought of as a traditional brunch recipe. Now is the time to perfect your poached egg technique — you may never go back to fried or hard-boiled again. These 12 recipes will prove that poached eggs are really the way to go if you can't get enough yolky goodness. Take a look at them, and get cracking.
1. Portobello Eggs Benedict
A hearty mushroom makes A Cozy Kitchen's eggs Benedict taste all the more decadent. Serve with toasty French bread for a cozy brunch.
2. End-Of-Summer Salad With Poached Egg
A yolky egg makes a salad even more comforting. With bacon and avocado, The Crepes of Wrath's summer salad is a majorly satisfying meal.
3. Poached Eggs With Sweet Potato And Brussels Sprouts
Sweet potatoes and Brussels sprouts give Five and Spice's breakfast plate a healthy touch.
4. Pasta With Poached Egg, Asparagus, And Lemon
Eggs aren't just for the dinner table! Table for Two uses a poached egg to add some major oomph to lemony pasta.
5. Poached Eggs In Tomato Sauce
If you're a fan of shakshuka, then I Am A Food Blog's tomato sauce-poached eggs are a game-changer.
6. Crab Cake Eggs Benny
Top your favorite crab cakes with a poached egg, and then drizzle on the hollandaise sauce for a covetable brunch. Thanks, A Beautiful Mess!
7. Cheddar Cornbread Waffle Benny
We can never say no to any cheesy goodness. Cara's Cravings' cheddar waffle eggs Benedict may be one of the most mouth-watering brunches we've ever seen.
8. Salad Lyonnaise Sandwich
A Cozy Kitchen's green-filled egg sandwich makes either a refreshing breakfast, or a super satisfying warm lunch.
9. Butternut Squash And Leek Latke Benedict
The only thing better than crispy latkes? Crispy latkes by The Crepes of Wrath that are topped with perfectly poached eggs.
10. Poached Eggs Over Polenta With Olive-Herb Pesto
Eggs complement this savory polenta by The Kitchn, while olive-herb pesto makes a tasty garnish.
11. Poached Eggs, Greens, And Couscous
You can't go wrong with this simple meal by Love and Lemons. Try it out for an easy lunch or dinner.
12. Greek Feta Chickpea Pancake Fritters With Poached Eggs And Olive Tapenade
Half Baked Harvest's Greek-inspired pancake fritters are a game-changing brunch. Bonus: They're filled with plenty of healthy veggies.
Looking for more great food ideas? Check out Bustle on YouTube.
Images: A Beautiful Mess (2); A Cozy Kitchen (2); The Crepes of Wrath (2); Five and Spice; Table for Two; I Am A Food Blog; Cara's Cravings; The Kitchn; Love and Lemons; Half Baked Harvest