8-Year-Old Girl Gets The Coolest 3D-Printed Arm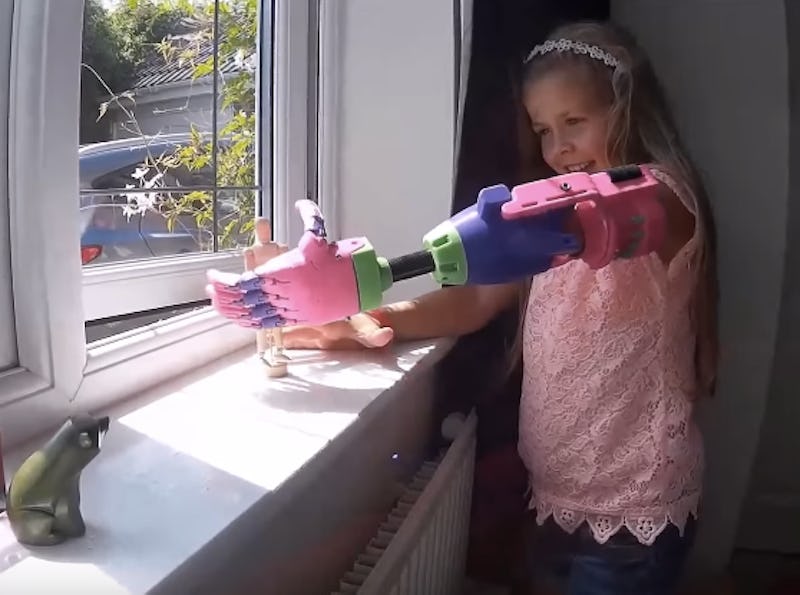 We're starting out strong for the week in heroes, with this video of this little girl receiving the coolest 3D-printed arm ever. The arm was created for eight-year-old Isabella by Drew Murray and Stephen Davies, who go by the joint name Team UnLimbited and give their time voluntarily to "developing new devices, research into materials and functional improvements". Isabella's parents found Drew and Stephen's work through their e-Nable blog, which documents their efforts and the results, and reached out to them to help Isabella, which gave us the heartwarming video you're about to watch.
The arm is not actually prosthetic, and as Stephen writes on the blog, "Its main aim is to boost confidence and take away awkward unwanted situations and questions and replace them with 'how cool is that' remarks." The arm itself is pretty cool, evidenced not only in my own reaction to it, but to Isabella's glowing smile as she dons the super hero-esque arm. And it allegedly meets its aim, with Isabella's father writing,
"The gadget is so bright and bold that she insisted on wearing it to the local supermarket straight after she got it and proudly strutted around wanting the world to see it. She's been keen to show it off and explain how it works ever since she got it and to almost anyone that will listen."
Watch Isabella receive her beautiful gift below:
If that wasn't enough to completely set your heart on fire, here are some other instances where 3D printing healed someone:
1. This Dog Who Got A 3D Printed Leg
2. This Woman Who Received A 3D Custom Printed Leg In Two Weeks
3. This Kid Who Received A 3D Printed Hand
4. This Duck Who Got A 3D Printed Foot
5. This Kid Who Had His 3D Bionic Arm Delivered By Tony Stark Himself
Images: YouTube