Remembering Katy Perry's No. 1 Hit That Got Away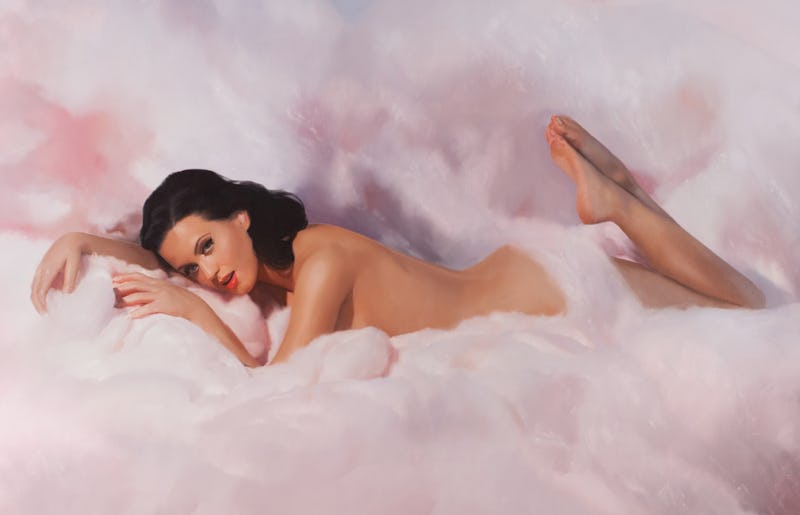 Believe it or not, Monday marks the fifth anniversary of Katy Perry's Teenage Dream : the now 30-year-old singer's game-changing, Grammy Award–nominated album premiered on Aug. 24, 2010. Teenage Dream turned Perry into a superstar, largely because it launched a whopping five No. 1 singles: "California Gurls," the title track, "Firework," "E.T.," and "Last Friday Night (T.G.I.F.)." Perry and Michael Jackson are the only two artists who have ever achieved this astonishing feat in the history of the Billboard Hot 100 chart. That, my friends, is pretty incredible.
Of course, the Santa Barbara, Calif. native tried to land a sixth chart-topper with "The One That Got Away" in October 2011, but, unfortunately, the melancholy song fell short, peaking at No. 3. Close, but no cigar. I'm no psychic (obviously), but I have a strong hunch things may have worked out differently if Perry had released the wildly underrated "Hummingbird Heartbeat" instead. Yes, if you ask me, "Hummingbird Heartbeat" is actually Teenage Dream's No. 1 hit that got away.
It's hardly a lyrical masterpiece, but, overall, I think "Hummingbird Heartbeat" does a great job of capturing the pulse-racing, out-of-breath excitement that often accompanies falling in love (or even in like, for that matter). Its soaring chorus is tremendously appealing. Check out the tune below.
Don't get me wrong, I dig "The One That Got Away," I just don't think it was a smart single choice. The odds were stacked against it: of the 75 or so singles that went No. 1 on the Hot 100 in the five-year period leading up to Teenage Dream's debut, only a handful were what I would call sad breakup ballads (Mariah Carey's "We Belong Together," Leona Lewis' "Bleeding Love," Ne-Yo's "So Sick," etc.). On the other hand, feel-good tracks (whether or not they were about love) were much more prevalent.
I suspect "Hummingbird Heartbeat's" sunny vibe would've garnered a lot more passionate support than the weepy, sentimental haze of "The One That Got Away." Perry and her team may have made a big mistake.
But, there's no sense dwelling on the past, I suppose. What's done is done, right? Perry's star seems to shine brighter and brighter each year, so, at this point, I doubt she gives the whole "I almost had six No. 1 singles from the same album" thing much thought. Who knows? Perhaps she'll be able to pull it off with her next project. If I've learned anything about Perry since I stumbled upon her Myspace music page all the way back in 2007, it's that you should never, ever count her out.
If you've somehow never experienced the pure pop perfection that is Teenage Dream, I highly suggest you set aside some time to do so immediately. (The album is available on iTunes and Spotify.)
Images: Capitol Records; Giphy