All The Most Iconic Songs About Being A 'Crazy Ex'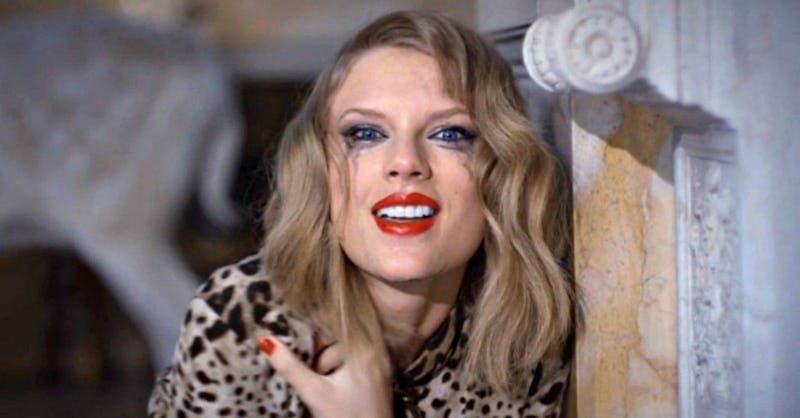 They tell us that revenge is a dish best served cold. And as pop music has taught us, one of the chilliest ways to serve revenge is on a platter made of music -- sweet, fumingly emotional, deranged music! Especially when it comes to exacting vengeance on someone who broke your heart, songs about being a "crazy ex" offer a catharsis that will bolster the spirits of any dump-ee.
After all, some of the most popular songs of all time were fueled by the righteous anger of being jilted by a no-good, low-life clown. Carly Simon's "You're So Vain," Alanis Morissette's "You Oughta Know," and Carrie Underwood's "Before He Cheats" are just a few of them. Much of Taylor Swift's oeuvre is based on this very paradigm. Sure, some of these songs may depict behavior that the patriarchy would classify as hysterical lady behavior. (Think: smashing up your ex-hubby's car with a golf club and/or baseball bat.) But society's judgments aside, we all know that getting even is the best antidote to getting mad.
With that, Bustle has teamed up with The CW's Crazy Ex-Girlfriend to bring you some of the best musical nuggets of wisdom about reclaiming the "crazy ex" label. Make sure to catch Crazy Ex-Girlfriend on The CW on Monday, Oct. 12 at 8/7c.
No Doubt, "Ex-Girlfriend"
"I kinda always knew I'd end up your ex-girlfriend."
Simple and oh-so-cool, Gwen Stefani sums up all the biting sarcasm you want to direct at any and all of your exes. Whatever... I'm better off...
Kelly Clarkson, "Since U Been Gone"
"Since you been gone / I can breathe for the first time / I'm so moving on / YEAH, yeah."
Let's just be honest. We've all belted along to Kelly Clarkson's "Since U Been Gone" alone in our rooms, thinking about the lameness of a former flame. In particular, the above lyric launched a thousand thinly veiled, breakup-themed away messages.
Carrie Underwood, "Before He Cheats"
"I dug my key into the side of his pretty little souped-up four-wheel drive / Carved my name into his leather seats."
Underwood's method of getting even isn't exactly the most discreet (literally leaving your signature on boo's car upholstery is hardly covering your tracks), but it's hard not to get fired up with this fantastically destructive visual. Go, Carrie! Bust up that car!
Blu Cantrell, "Hit 'Em Up Style (Oops!)"
"When your man wanna get buckwild / Just go back and hit 'em up style / Put your hands on his cash / And spend it to the last dime for all the hard times."
Credit card companies would probably call Blu Cantrell's "Hit 'Em Up Style" an endorsement of credit fraud. But really, it's a payback anthem and a cautionary tale to all the potential cheaters out there. Don't grift a grifter.
Britney Spears, "Womanizer"
"You say I'm crazy / I got your crazy!"
This is, short and sweet, everything you've ever said to anyone that dares call you insane.
Beyoncé, "Irreplaceable"
"You must not know 'bout me / You must not know 'bout me / I can have another you by tomorrow / So don't you ever for a second get to thinking / You're irreplaceable."
As Queen Bey so eloquently states, he must not know 'bout you.
Taylor Swift, "Blank Space"
"Got a long list of ex-lovers, they'll tell you I'm insane / 'Cause you know I love the players / And you love the game."
It's self-aware. It's irreverent. It's what you sing to yourself while alone in your mansion, waiting for your next conquest.
Alanis Morissette, "You Oughta Know"
"And every time I scratch my nails down someone else's back I hope you feel it / Well, can you feel it?"
This entire song is a battle cry for anyone who has ever been called a crazy ex. They wanna call you crazy? Crazy like a freakin' fox.
Jazmine Sullivan, "Bust Your Windows"
"Ha ha ha ha / I bust the windows out your car / You know I did it, cause I left my mark / Wrote my initials with the crowbar / And then I drove off into the dark."
Jazmine Sullivan's tender chronicle of tearing up her cheating ex-boyfriend's car is a testament to the fact that you can never have enough songs about vandalism with virtue.
Ani DiFranco, "Superhero"
"You are like a phone booth that I somehow stumbled into / And now look at me / I am just like everybody else."
The ultimate song to rage against your former flames to.
Carly Simon, "You're So Vain"
"You had me several years ago when I was still quite naive / Well, you said that we made such a pretty pair / And that you would never leave."
In a song that is pure poetry, this line perfectly captures how there's clearly a time before we all wise up to the pretty words of players. We've been there, Carly. We've been there.
Dixie Chicks, "Goodbye Earl"
"Why don't you lay down and sleep, Earl, ain't it dark? / Wrapped up in that tarp, Earl."
Just a song about a couple of lovable girls giving an old-fashioned heel what he deserves: a one-way express train ticket straight to hell.
Kelis, "Caught Out There"
"I hate you so much right now / I hate you so much right now / AHHHHHH!!!!"
For the moments that you're so angry that you're at an uncharacteristic loss for words, let Kelis speak for you with the perfect hook of this song.
This article is sponsored by The CW's Crazy Ex-Girlfriend. Tune in to the premiere on Monday, Oct. 12 at 8/7c on The CW.
Image: Taylor Swift Vevo/ YouTube