Celebrate National Waffle Day With Leslie Knope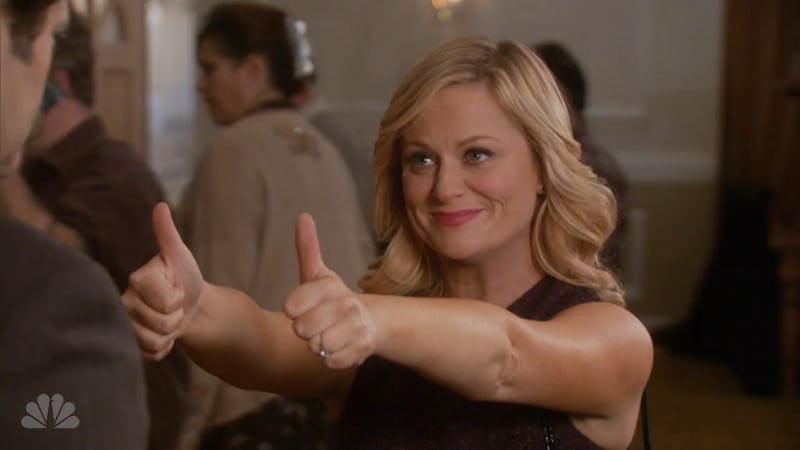 It's National Waffle Day, so is there any better way to celebrate the superior breakfast food we call waffles than to take a look back at Leslie Knope's legendary love of waffles on Parks & Recreation? Amy Poehler's Leslie Knope changed a lot over the seven seasons of Parks, but a few things remained constant: her compassion and love for her friends, her unusual enthusiasm for government work, and her unconditional love for waffles, the king and/or queen of breakfast foods (so suck it, pancakes). Leslie used waffles as a celebration, as comfort, as a plate to have a business meeting over, most of the time at JJ's Diner, where she spent a baby grand in one year on waffles alone. That's why she's JJ's favorite customer (well, one of the many reasons).
So fire up your waffle iron and relive Leslie's best waffle moments. Because Leslie Knope's love for waffles is a love that is pure, that will make you feel like you have never loved anything so deeply in your whole life half as much as Leslie loves waffles. Break out the whip cream while you're at it, too, and share some waffles with your friends, like Leslie would want you to.
1. When She Included Waffles In Her Online Dating Profile
Anne tries to help Leslie find love on the internet, and Knope knows herself and she knows what she likes: "Yellow-haired female, likes waffles and news."
2. When She Gave Shauna Some Dining Tips
How dare Shauna Malwae Tweep question Leslie Knope's choice of whip-cream smothered waffles at JJ's?
3. When Ann Bribed Leslie With Waffles
Ann Perkins, you brilliant, beautiful butterfly. Ann knew the only way to soften the blow of telling Leslie that she and Chris were moving away from Pawnee was to distract her with delicious waffles.
4. When Leslie Lived Her DC Dreams
Leslie Knope goes to Washington to make all her dreams come true, including portable waffles and ice cream.
5. If There's One Thing Ron & Leslie Agree On...
Leslie: "Why would anyone ever eat anything besides breakfast food?"
Ron: "People are idiots, Leslie."
And that's the gospel truth.
6. Waffles Are The Best Medicine
Ben brought Leslie waffles in the hospital long before they were a couple. They are a match made in heaven (even though she chose waffles immediately over his homemade soup).
7. That's What Life Is All About
Happy National Waffle Day, everyone! May your celebration be worthy of Leslie Knope.
Images: Giphy (5), loveandlaughter2/Tumblr, slammingscreendoors/Tumblr (2).