How To Read The DFW 'Rolling Stone' Article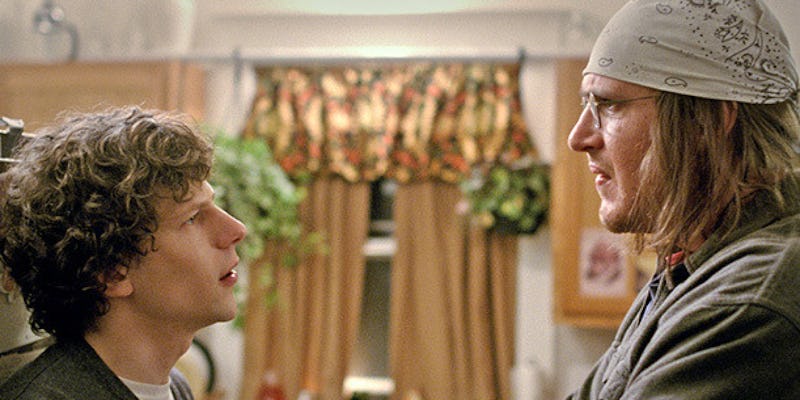 The End of the Tour details the five-day road trip Rolling Stone reporter David Lipsky, played by Jesse Eisenberg in the film, took with author David Foster Wallace, portrayed by Jason Segel, during the first leg of the press tour for what would become Wallace's best known work, his novel Infinite Jest . The two men discuss many subjects over their time together — junk food, music, dogs, loneliness, depression, success, fear — with Lipsky eventually gaining the trust of the somewhat reclusive author. Their conversations are the heart of the movie, leaving many fans wondering where they can get their hands on the actual interview featured in the movie. So, how can you read the David Foster Wallace Rolling Stone article from The End of the Tour?
Unfortunately, you can't — because the article was never published. Rolling Stone sent Lipsky to interview Wallace in 1996 in much the same way it is depicted in the film, and Lipsky did conduct (and tape) his interview. But he never wrote it up. When he was about to begin writing his story on Wallace, a heroin epidemic broke out in Seattle. Lipsky was reassigned by Rolling Stone to cover the heroin story immediately, and by the time he had finished, a month and a half had passed since his interview with Wallace. In other words, the story was no longer timely enough to be published, and it was shelved before ever having been written.
And so Lipsky's interview tapes just sat, untouched for years, until Wallace's suicide in 2008. After that tragic event, Rolling Stone assigned Lipsky to cover the story, which he did with a moving piece chronicling his time with the author, called "The Lost Years & Last Days of David Foster Wallace", which earned Lipsky a National Magazine Award in 2009. Rolling Stone also published an interview with Lipsky himself after the article ran, allowing him to go even deeper into his relationship with Wallace.
Lipsky was then inspired to revisit the Wallace tapes even further, and finally published his interview in his 2010 book, Although of Course You End Up Becoming Yourself: A Road Trip With David Foster Wallace, which was a New York Times bestseller. The book contains the transcripts of Lipsky's five-day interview with Wallace, and its contents form the basis for The End of the Tour. So if you're longing to see what the conversations between Wallace and Lipsky were really like, without the Hollywood spin, you can purchase Although of Course You End Up Becoming Yourself on Amazon. And if you're really anxious for a taste and can't wait for two day delivery, you can read an excerpt from the book here.
Images: A24 Films (2)