Katie Holmes' Best Outfits From The '90s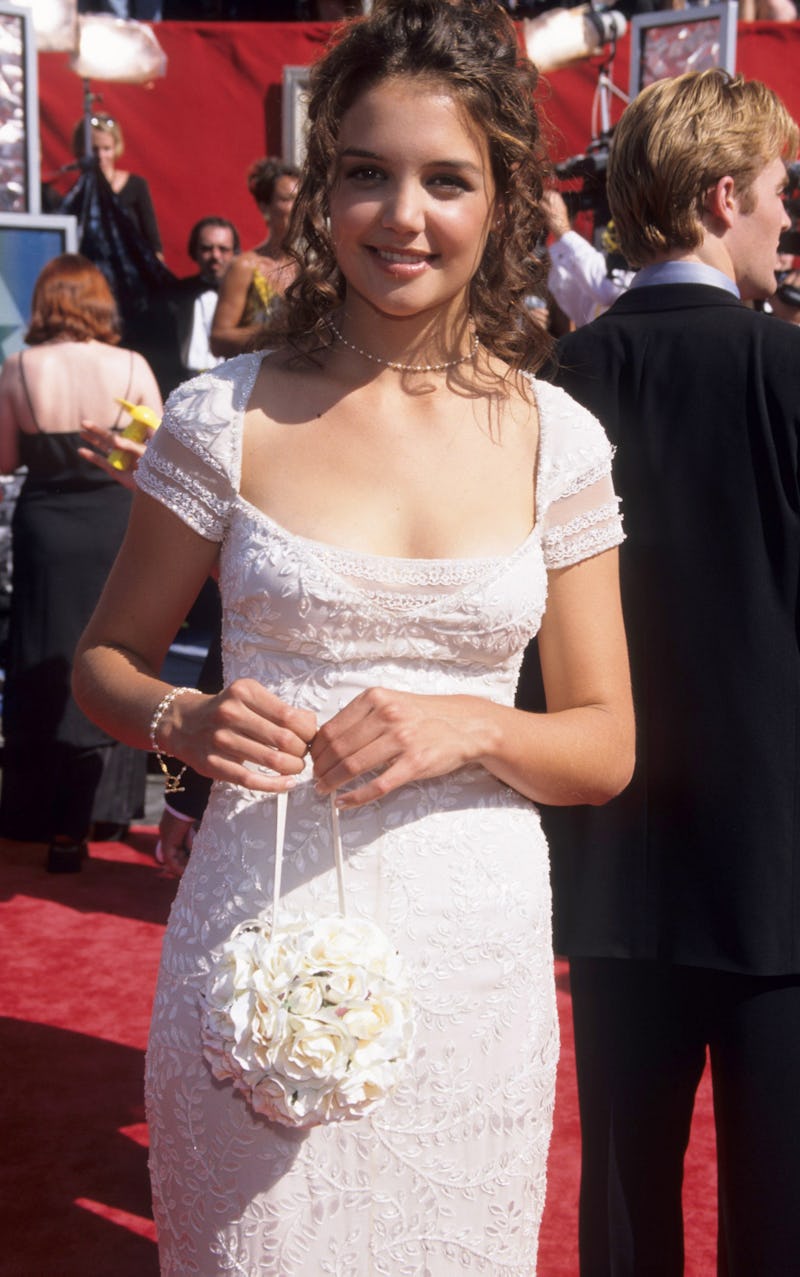 Katie Holmes may currently be recognized for her role on Ray Donovan and her standing date with street style photographers, but once upon a time the actress and model was known simply for her role as the future Mrs. Dawson Leary. In the '90s, Katie Holmes was considered indistinguishable from her character on Dawson's Creek, a fierce devotee of oversized sweaters and denim overalls with a proclivity for mussed locks and adopting a vaguely chastising expression when addressing others. Quite frankly, the mien suited both Holmes and the era itself.
A cozy combination of chic grunge pieces and tomboyish separates characterized the actress's '90s wardrobe, mixed with slip dresses and strappy heeled sandals for red carpet appearances. The unexpected combination would not have worked on other industry darlings, but somehow Holmes utilized her sartorial choices to cement her status as the ultimate girl next door. Joey Potter would surely be proud. Even a decade and a half after the former Creek star aged out of her insouciant wardrobe choices, the ensembles remain a hallmark of '90s attire and style, from frayed jeans and borrowed-from-the-boys ribbed tanks to fuchsia prom attire. Read on for 11 of Holmes' most memorable '90s looks, and remember, what's old is new again for autumn this year.
1. A Pink Prom Frock
Though the character of Joey was never one to sport a fuchsia prom dress, Girlfriend Magazine seemed to think Holmes embodied the style.
2. Insouciant Overalls
In 1999, Holmes donned one of the '90s cyclical trends that seems to have resurfaced for Fall 2015 on the cover of Rolling Stone. How could anyone find fault with such a utilitarian staple?
3. An Embellished Tank And Jeans
A heavily beaded pink tank and casual, high-waisted jeans adorned the cover star of Seventeen, whose signature pout sealed the allure of the look.
4. Jorts And A Tank
A signature style statement for Joey, cropped jorts and a white tank proved to one of Holmes' preferred combinations as well.
5. A Classy Choker
The Secret Lives of Teens in the '90s no doubt included a shockingly large collection of chokers like this one.
6. Leather And Dreadlocks
Stills from 1998's Disturbing Behavior revealed Holmes's lesser-known rebellious side.
7. Printed Puffer Vest And Striped Sweater
Holmes' own Instagram broadcast a perfect Throwback Thursday post of the fresh-faced star clad in an embroidered shearling vest and a striped sweater, all the better to beat the chilly winter weather in Capeside.
8. The Fair Isle Sweater
Twee and comfortably rustic, Holmes' Fair Isle sweater displayed the '90s preoccupation with laid-back attire.
9. Crimson Sweatpants And A Tank
A vintage Polaroid snap documented Holmes' obsession with loose-fitting gym clothes, as well as the actress' remarkable agility.
10. A White Gown And Mini Purse
Despite the undoubtedly bridal aesthetic, this perfect ensemble was actually Holmes' attire for the 50th Emmy Awards in 1998.
11. Crop Top And Leather Jacket
This leather jacket was a staple for Holmes in the '90s, and it looks best paired with Jennifer Love Hewitt's shearling number. Seriously, this photo has my nostalgic heart singing.
Images: Kevin Mazur/WireImage/Getty Images (2)