Get Ready For A New Side Of Kate On 'Below Deck'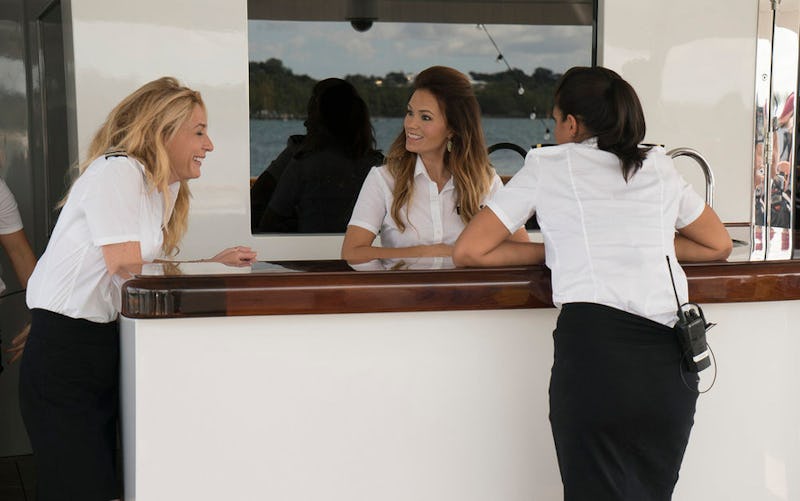 It's not easy being a chief stew on Below Deck. But Season 2 addition Kate Chastain was an improvement over Adrienne in every way, from her better management skills to her sense of blanket humor. And while Kate feuded with Amy on Below Deck Season 2, she promises that Season 3 will show a different side of her when it premieres on Bravo on Aug. 25 at 9 p.m. — and it's a kinder, gentler side. "I was so surprised at how… 'B*tchy Resting Face' I really did come off," Kate says. Though as a fan I loved to see her in that mode, she feels it didn't totally represent who she was, so she made an adjustment for Season 3. "I tried to be conscious of that and smile more. Because I like to have fun at work, and I wanted that to show more this season." Fun? At work?? This is a very different side of Kate, and it sounds like a big adjustment.
And if that's shocking, so is her new take on her coworkers, particularly her second stew. They had some serious beef in Season 2, but Kate explains, "I really loved Amy when I started working with her last season, and then there was some miscommunication between her and Kat. She thought I was taking Kat's side, and it really hurt my feelings that she didn't trust me enough." In the high pressure environment of a yacht, that makes sense — communication is key. But their story has a happy ending. "We were able to move past that and get along like we did in the beginning," Kate says, and even elaborates "I think that was my greatest takeaway on this season, was my friendship with Amy."
But that doesn't mean Kate isn't still a professional first and foremost. She promises some brand new arts and crafts projects, and "a few new blanket folds that people suggested looked like something else." Sounds like the "rocket" fold for the charter guest who was being a real... rocket. "But it's art. You can just take away from it what you see," she jokes.
Kate truly seems like she's changed since first seeing herself on television. She's trying to balance her "fun" side with her serious side, and she's ready to work with rest of the team. "You have to all work together, because there's a lot of work, and it's long hours in close quarters. So if you have somebody who is not a team player, then it just doesn't work," she says. That's Kate Chastain: the ultimate Below Deck team player, and her role in Season 3, as chief stew, star, and "mom of the boat," as she says, will be even more entertaining than last season's "B*tchy Resting Face."
Image: Virginia Sherwood/Bravo