3 Items I Need From Adrianne Ho's Clothing Line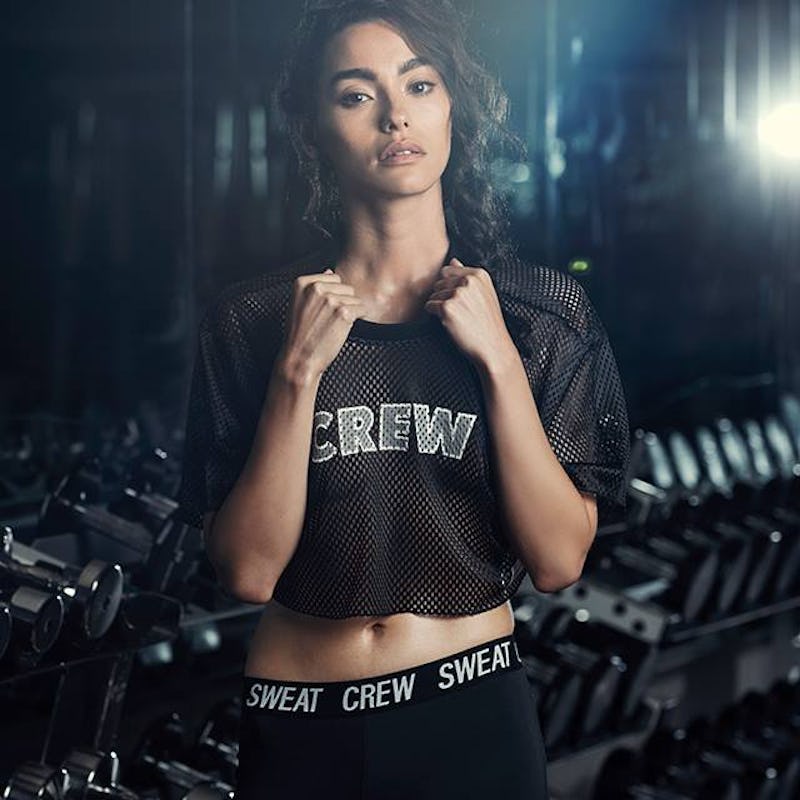 Model and fitness beast Adrianne Ho launched her clothing line with PacSun last Friday, and I seriously want everything. Some may describe the new collection as athleisure wear, but there is nothing leisurely about the badass edge on her threads.
Ho calls her line "athletic-inspired streetwear." From camouflage-printed sports bras and leggings to crewnecks, sweats, and jackets, Ho's collection called Sweat Crew is perfect for the street-style-loving athlete. The style is very clean-cut, so there's nothing interrupting you when you're sweating to get that last set in. Ho told HypeBeast, "Performance apparel should keep you supported, at a comfortable temperature, and not get in your way."
My favorite part about her line is that nothing is too cute, like other women's athleisure wear designs. All the pieces in her collection make you look as if you're about to beat your fastest mile time or one-up yourself on the weights. Ho said that she wanted her line to have, "high-fashion silhouettes and a bit of a streetwear edge as well," which she did flawlessly, in my opinion. I also appreciate all the small detailing that was done beautifully, down to the 3M reflectors she integrated into the fabric. They're hidden during the day, but if you're going out for a night run, you'll definitely see them shine.
Her collection is available in-stores at PacSun locations and online right now.
Here are the top three items I absolutely need from Ho's Sweat Crew:
1. Harness Bralette
Love the bold text and the back straps. (Sweat Crew Fashion Harness Bralette, $32.95, pacsun.com)
2. Camo Windbreaker
Since it's just one-piece, it's easy to just throw it on and get moving. (Sweat Crew Pocket Camo Windbreaker, $59.95, pacsun.com)
3. Reversible Varsity Jacket
The oversized look is perfect for fall and winter. (Sweat Crew Oversized Reversible Baseball Jacket, $64.95, pacsun.com)
Images: adrianneho/Instagram (2)