Johnny Depp's Quirky Character Evolution: Jack Sparrow, Edward Scissorhands & More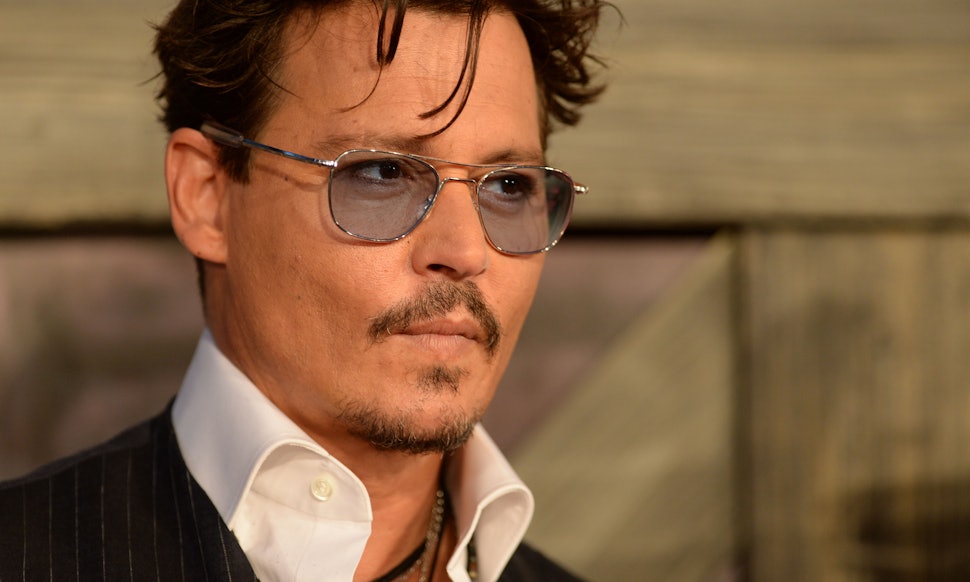 Atsushi Tomura/Getty Images Entertainment/Getty Images
Johnny Depp is one weird dude. And he's even weirder in the roles that he takes on. From a man with scissors for hands to a dreadlocked pirate with a penchant for eyeliner, Depp is never afraid to stray away from hours in the makeup chair. But in his latest role, Transcendence , Depp appears oddly... well, normal. Check out the photos here. The film hits theatres on April 14 of next year, and is about a scientist (Depp) who is attempting to create a robot/machine that is smarter and more emotionally capable than any living human. So it's a sci fi flick, and apparently Depp needs no extra makeup or hair pieces to pull off the role. Yet this is rarely the case. To celebrate one of Hollywood's quirkiest actors, let's take a look back at Depp's crazy character evolution.
Edward Scissorhands
Pale, scarred for life (literally) by his own scissory appendages, and without a clue of how to live a normal life, Depp earned our sympathy in his role as Edward, the unfortunate social outcast who just wanted to be loved.
Image: Twentieth Century Fox
Pirates of the Caribbean
When the first Pirates of the Caribbean film came out, I was in middle school and all of my friends had a crush on Orlando Bloom as the lowly sword maker. But I couldn't take my eyes off Jack Sparrow, the unruly pirate with dreadlocks (including a dreaded goatee with "charms" woven in), ultra tanned skin and eyes rimmed with black. He was also in his 40s' and I felt like a huge creep for having a crush on a practically cross-dressing man who was old enough to be my dad. ANYWAYS, Johnny Depp totally kills his role as Captain Sparrow, utilizing acting techniques like "just pretend like you're drunk" and "always gesture while speaking" to make the role truly his own.
Image: Walt Disney Pictures
Charlie and the Chocolate Factory
This was, in my opinion, Depp's creepiest role. Playing the owner of a chocolate factory who invited children to come play in his magical land and eat his "treats" (No, there was no real reason for those quotes), Depp looks absolutely frightening in his short, shiny bob, flawless porcelain skin, and toothy smile.
Image: Warner Bros.
Sweeney Todd: The Demon Barber of Fleet Street
Apparently, resources were so slim in Victorian London that some would resort to cannibalism to survive. Granted, Sweeney Todd is not an accurate depiction of the time (thankfully), but Depp plays his part of the murderous barber with appropriate malice. The stark white of his skin contrasted with black locks and red-rimmed eyes is bloody good.
Image: Warner Bros.
Alice in Wonderland
In 2016 we'll see Depp return to his giggly portrayal of The Mad Hatter in Alice in Wonderland 2. Equipped with orange-red hair and eyebrows, lipstick to match, and of course a colossal top hat, Depp did his darndest not to be late for tea time in the 2012 flick.
Image: Walt Disney Pictures
Dark Shadows
Tim Burton and Johnny Depp go together like peanut butter and jelly, so it's no surprise the dynamic duo teamed up for the wacky retelling of Dark Shadows, about a vampire who returns, decades later, to his ancestral home. Depp once again dons jet black hair, dark shadows (ha!) under his eyes and snow white skin.
Image: Warner Bros.
The Lone Ranger
Apparently, Depp got his inspiration for this look from a painting he'd seen of a Native American with a similar bird headdress. In our minds, he simply swapped the tanning oil in Pirates for a compact of white face powder, but OK Johnny. This isn't to say the outfit wasn't without it's controversy. When first photos of Depp in the odd getup surfaced, outlets were quick to deem The Lone Ranger as racist. But Depp didn't think so. He said of playing Tonto: "I guess I have some Native American (in me) somewhere down the line. My great grandmother was quite a bit of Native American, she grew up Cherokee or maybe Creek Indian."
Image: Walt Disney Pictures