Take A Tour Of Manhattan's Tiniest Apartment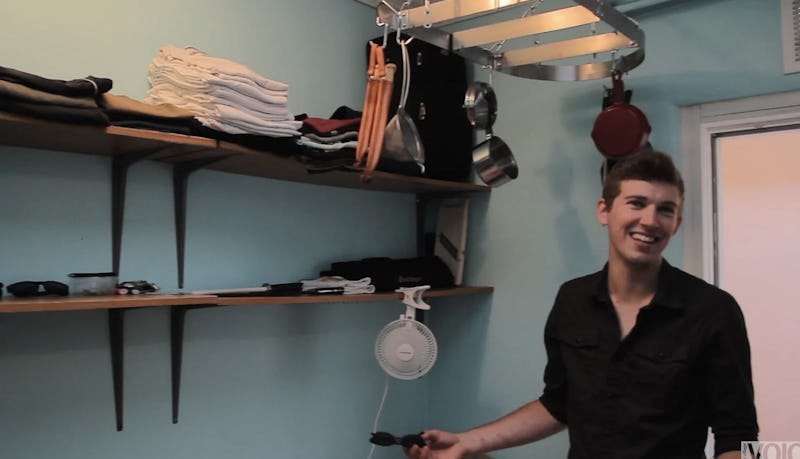 If you thought your New York apartment was small, it's nothing compared to the tiny New York apartment of Grayson Altenberg that the Village Voice recently toured. If the 100 square feet measurement means nothing to you, think of it like this: toilet in kitchen, kitchen in bedroom, etc. And all that space to swing a cat for a humble $1,100 a month. I pay less for a two bedroom in Queens, but apparently Altenberg is more concerned with the apartment's close proximity to his place of work at a Lincoln Center restaurant than how sensible it is to pay over $1,000 a month to live in a shoebox.
The original StreetEasy listing for the minuscule apartment doesn't try to sugar coat the size either:
"This famous (featured in media for ridiculously tiny size) apartment is available for the same price partially furnished or unfurnished - and it's SMALL.
How small is it, you ask?
- This apartment is so small, you can't have three friends over at the same time; one of you will have to wait outside in the hall.
- It's so small you can't gain weight once you move in.
- It's so small there's a bumper on the front door to keep it from hitting the back wall.
- It's so small you have to move the bed just to open and close the front door.
- It's about 100sf, with the main room perhaps 7' x 11', plus a bathroom, NO KITCHEN OR STOVE, and the shower next to the sink.
And fortunately, only this bullet point is true."
Let's take a tour of the doll sized interior, shall we?
1. This Is What 100-Square-Feet Looks Like, In Case You Were Still Unclear
2. Altenberg Cooks At Work, Because This Is The Extent Of His Kitchen At Home
3. And This Is His Dining Room
4. Remember What I Said About The Toilet?
Take the full tour below!
Images: Vimeo