I Didn't Wash My Hair For A Week, Guys!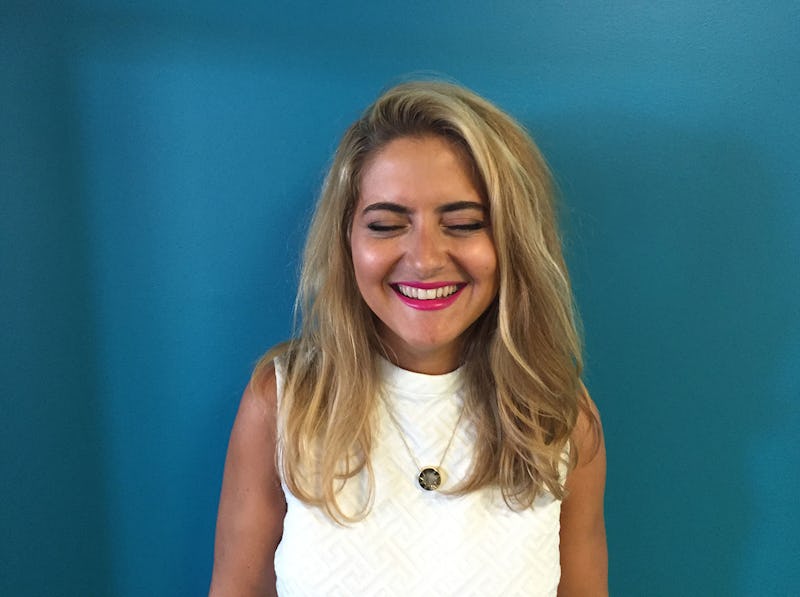 I'm obsessed with my hair, but I hate washing it. My goal every week is to see how many days I can go without using wet shampoo and conditioner, while still ensuring that it looks good (and clean). So recently, I gave myself a challenge. I wanted to see if I could go seven whole days without washing my hair, and not spend three of those days hiding it in a messy bun. So, fellow lazy hair washers, you might be wondering: Can you go a week without washing your hair and manage to make it look good? You can, and I'm proof. I'll show you exactly how to do it.
Let's clear something up first: Going a few days, or even a week, without washing your hair isn't "gross," and it doesn't mean that I (or anyone doing this) am not clean. Not washing my mane doesn't mean that I forget about it, ignore it, and let the oils seep in until my hair resembles a sad, soppy pile of wet straw. I do everything I can to make sure that it looks and feels good, even if it's been a few days since I last shampooed.
It's also important to point out that I usually only wash my hair about two or three times a week, depending on how often I work out / go to the beach. I've been doing this for over a year now, and so my hair has adjusted to it. In the beginning, it used to get super oily if I went even two days without washing it. Now, it's not nearly as bad. If you're the kind of person who washes your hair every day and you try to go a week without washing it, I think your results would be different than mine. Just something to keep in mind.
Onto the experiment! Did I make it through seven days with happy hair? Or did I fail miserably and look like a greaseball? There's only one way to find out. Onward!
Day One: Sunday
After a weekend spent outdoors, I was stoked to wash my hair for the first and only time this week and get it shiny and soft. I used Neutrogena Anti-Residue Formula Shampoo, which is so great. It gets rid of product buildup and leaves your hair super clean and shiny. I followed it up with Drybar Blonde Ale Brightening Shampoo and Blonde Ale Brightening Conditioner. This pairing brightens up my blonde hair, and keeps it from looking brassy. Also, the shampoo is a gorgeous shade of dark purple that you will weirdly love.
Neutrogena Anti-Residue Formula Shampoo , $5, Amazon; Blonde Ale Brightening Shampoo, $27, Sephora; Blonde Ale Brightening Conditioner, $27, Sephora
After my shower, I added a few products that I hoped would make my week a little easier:
I know, I have a problem. Ignore it. I sprayed my hair with Tresemme Renewal Hair and Scalp Leave-In Conditioning Spray, which is excellent because it's very light and leaves hair knot-free. I followed up with my usuals: Drybar Blonde Ale Brightening Cream, Kerastase Initialiste Advanced Hair and Scalp Concentrate, Bumble and Bumble Hairdresser's Invisible Oil Primer, and finally Rusk Anti-Frizz Spray.
Tresemme Leave-In Conditioning Spray, $5, Amazon; Drybar Blonde Ale Brightening Cream, $26, Sephora; Keratase Initialiste Advanced Hair and Scalp Concentrate, $47, Amazon; Bumble & Bumble Hairdresser's Invisible Oil Primer, $27, Sephora; Rusk Anti-Frizz Spray, $11, Amazon
The Brightening Ale was to keep my blonde looking fresh even without washing it. The Kerastase serum is just incredible. The Invisible Oil Primer was to protect my hair from heat styling. The purpose of the Anti-Frizz Spray should be pretty obvious. I brushed my wet hair with my Wet Brush (which, BTW, if you're not using, please start), blew it out with my Kevin Murphy Brush, and then used my Drybar Lemon Drop Daily Detangler brush.
Wet Brush, $9, Amazon; Kevin Murphy Brush, $88, Amazon; Drybar Lemon Drop Detangler Brush, $29, Amazon
I blew my hair out pretty straight, leaving the ends damp so they could dry on their own and not look too sleek. I normally don't blow it out straight, but for this week, I felt it would be easiest and would hold up the longest.
Not as smooth as I would have liked, but it would do.
Day Two: Monday
Despite the fact that it was kinda warm, I wore my hair down. I knew that putting it up or putting it in a braid would leave a dent that wouldn't go away and would just annoy me. I used my favorite anti-humidity spray: Macadamia Professional Anti-Humidity Finishing Spray. If you're going to attempt a few days without washing your hair, you absolutely need an anti-humidity spray. I like this one because it's very light. It doesn't make my hair feel stiff or gross (it actually makes it feel soft), and it helps keep the frizzies away. I used this in the morning and then again at night before going out to dinner.
Macadamia Professional Anti-Humidity Finishing Spray, $20, Amazon
And that was my hair on day two! Not much different from day one, luckily. I was in an office all day, which made hair maintenance easy, but the nighttime was a little trickier. I met a friend for dinner, and we ate outside. I kind of twirled my hair throughout dinner, and it ended up creating a little bit of a wave, which was nice. I was worried that the weather would ruin it, but the spray worked. Bless.
Day Three: Tuesday
Today was where things got tricky, because I decided to do a SoulCycle class, which leaves you very sweaty. I love to shower after the class — it's one of the best things about SoulCycle! — but I couldn't wash my hair this time, and it was tough.
Even with my hair up in a bun, my hairline still felt sweaty and gross. I knew it was time for dry shampoo. Normally, when I go a few days without washing, I wait as long as possible for dry shampoo. This is because it can build up, leaving a lot of residue and looking very obvious — and it doesn't feel great. But I had no other choice.
I used one of my favorites: Living Proof Perfect Hair Day Dry Shampoo. The difference between this dry shampoo and other options is that this one is supposed to clean your hair. Many dry shampoos can offer volume, body, and the ability to take away the look of grease. This is one of the few that cleans as well as doing all of that. I think it works really well!
Living Proof Hair Day Dry Shampoo, $27, Amazon
That's my hair after the dry shampoo. I applied it all around my roots, waited a minute, then rubbed it into my scalp with my fingers. There was no icky residue, and it definitely made me feel better. I applied it at night specifically so that it would soak in while I slept and I could wake up with better-looking hair. I showered and used my best friend for the week:
This shower cap and I really got to know each other. I'm not going to lie to you; I didn't feel great about my hair tonight.
Day Four: Wednesday
I felt much better about my hair when I woke up. Look how much better it looks! This might be weird, but I actually think it looked better than the first day I blew it out. The dry shampoo and the bun during my workout gave it some nice texture. The shampoo also gave it a much-needed lift. Look at that volume!
As you can see, I also started with a side part instead of a middle part. I find that a side part helps hide my roots, which may be greasier, and also gives hair a lot of body and volume. It just updates a normal style a little bit. I didn't use a comb for this, I simply ran my hand through my hair and let it fall. I also used a hair refresher spray:
Oribe Hair Refresher, $25, Amazon
This Oribe Hair Refresher is necessary if you want to go a few days without washing your hair. I love it because it makes my hair smell good and look shinier. It also doesn't leave behind an icky residue. Since I had used dry shampoo the night before, I used my Oribe spray in the morning. I was really happy with the way it worked, and my hair looked, felt, and smelled great all day.
Day Five: Thursday
I'll be honest with you guys: When I woke up this morning, my hair was starting to feel kind of gross. A few days had finally succeeded in making it super frizzed out. I didn't want to go into product overload, but I had to do something. I used Oscar Blandi Dry Conditioner, which is great. Unlike dry shampoo, dry conditioner is meant to make your hair look shinier and feel softer. It doesn't go on the roots. I also had to use some of my favorite dry shampoo of all time, Blow Pro Faux Dry. This is a powder that works SO well, and I'm obsessed with it. It works great for blondes. It makes my hair look cleaner than anything else, and gives it so much volume.
Oscar Blandi Dry Conditioner, $15, Amazon; Blow Pro Faux Dry, $20, Amazon
I didn't want to put it up just yet (once I put it up, I rarely wear it down again, and I had a whole weekend to go), so I did a simple braided style that would at least get it out of my face.
This is ridiculously simple, and everyone can do it. I teased the crown of my head a bit for volume (the Faux Dry didn't hurt), then braided back a piece, clipped it in the back, and pulled at it so it was bigger and more loose. I did it on both sides of my head. I actually got a bunch of compliments on my hair today, and I couldn't help saying, "Thanks, I haven't washed it since Sunday." Some people were grossed out. Haters.
Day Six: Friday
So by the time I got home Thursday night, my hair was feeling pretty icky. There was a lot of product in there. It LOOKED clean, and it had volume and texture, but it did not feel clean anymore. It felt sad and tired, and I was about to make it worse.
After work, I headed to the beach and stayed there until 9 p.m. This was my hair on my way down to the beach. I honestly don't think it looked bad. My cousins couldn't believe that it had been almost a full week since I washed it, which was a good sign.
However, once I got home, it felt truly disgusting. Even though I didn't swim in the ocean, the salty air only contributed to making it feel sticky, dry, and kind of horrible. I wanted to wash it so badly. But I stayed strong. For you.
Day Seven: Saturday
Blow Pro Textsyle Dry Texture Spray, $20, Amazon
At first I thought, "Day seven! I can wash my hair today." Then I decided that was kind of cheating, since I washed it last Sunday night so it hadn't been a full seven days and wow, I am way too moral sometimes. My hair was not feeling good. It was bad, guys. It was bad, and to make things worse, I went for a run. Why? I don't know. It's a good question, and maybe one day I'll have an answer.
I sprayed it with Blow Pro Textstyle Dry Texture Spray. This stuff is great for a little texture. Unfortunately, texturizing spray often makes hair feel a little sticky, and on top of the beach residue yesterday, it was just in bad shape. The only thing left to do was a messy ponytail, which is the perfect hairstyle for dirty hair. Your hair literally needs to be dirty to stay in a perfectly messy ponytail.
This is my messy ponytail. It took me two minutes to do and garnered a lot of compliments. Day seven of not washing my hair, and THIS was the day I got the most compliments on it.
To achieve this very messy look, which is perfect for a weekend when you want to be very lazy, here's what you can do: Spray hair with dry shampoo and tease the crown for as much volume as possible. Volume is key here, because without it, it just doesn't look good. Pull hair back into a ponytail in the middle of the back of your head. Do not use a brush. You want this to be messy, loose, and very imperfect. A brush will ruin everything. Wrap it with an elastic, but not one that's too tight; just one that will hold it. Pull out a wad of hair from the bottom and wrap it around the base, using a bobby pin to keep it in place. Pull out a few random strands around your face, and let it be. Don't touch it. Do whatever you want. The messier it gets, the better it looks.
This would have been fine ... if I didn't decide to go to the beach again. Here is my mess of hair by the end of the day:
Truly a work of art. I don't want to talk about how disgusting it felt by the time I went to sleep, because it's just something I'd rather not think about. I put in a bun for bed and dreamed about my shampoo.
Day Eight: Sunday
I made it! I did it! To be honest, it probably wouldn't have been that bad if I didn't spend two days at the beach. I ran errands early in the morning with my hair in this little topknot, because no one deserved to see it in the condition it was in.
I decided to do something nice for my poor hair, full of dry shampoo residue, and mixed up this two-ingredient DIY mask that uses coconut oil and honey. I finished up with a cleansing shampoo and conditioner, let it dry naturally, and OMG, my hair felt so soft and wonderful, and it looked so shiny and was so happy.
Nature's Way Coconut Oil, $14, Amazon
The Verdict
So, real talk: Can you go a week without washing your hair? You can. You can even make it look good for almost the entire time. But would I do this again, even without the beach days? I don't think so, unless I had an exceptionally busy week or I didn't feel well. It was a little much. All of the product I needed to make it look OK just kept building up, and by the end of the week, my hair felt gross and my scalp was really itchy.
But hey, it was worth a shot. And honestly, I'm not disappointed in the results. While experts may disagree on whether or not the no-poo movement is worth it, I have to say that washing my hair only two or three times a week has made a huge difference in my life. My hair looks and feels so much better than it ever has before. My color and highlights last longer. It grows faster. I get way, way more compliments than I ever did before. It makes me happy, which is the most important thing. And it cuts down on getting-ready time, allowing me to be more lazy. And isn't that what we all want?
For more beauty and hair hacks, subscribe to Bustle's YouTube page, and check out the video below!
Images: Jessica Booth