'SNL' Auditioned These Black Females for January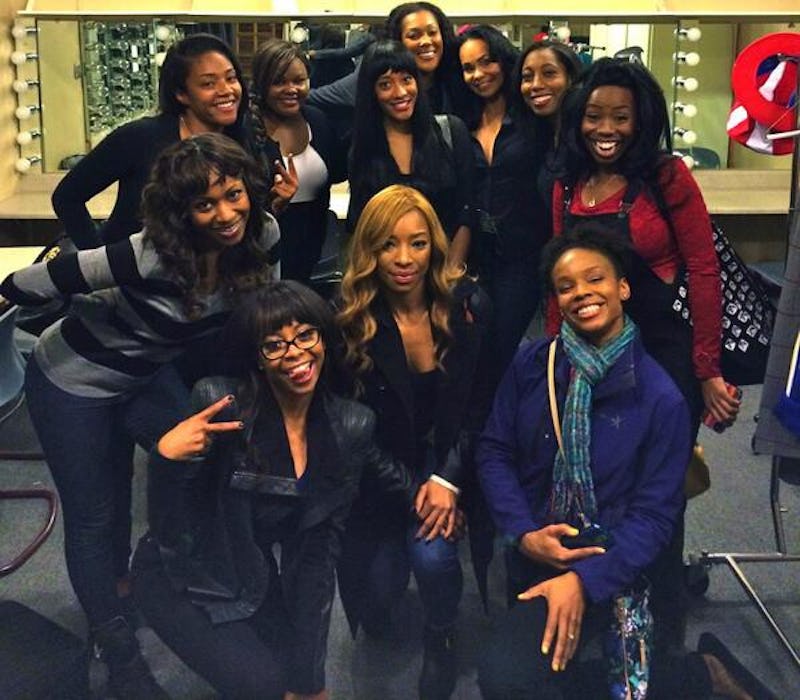 Saturday Night Live may be going through a bit of a transitionary year in terms of writing and casting on the NBC sketch series, but they're listening to our complaints and looking to hire a female comedian to join the cast come January 2014. Earlier this year, the show's glaring whiteness was made all the more obvious with the unveiling of the six new comedians cherry-picked to join the show. Of which, five of them were male, one of them was female, and they were all very, very white. The matter was further exacerbated by Kerry Washington's run as guest host, where she was forced to play every single black character in a sketch to further highlight the lack of brownness going on. And when criticisms were lobbied — even internally via Jay Pharoah — the series pushed back, with Kenan Thompson explaining they simply go with the "best" candidates out there, implying that apparently there are zero women of color in the universe ready to tackle the stage at Studio 6H. Hah. Riiiiight.
So color us surprised upon hearing the House that Lorne Michaels Built was holding a semi-secret audition at Los Angeles-based Groundlings Theater featuring a bevy of funny ladies more than ready and willing to jump into the series full-steam ahead. Whether they wanted to keep it a secret or not, the cat's out of the bag now, and we can't help but find ourselves curious about the women who made the cut.
We figured you would be intrigued, too, so we've ventured into the depths of the Internet to find out about a few of the women who may, come January, join the cast of Saturday Night Live.
Christina Anthony
Christina Anthony's ability to hilariously skewer people for racist behavior would no doubt be a welcome blessing for the NBC series. We can already imagine a sketch with her just ripping Lorne and the network to shreds for their handling of the diversity fiasco, which is the hallmark of any good comedy— an ability to make fun of oneself. Christina's popped up on Comedy Central's Mash Up, as well as the pilot for Key & Peele in addition to a ton of commercials you've probably seen. As a Second City alum, she's also clearly no slouch.
Azie Dungey
Dungey's brilliant web series, Ask a Slave garnered the comedian and actress a ton of publicity earlier this year for its skewering look at society's inability to ask smart, not-insensitive questions. Her deadpanning is ferocious and, honestly, she's one of our frontrunners for any spot that becomes available on the series.
Tiffany Haddish
Haddish's strengths definitely lie in her outlandish, will-do-anything antics. Her personality feels akin to the Kristin Wiig school of performers, making her a shoo-in for embodying unique characters. Plus you can't not love a woman who isn't afraid to lick the face of her idol on camera.
Bresha Webb
Webb is a cameleon through and through. Her take on the "Shit ___ Says" videos included an impression of Family Hustle star and wife of rapper T.I., Tameka "Tiny" Harris garnered over 350,000 views. And Bresha has plenty of on-screen experience as the star of TV One's Love That Girl.
Simone Sheperd
Sheperd's Beyoncé impression might be one of the funnier ones out there thanks to its skewering of the Divine Ms. B's airs. The comedian packs a one-two punch, as she has written and directed her own series, Tracks, and was featured on USA's series Hell Date. Anything else you might want from this versatile comedian can be found in her Vine videos.
Darmirra Brunson
If the name looks familiar, it's probably because Jay Pharoah mentioned the actress/comedian/singer felt she was overlooked by Michaels. Or because of her successful YouTube page. Or in her turn as Drew on Tyler Perry's Love Thy Neighbor on OWN. Regardless, Darmirra's impression of Rihanna will have you chuckling.
Beth Payne
Payne has been featured prominently in several of the Baby Geniuses movies (yeah, we didn't realize that was a franchise situation either), but she's far more than that. Traditionally a stand-up comedian, Beth's also been featured on Sons of Anarchy, The Jamie Foxx Show, and the critically-acclaimed The Boondocks.
Lekendra Tookes
Tookes is both an impressionist and a character actress — and her strengths in the latter are especially noticeable. She's able to embody a wide variety of tropes, social stereotypes, and all-around delightful weirdos with a winning combination of expression and vocal work.
Amber Ruffin
Ruffin is a writer in addition to a performer, of which you can experience both in her episode of the web series Faced with Danger.
Nicole Byer
Byer has appeared on 30 Rock, Fast Food Heights, and a smattering of CollegeHumor originals. She's also a prominent fixture on MTV's Girl Code, and has made a name for herself with her hilariously cutting real talk. Her sketch "Be Blacker" skewers the insidiousness of the "sassy black woman" stereotype in films and TV for one of SNL's biggest breeding grounds, the Upright Citizens Brigade, and makes her another top contender on our lists.
Misty Monroe
Though seemingly unrecorded anywhere on the Internet, Monroe has appeared in several major network comedies, including How I Met Your Mother, 2 Broke Girls, Hart of Dixie, and the short-lived 1600 Penn. Monroe is also a performer in the Sunday Company at the Groundlings — no easy or small feat to break into. She's also worked with Keegan Michael Key and Jordan Peele o their regularly scheduled Groundlings show, "The Black Version."
Image: Gabrielle Dennis/Twitter