This Dog Makeup Is So Realistic It's Scary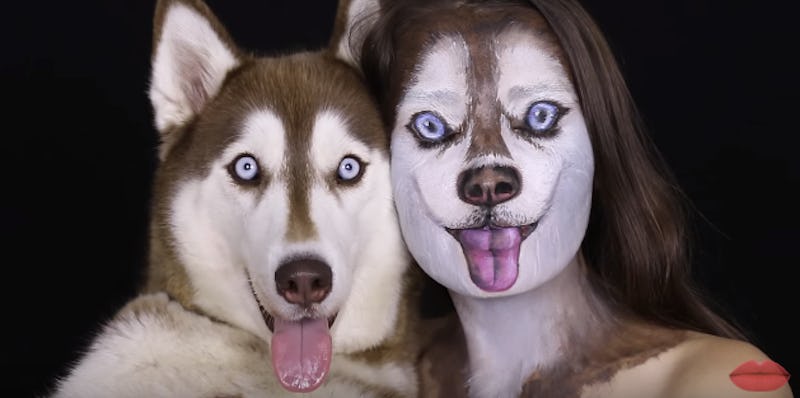 It's National Dog Day, and just in case you were looking for a unique way to celebrate, this dog makeup tutorial has surfaced on the Internet, thanks to Mashable. YouTuber Ilana Makeup Artist apparently loves her Siberian Husky so much the she decided become him, using makeup, of course!
I've seen a lot of tutorials where beauty pros paint their eyelids to replicate certain cartoon characters, but this has to be some of the most realistic makeup I've ever seen. When she puts her head side-by-side next to her husky during the video, it's terrifying.
If I was Aiibi (the vlogger's dog, according to the description), I'd probably be pretty freaked out about the fact that I'm suddenly seeing double, but he seems pretty cool with it in the video.
The actual tutorial is in Hebrew, so I can't tell you much about the products or techniques she uses to get the look. Either way, watching her do it step by step is like watching an artist at work – it's mesmerizing. You really have to see it to believe it.
Here's a play by play of her freaky metamorphosis.
1. She starts as a normal human with a picture of her dog.
The audience is unsuspecting.
2. She traces an outline and begins to fill it in.
Her dog actually does have a quite nice chocolate brown coat.
3. She adds white using an eyebrow/eyelash brush.
Progress! It's starting to look like the face painting they do at the zoo.
4. She paints on these creepy eyes.
We're no longer in "child's birthday party" territory. This is getting real.
5. She adds the nose.
The pink is a nice touch.
6. And THE TOUNGE.
You. Guys.
7. She adds finishing touches by texturizing the paint with the eyebrow brush.
I'll never look at my Anastasia brow gel the same.
8. Tada!
Crazy, right? While I'm amazed at her skill, I'll probably just stick to wearing a Halloween mask if I want to dress like a dog (unless she does a Golden Retriever tutorial next – then I'm totally in).
Watch the full video below.
Images: Ilana Makeup Artist/Youtube (9)