How To Find Your Perfect Lip & Concealer Shades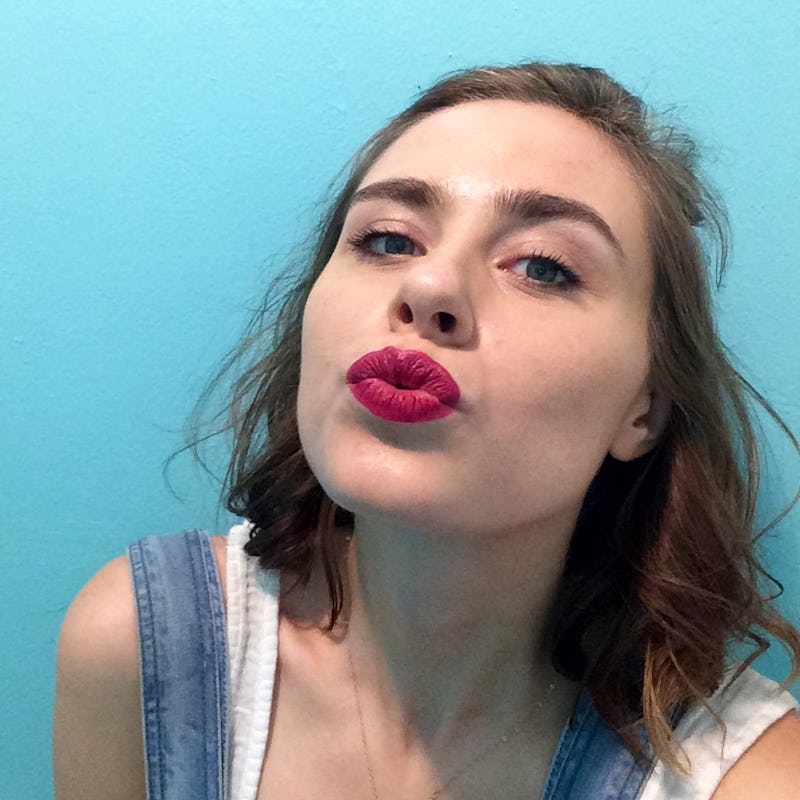 In 2012, Sephora took the guesswork out of finding the perfect foundation shade with its Color IQ foundation matching service, and come Sept. 1, Sephora + Pantone's New Color IQ feature for lip and concealer launches in all stores! Best. Day. Ever! Being a New Yorker and beauty writer here at Bustle, I had the privilege of getting a sneak peak at the new service and seeing if it's really worthwhile to check out. I'm happy to report the word out of my now perfectly TooFaced melted berry-kissed lips is a resounding "yes!"
My Sephora Pro stylist, Shawn Lumaban, walked me through the process. He explained how we would start by finding my Pantone SkinTone shade (which it turns out, is 1Y07), and could then determine my perfect concealer and lip shades. The process kind of reminded me on an ultra-sound for my face. First, he applied a neutral SPF-free moisturizer to my skin, and then rubbed the Color IQ camera tool across my forehead. In an instant, I had my set of colors.
Lumaban was giddy over how this process has revolutionized makeup artistry for both consumers and professionals, considering it a completely essential tool. Since Sephora + Pantone's color match categories contain over 400 concealers and 3,500 lip shades, being able to instantly zero in on the perfect shade for one's skin tone is time-saving, money-saving, and just really damn nifty.
I would 100 percent recommend this technology to all of my friends because of how easy, fun, and accurate it is. If you're on the fence about trying it, check out the video below to learn a little more!
As for me, I looked like this before my appointment (no foundation or concealer, just lip balm and mascara):
Then Lumaban prepped me with moisturizer...
Amore Pacific Moisture Bound, $100, Sephora
Found my matches and asked what lip tone I wanted...
But first I had to stop and appreciate his shoes...
Before deciding "berry"...
Which led to this stunning shade:
Melted Berry, $21, Too Faced
And that was it!
I had to see if the color looked as good outside, so I took a quick stroll by the Brooklyn bridge
I say success! I would've never thought to go for such a bold lip color, but totally love it. Don't forget to find your perfect match Sept. 1!