How To Make A Playlist That Won't Humiliate You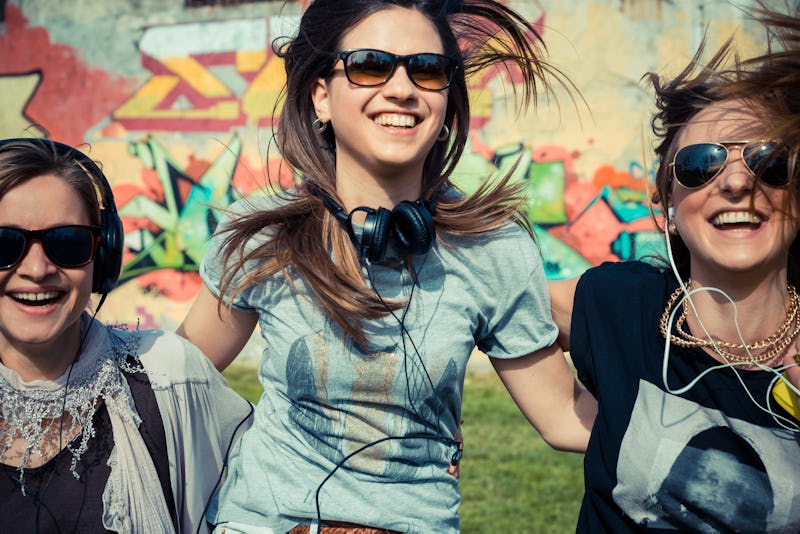 Like any red-blooded American millennial, I heartily enjoy some shameful music. I also understand that in order to make friends, I need to keep my humiliating tastes close to the chest when getting to know people. For that very reason, I've developed a patented not-embarrassing playlist to make strangers think I'm cooler than I actually am. There's nothing to be ashamed of. We've ALL been there.
In certain mixed-company situations, putting your music on shuffle basically turns into into a ticking time bomb... only instead of fire, the explosion would consist of Disney songs, ABBA, and awkward songs you recorded with your high school "band."
You could be having some new friends over to your apartment for some impromptu after-dinner drinks. You could be sitting awkwardly on the edge of your dorm room bed with a bunch of prospective new friends gathered round. You could be hosting a Tinder date over at your place for the very first time. For these specific sensitive situations, you need a stock playlist you can switch on nonchalantly that will make people think you have the discerning ear of a music critic.
This is where I come in. For all of my fellow geeks attempting to appear suave, I'm here to help you devise a playlist to help you seem like someone who knows about music. You're welcome.
Pack The List With Popular Indie Artists
As a teenager, you first got into indie pop music because listening to too much popular music was embarrassing. As an adult, indie-pop serves the very same purpose. You and your contemporaries will connect over that fact. Furthermore, it provides the perfect, non-offensive buzz for getting-to-know-you conversation.
My Picks:
LCD Soundsystem, "All My Friends"
Rilo Kiley, "Portions For Foxes"
The Radio Dept., "Pulling Our Weight"
Pepper In The Right Kinds Of Oldies
You totally listen to music outside of the Top 40. You swear! Make everyone aware of that fact by weaving in some of the classic, empirically great music of the '60s and '70s. Think Motown and crowd-pleasing (yet not overplayed) classic rock. Just made sure to hide the nine-minute-long Led Zeppelin jam tracks.
My Picks:
The Beach Boys, "I Know There's An Answer"
The Rolling Stones, "Angie"
Sam Cooke, "Bring It On Home To Me"
Showcase Your Edge, But Don't Make People's Ears Bleed
Sure, we all enjoy indulging in a good rage session to some of the screamier lady bands. This is a part of your edge. However, said tracks don't exactly make for the best background music. Let everyone know that you're super hardcore, but also keep things light and sonically pleasing by working in some the poppier tracks of artists like Hole, Sleater Kinney, and Fiona Apple.
My Picks:
Hole, "Malibu"
Sleater Kinney, "Modern Girl"
Fiona Apple, "Criminal"
Work In Unfamiliar Covers And Remixes Of Familiar Songs
One of the best ways to incorporate your love for embarrassing songs into a socially acceptable playlist is to have them sung by well-respected artists. Or vice versa: one of the ways to work in your love for embarrassing artists is to include their covers of well-respected songs. Covers and remixes are some of the best ways to achieve this balance. Plus, they're conversation starters!
My Picks:
Chvrches, "It's Not Right, But It's OK (Remix)"
Johnny Cash, "Personal Jesus"
Miley Cyrus & Ariana Grande, "Don't Dream It's Over"
Add A Dash Of Ambient Noise
In addition to the airier indie pop, soothing but upbeat noise tracks make for the kind of inoffensive hum that's meant to be talked over. Furthermore, instrumental tracks are far more difficult for people to instantly recognize, and thus will make you seem super in-the-know.
My Picks:
Caribou, "Can't Do Without You"
Aphex Twin, "Delphium"
Quantic, "The 5th Exotic"
Always Include One Wildcard
You don't want everything to fade into the background. Whether it's one of those '90s singer-songwriter tracks everyone always forgets about, some really great throwback hip-hop, or Bjork, throwing in a statement song is always a great idea. The less expected it seems, the better. You're SO eclectic.
My Picks:
Sophie B. Hawkins, "Damn I Wish I Was Your Lover"
The Fugees, "Can't Take My Eyes Off Of You"
Bjork, "It's Oh So Quiet"
Image: Fotolia