'Mr. Robot's Finale Is Delayed & It's Respectful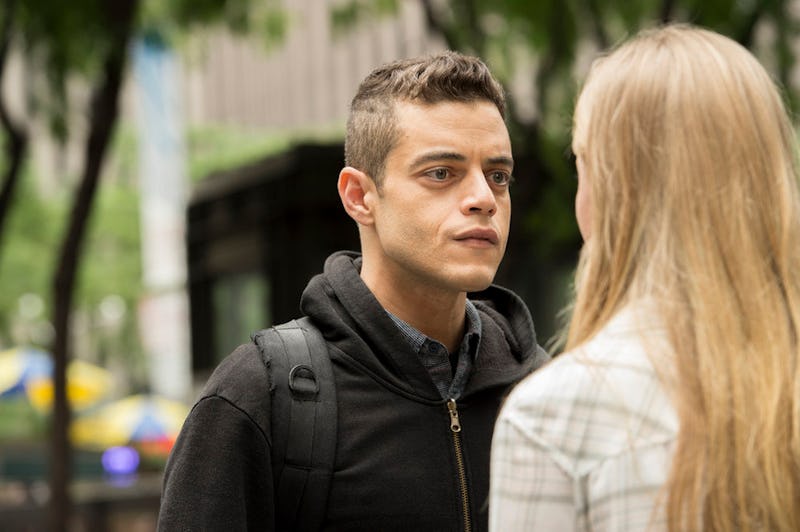 Television's ability to mirror and comment on real life is definitely proof of how beneficial of a medium it is: Content can be quickly produced for a mass audience. But, what happens when events within a television program inadvertently mirror a very recent tragedy? That is currently the case with USA Network's Mr. Robot, a series in which an episode — the Season 1 finale, in fact — apparently happened to eerily mirror Wednesday's tragic on-air news crew shooting in Virginia that took the lives of journalists Alison Parker and Adam Ward. The Season 1 finale of the series was scheduled to air on USA Network on Wednesday, but, due to unspecified plot similarities between the tragedy and the show, the network has opted to push back the Mr. Robot finale by one week.
Here is the official statement from USA Network:
The previously filmed season finale of Mr. Robot contains a graphic scene similar in nature to today's tragic events in Virginia. Out of respect to the victims, their families and colleagues, and our viewers, we are postponing tonight's episode. Our thoughts go out to all those affected during this difficult time.
USA Network made a smart move in pushing back the finale. While the finale will eventually air on Sept. 2 (a rerun of the previous week's episode will air in the original finale slot Wednesday) USA Network did the right thing by putting time between the tragedy and the Mr. Robot episode. It would feel wrong for the show to present a similar storyline as entertainment — even unintentionally — so soon after a real-life tragedy. USA Network is showing respect for the victims and their loved ones by letting time pass.
So far, online fan reaction to the delay has been generally positive, with many people saying that they "respect" the network for making the tough call to push back a highly-anticipated finale:
Mr. Robot is not the first to push back or edit content due to real-world events. The WB did so in 1999 with Buffy The Vampire Slayer, by pulling the episode "Earshot" — which involved a storyline dealing with an attack on Sunnydale High School — after it was scheduled to air only one week after the Columbine shooting in Colorado. Similarly, in 2013, NBC pulled an episode of Hannibal depicting the murder of children following the Boston Marathon bombings. Also, in 2012, the movie Gangster Squad cut a scene depicting violence in a theater due to the similarities to a movie theater shooting in Colorado.
Is it wrong to pull episodes of shows and scenes in film depicting extreme violence when viewers can easily point out their real-life parallels? Bottom line, no. It's important to note that this isn't censorship: it's about being sensitive to the very new pain that people are experiencing in real life. Until we no longer live in a society where it's possible for the most horrific fiction to resemble real-life tragedies, I applaud the gatekeepers of our media for continuing to give people time to heal.
Image: David Giesbrecht/USA Network