5 Crazy Facts About The Athleisure Market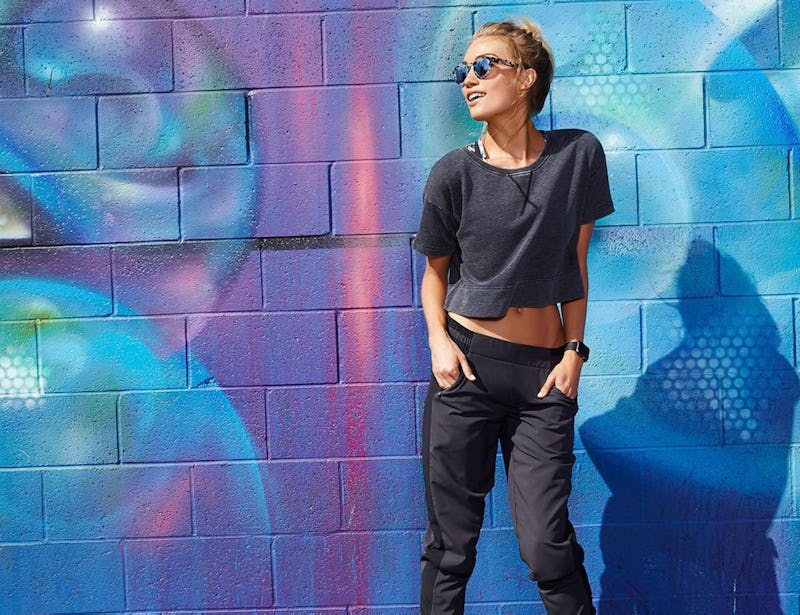 If you haven't noticed the recent uptick in women wearing yoga pants and sneakers becoming the It shoe of the fashionable elite, you might not get out enough. The trend, brought on by the likes of Lululemon and Athleta, is called Athleisure, because it doesn't require you to actually work out, but rather wear workout clothes for your every day life. According to Editd, athleisure wear is not a trend. While many people thought was a fad, definitely isn't going anywhere.
Editd, an apparel analytics firm (yeah, that's a thing) did a study on the athleisure phenomenon and gathered some pretty interesting insights. They attribute this shift in fashion to the consumers recent shift in having a healthier lifestyle. From paleo diets to barre classes, being healthy has become not only a priority for many, but trendy. So what better way to encourage this healthy lifestyle than by wearing workout clothes all the time?
This is basically what consumers have been doing and society is welcoming this change with open arms. Luxury brands are creating glamorous sneakers, offices are relaxing their dress codes, bystanders no longer stares at people who wear workout gear in public — everyone is getting on board with the athleisure trend. Here are 5 facts that might just blow your mind.
1. Yoga pant sales grew 341 percent in the last three months
In comparison to the same three months in 2014, yoga pant sales have skyrocketed, growing 341 percent. I would say that stat is crazy, but I personally bought like eight pairs of yoga pants in this time frame, so it makes sense.
2. 68,000 pairs of sneakers hit the web in the last three months
That's a lot of shoes, and 25 percent of these shoes are luxury sneakers, like Yeezy Boosts.
3. The median price for yoga pants is $87.29
The price jumped a little over $13 since June 2014, yet people still continue to buy them. There are currently 14 percent more yoga pants on the market now than there were in 2014.
4. Sports bras are now 20 percent of the bra market
And why wouldn't they be? They're getting cuter and more comfortable every day. Several brands, including Nike, Under Armour and Dick's Sporting Goods have named sports bras as key growth drivers for the upcoming year.
5. Despite luxury's foray into athleisure wear, only 3 percent of the athletic wear market is held by luxury brands.
Even FitBits got the luxury treatment after collaborating with Tory Burch. But luckily, affordable athleisure wear is becoming more and more accessible
Images: @Fabletics/Instagram