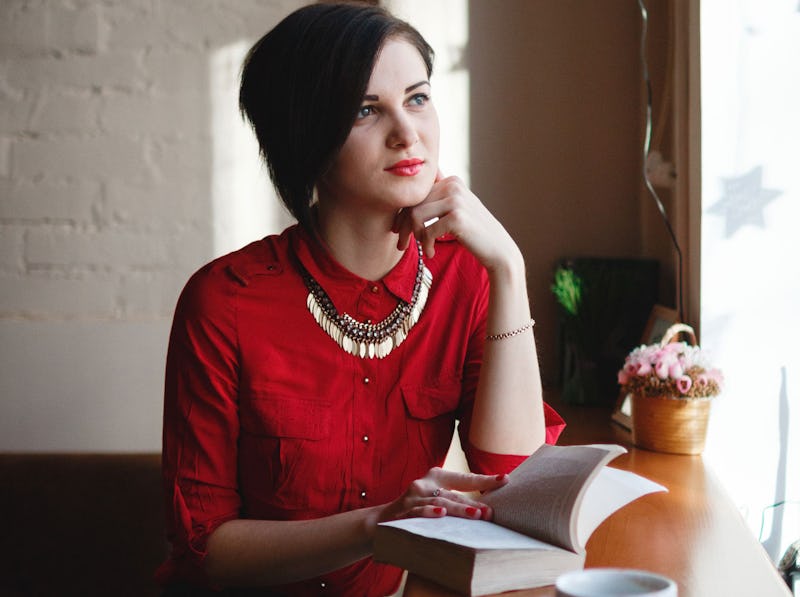 The leaves are changing, the sweaters are emerging, and the sunset and our bedtimes are arriving earlier each day. Sun worshippers, your time's up; get ready to hibernate. Fall's here — but that means fall's best books are here, too.
This chilly season will be even better than last year's, not just because the pumpkin-spice-everything madness of autumns past is beginning to die down (wishful thinking?). Over the next three months, tons of amazing new books, by writers both emerging and veterans, are making their way onto the shelves. So you'll have lots of entertainment to enjoy with your sickly-sweet specialty coffee drink.
These buzzy books run the gamut of theme, tone, and even nationality: the writers on this list traverse the globe, representing Italy, Mexico, the U.K., Nigeria, Chile, and Russia (and the good ole U.S.A., natch). But what unites these September-through-November releases is that they're all written by female authors we know — or are soon to know — and love. (Before you call me out, keep in mind that Robert Galbraith is actually a lady.) I wanted to highlight female authors releasing books this season because there's so much good stuff being written by women that it deserves to shine.
So grab a blanket, bundle up, and take your pick from the 13 of the most exciting novels Fall 2015 has to offer.
The Story of the Lost Child by Elena Ferrante, translated by Ann Goldstein (Sept. 1; Europa Editions)
In September, the infamously secretive author Elena Ferrante wraps up her acclaimed Neapolitan series with The Story of the Lost Child, which examines the bond between lifelong friends Lila and Elena as they reach middle age. It's a satisfying conclusion to Ferrante's modern masterpiece.
The Suicide of Claire Bishop by Carmiel Banasky (Sept. 15; Dzanc Books)
This daring debut novel opens with Claire Bishop, a privileged 1950s housewife, sitting for a portrait commissioned by her husband — and discovering that the artist instead depicted Claire's suicide. In 2004, a schizophrenic young man becomes obsessed with the portrait and is intent on discovering its origins. This imaginative and complex novel, which alternates between the two time periods, thrills and haunts in equal measure.
Fates and Furies by Lauren Groff (Sept. 15; Riverhead)
In her fourth novel, Lauren Groff masterfully tracks the 20-year history of the marriage and creative partnership between Lotto, a charismatic actor-turned-playwright, and the beautiful and enigmatic Mathilde. But each half of this golden couple possesses demons and secrets, which Groff unearths in dazzlingly idiosyncratic prose.
The Story of My Teeth by Valeria Luiselli, translated by Christina MacSweeney (Sept. 15; Coffee House)
I wish I could tell you what The Story of My Teeth, the Mexican writer Valeria Luiselli's highly anticipated novel, is about. But giving you a straight answer would defy the book's purpose, which (I think?) is to tell stories in formally inventive ways. But I can tell you that the protagonist, Gustavo "Highway" Sanchez Sanchez, is an odd but lovable auctioneer, the best in the business, whose many pastimes include collecting the teeth of bygone celebrities. Make of that plot what you will, but the book's stellar anticipatory reviews will all tell you that you shouldn't miss it.
The Prize by Jill Bialosky (Sept. 15; Counterpoint)
Edward Darby, a partner at a respected New York art gallery, has managed to evade the more corrupted aspects of the art world thanks to his strict moral compass. But when he's betrayed by an artist and rekindles an interest in another, Darby's upright ideals begin to buckle, along with his marriage. Bialosky, an accomplished poet and memoirist, here casts a sharp and unflinching eye on the occasionally irreconcilable tensions between art and commerce, selfhood and society.
Under the Udala Trees by Chinelo Okparanta (Sept. 22; Houghton Mifflin Harcourt)
When civil war breaks out in her native Nigeria in 1968, 11-year-old Ijeoma must reckon with the destruction of her family and her home — as well as her own burgeoning sexuality, which she discovers upon falling in love with another young girl who has been displaced by the war. In her affecting debut novel, Chinelo Okparanta writes about both the maturation of Nigeria and of Ijeoma and their attendant growing pains.
The Clasp by Sloane Crosley (Oct. 6; Farrar, Straus and Giroux)
From Sloane Crosley, the kooky mastermind behind the essay collections I Was Told There'd Be Cake and How Did You Get This Number, comes The Clasp, the writer's first foray into fiction. At BookExpo America 2015, Crosley described the novel as "two genres smushed together: a comedy of manners between three friends, and a light-hearted, madcap action-adventure." More specifically, it's the story of a recently fired man-child attempting to hunt down a long-lost French necklace which may or may not actually exist; his college friends follow his tracks from New York to Normandy, and hilarity, of course, ensues.
Mothers, Tell Your Daughters by Bonnie Jo Campbell (Oct. 5; Norton)
In her highly anticipated Mothers, Tell Your Daughters, Michigan born-and-bred Bonnie Jo Campbell — whose 2009 novel Once Upon a River was a National Book Award finalist — delivers a collection of brutal short stories depicting the lives of upper-Midwestern working class women, many of whom have suffered sexual and emotional abuse at the hands of the men in their lives, or struggle through relationships with other women. But Campbell's gift for honest portrayal means that this collection is much more than a series of stories: it's a portrait of the beauty, and even humor, that can be found among the wreckage of heartbreak.
The Gap of Time by Jeanette Winterson (Oct. 6; Hogarth Shakespeare)
Jeanette Winterson's The Gap of Time is a modern retelling of Shakespeare's tragicomedy The Winter's Tale; it's the first installment of the Hogarth Shakespeare series, which will feature writers like Gillian Flynn and Margaret Atwood reworking more of Shakespeare's best-known works. Winterson's version lays the tragedy on thick: she renders the drama and gore rampant in Shakespeare's original play faithfully, which yields disturbing results when set in a familiar time and setting. Nevertheless, Winterson's trademark chops are on full display here, and you needn't have read the original play to appreciate her talent.
Career of Evil by Robert Galbraith (Oct. 20; Mulholland Books)
J.K. Rowling's highly successful pseudonymous series gets a third installment in October with Career of Evil, which follows London-based PI Cormoran Strike and his partner Robin Ellacott as they hunt down the sociopath who sent Ellacott a severed leg in the mail. Can't ask for a better Halloween read than that.
The Mare by Mary Gaitskill (Nov. 3; Pantheon)
The award-winning author of Bad Behavior returns in November with The Mare, which centers on eleven-year-old Velveteen Vargas, an underprivileged child from Brooklyn who lives with a host family in upstate New York one summer. It's there that Velveteen is introduced to both horseback riding and to the complex, creative couple that becomes her surrogate family over the ensuing years. An odd premise for a writer who made BDSM famous way before E.L. James did (see: Secretary), but if Mary Gaitskill's stellar track record is any indication, The Mare will be a 2015 highlight.
The Japanese Lover by Isabel Allende (Nov. 3; Atria)
In 1939, the young Alma Belasco is sent from her home in Poland to the safety of her aunt and uncle's mansion in San Francisco. There, she falls in love with Ichimei Fukuda, the son of the family's Japanese gardener. But after the attack on Pearl Harbor, Ichimei and his family are sent, along with thousands of other Japanese-Americans, to the internment camps out west. Over the years, Alma and Ichimei continue to meet and separate; and Irina Bazili, a nurse who cares for the aging Alma, discovers the woman's fascinating story at the end of her life. The plot is an ambitious one, but we can trust the bestselling author of The House of the Spirits to navigate it with elegance and ease.
The Big Green Tent by Ludmila Ulitskaya, translated by Polly Gannon (Nov. 10, Farrar, Straus and Giroux)
Never got around to reading Anna Karenina in school? No worries: just read Ludmila Ulitskaya's The Big Green Tent instead, which offers a sophisticated yet actually readable account of Soviet Russia through the experience of three dissidents. The popular Russian novelist takes a cue from the greats here, crafting a sweeping novel that's traditional in structure and scope but modern in humor and relevance.
Image: Alexander Solodukhin/unsplash