I Went To An Icelandic Geothermal Spa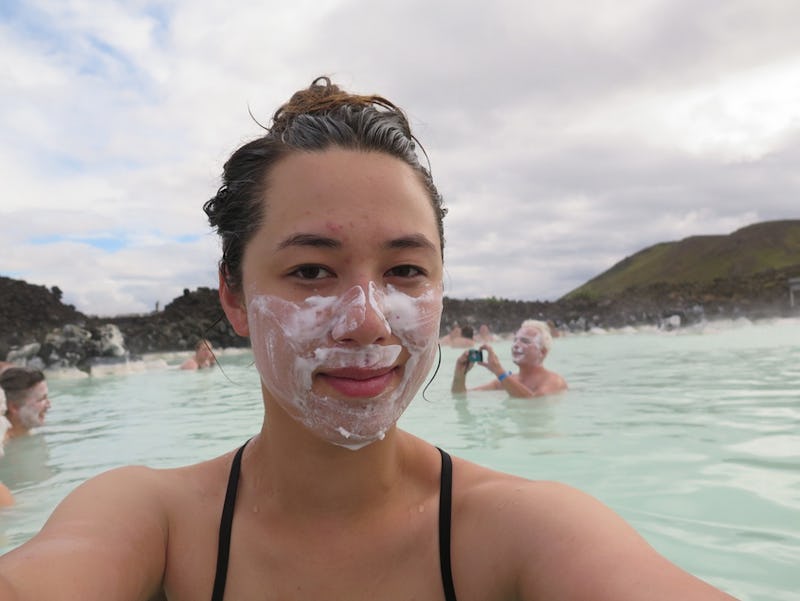 All I used to know about Iceland was that it's the land of Björk and geothermal spas. So when I went to Reykjavik, Iceland this summer, I made it a point to eat at a café that a guidebook swore was Björk's go-to brunch spot and book a day at Blue Lagoon, the legendary geothermal spa about 40 minutes outside of the capital.
Between long, dry plane rides and my tendency to binge on cheeseburgers and beer when I'm far away from home, my skin is usually wrecked when I'm traveling, and this trip to Iceland was no exception. When I showed up at the Blue Lagoon, I was breaking out on my forehead and chin with a particularly bad zit above my lip. I was also struggling with jet lag and was really looking for some relaxation. I was excited to see if the waters would clear up — or at least make some improvement on — my tired, dry, acne-marked face.
The Blue Lagoon was gorgeous, located along the highway yet still secluded behind huge lava formations, with its famous bright turquoise waters. Although it is one of Iceland's most notable tourist attractions, it's so much more than just a beautiful place. Whether you're looking for your next best skincare treatment or planning a trip to Iceland yourself, here are seven things I learned when I went to the Blue Lagoon in Iceland.
1. Make A Reservation
Although I was excited to relax when I showed up at Blue Lagoon, the initial experience wasn't exactly calm. The bus ride from downtown Reykjavik to the spa was smooth enough, but upon arrival I had to queue up to get in. There are timed tickets, however, and though I had booked a spot in advance, there was still a long line of people who also had timed tickets, alongside a not-so-insignificant line of people without them.
Unfortunately, the tickets aren't exactly cheap. The base price fluctuates, depending on what time of year you're visiting, and my second tier ticket (which included a drink and the use of a towel and was booked during Iceland's high summer season) cost 60 Euros. You're definitely paying a premium for the experience, even if you get the lowest level of the package. If you don't book it in advance, though, you might not be able to enjoy it at all. So go online and book before you get on the bus.
2. Know What's In The Water
According to Blue Lagoon's literature, "The geothermal spa is fed by seawater 6,500 feet beneath the surface, where is reaches a searing 464 degrees F." The water loses some of that heat on the way up, so we're diving into a pool that's "a balmy 100 degrees F, just right for pampering visitors," or roughly the temperature of a nice bath. As the heated water comes up to the surface, it picks up silica, algae, and other minerals from the lava bed along the way, which gives the water its turquoise color and healing and exfoliating properties. It should be noted that the water is pumped from a nearby geothermal power plant. That's what you're dealing with when you go to Blue Lagoon.
3. Prep Properly
When you arrive at the spa, you are instructed, in no uncertain terms, to take a shower before you go into the communal pool. From what I was able to understand, this is more for hygiene than anything else.
However, I also was given some pretty intense warnings about getting my hair wet in the geothermal spa water. The minerals, although great for skin, can do a number on your locks, so it's recommended that you put your hair up, or even cover it with a bathing or shower cap if you're really worried. It's also suggested that you coat your hair with conditioner during that mandated shower. This pre-conditioning will protect it from damage and make it easier to manage once you get out of the pool. (It's also a great tip for chlorinated pools.) Since my hair is long, I heavily conditioned and threw it all up in a topknot before venturing into the geothermal waters. Even though I got it a little wet, my hair was surprisingly soft after I got out, and pretty easy to comb out. I'll definitely try pre-conditioning next time I go to any pool.
4. Expect Extremes
When I first got out to the pool area, the sky was gray and it was drizzling, but over the course of the couple hours I spent soaking, the sun came out and it was beautiful. (Not warm, though. It is Iceland, after all.)
Those extremes aren't just limited to the weather. They extend to the pool itself. There are some hot pockets, if you find them, and believe me when I say that you know when you've found them. Some of the spa treatments offered for free were also a little intense. Take, for example, the waterfall: A sheet of falling water that pounds down on your shoulders and back for an almost-massage that feels more like 1000 hot tub jets spraying on your body.
There's also a sauna and a steam bath if you're interested in really cranking up the heat, which is especially stark against the cold Icelandic air. (Iceland was so cold, even in August, that I now understand why Icelanders got really good at making wool sweaters.) It's going to be impossible to guess what the weather or the water will really be like, but know it'll constantly be changing. This also means it's important to be smart and get out if it gets too uncomfortable.
5. Use The Mud Masks
One of the first things I noticed about the other patrons is how many of them had white gunk smeared on their faces. Turns out, it's silica mud from the bottom of the spa, which helps exfoliate the skin. But you don't have to dive down to grab a handful because there are staff walking around with bowls and buckets of the stuff, like this woman in a delightfully vintage bathing cap.
On that tray is a bowl full of silica mud mask, and she'll give you a dollop for you to put on your face. Apply it all over and let sit until dry, which will take about 15 minutes. Rinsing it off was the hardest part because the only water available was the warm, heavily mineraled geothermal water that wasn't exactly pleasant to dip your face into. Don't let that stop you from trying out the mask, though. After taking it off, my skin felt smooth and taut (although I didn't succeed in getting all of it off, as you'll see later).
6. Take It To Go
If you found that the silica mud mask that conditioner you used to protect your hair was the best thing you've ever tried, you can stop by the store on your way out and pick up a jar or a tube to go. There are also Blue Lagoon stores in Reykjavik where you can buy their skincare products, and you can order them online as well. I really appreciated how they don't really discriminate by gender in their marketing, and none of their products are explicitly gendered. Mud masks are for both men and women, after all.
7. Feel Blissed Out
Blue Lagoon was absolutely beautiful, but my skin was as pimply after the mud mask, the soaking, and the steaming as it was when I went in. (You can see the white spot below my left eye where I missed some of the mud.) The zits were still there, albeit a little calmer, and any benefits to my face were nonexistent the next morning. The rest of my body was exfoliated but it wasn't anything a good body scrub couldn't have done.
The biggest benefit was how I felt after it was all said and done. My muscles were generally looser, like I had done a long stretching session. That night was the first when I felt like I had finally conquered jet lag, ready to hop on a plane to London the next afternoon.
If you have the chance to go to a geothermal spa — whether it's as big as Blue Lagoon or one of Iceland's other geothermal pools — definitely go, but don't expect it to fix all of your skincare problems. The point of Blue Lagoon really isn't to get clear or perfectly exfoliated skin, although I'm sure that might happen for some people. The point is to enjoy yourself and relax somewhere absolutely out of this world, and that kind of leisurely self care can sometimes be exactly what you need for your skin and your wellbeing.
Images: Maxine Builder