Justin Bieber, What DO You Mean?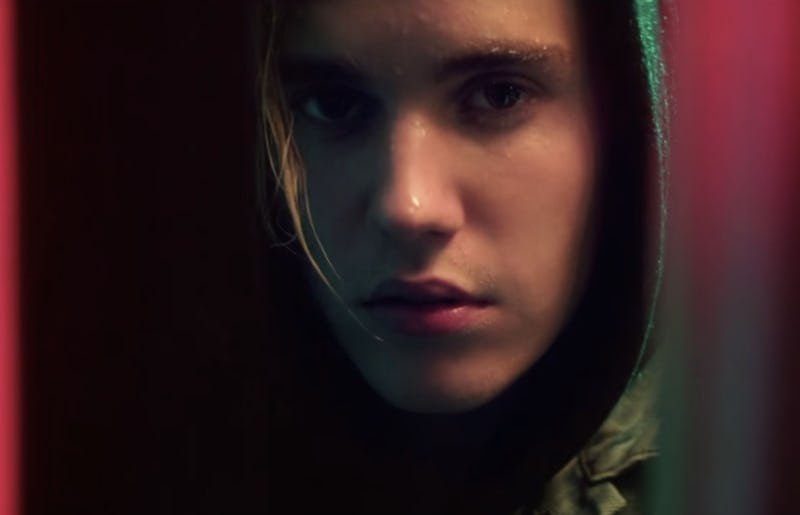 I know this is going to sound a little like I'm trying to make some sort of corny pun referencing Justin Bieber's "What Do You Mean" song title, but after watching the music video for the song, I have to say it: What DOES Justin Bieber mean in the "What Do You Mean" music video? Like, literally — what's happening? Because one minute, Biebz is hanging out on a rainy street corner outside of a motel talking to John Leguizamo about getting burned by fire or something, the next he and his lady love (portrayed by Xenia Deli) are getting kidnapped by guys in weird masks, then the next... they're having fun with Leguizamo and a bunch of the cool kids Echosmith was probably singing about in an underground skate park?
I can't be the only one left scratching my head and hitting the "replay" button like a million and a half times trying to understand what's going on, right?
I mean, don't get me wrong — as far as music videos go, (especially ones that star Bieber) this one is definitely intriguing. But still, I'd just like to know — what circumstances even brought Bieber and Deli to be hiding out/making out in a rundown hotel while John Leguizamo hangs out in the general vicinity? How does Bieber even know John Leguizamo? How does Deli get her hair so shiny? All fair questions to ask!
But hey — maybe I'm just getting old, and therefore don't get "it" anymore. Perhaps you'll have more luck than me: Check out Bieber's video for "What Do You Mean" below, in full:
Image: JustinBieberVEVO/YouTube